Did Dave Chappelle Ruin Netflix's Standup Comedy Specials?
Saying that Dave Chappelle "ruined" Netflix's comedy specials will sound like hyperbole to Chappelle's fans, and to people who understand that the streamer's decision to cut back on those specials isn't really because of Chappelle.
There's no denying that the comedian's most recent Netflix show, Sticks and Stones, upset quite a few people, but the issue is complicated, as is Chappelle's own impact.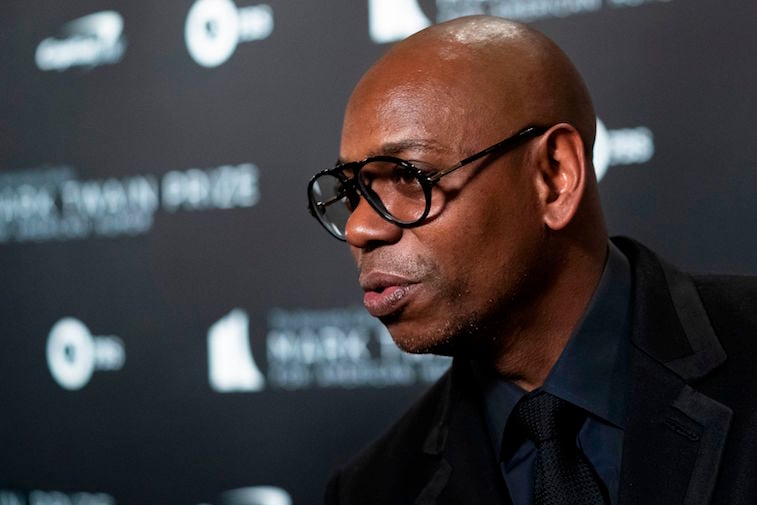 Why did 'Sticks and Stones' upset people?
Sticks and Stones was Chappelle's fifth Netflix special. The streamer had become a leader in stand-up comedy specials after HBO cut back on the format in favor of scripted shows, hosting other A-list comics like Amy Schumer, Dana Carvey and Steve Martin.
Many of these shows had the comics covering deeply serious and personal issues, such as Chris Rock making a mess of his marriage, or Patton Oswalt losing his wife to an untimely death. 
Chappelle came out swinging in Sticks and Stones, railing about the pervasiveness of "cancel culture," and asserting that he didn't believe the men who accused Michael Jackson of sexual assault in the HBO documentary Leaving Neverland.
Chappelle also took shots at the LGBTQ community, saying ""[Trans people] hate my f*cking guts and I don't blame them. […] I can't stop writing jokes about these n*ggas."
Many people criticized Chappelle, saying that he was "punching down" to the disadvantaged from his position as someone wealthy and privileged.
Others praised Chappelle for sticking it to the man and not giving in to political correctness. 
Why is Netflix cutting back on comedy shows?
Controversial though Chappelle's show was, it's not really why Netflix is scaling back on stand-up comedy. Netflix is still making them, with upcoming shows to feature Oswalt, Arsenio Hall and Seth Myers. However, according to Bloomberg, Netflix has streamed only 30 such specials this year, down from 50 at the same time last year.
The article states "the cutback on live comedy is less about savings than moderation, Netflix says. Having created an unparalleled library of specials, the company now wants to expand that part of its archive at a slower pace."
The rapid expansion of streaming by other outlets is surely a factor in Netflix as well. Apple TV+ and Disney+ both debut in November, and Warner Bros is expected to roll out  HBO Max sometime in 2020, Universal is also readying its own streamer, titled Peacock.
Netflix is likely trying to diversify its offerings to boost subscribers, especially with those numbers slipping this year. Right now, all eyes are on the company's Oscar contenders, including My Name is Dolemite with Eddie Murphy, Marriage Story with Scarlett Johansson and Adam Driver, and The Irishman, directed by Martin Scorsese. 
Chappelle's impact is mixed
And what of Chappelle? Some say Sticks and Stones has hurt him, with so many people taking him to task. At the same time, Chappelle has also been praised for his philanthropic works. Having grown up in southwest Ohio, Chappelle organized a huge block party for the city of Dayton after the mass shooting that claimed nine lives and wounded 27 others on August 4.
The Gem City Shine featured appearances by Stevie Wonder, Jon Stewart and Chance the Rapper. 
Unfortunately, Sticks and Stones came out on the heels of that event, leaving a bad aftertaste for some people. Although Chappelle had high-profile defenders like Sarah Silverman, others decried his more recent stand-up routines as mean and lazy.
Regardless of Netflix cutting back, comedy specials are always going to generate laughs and/or controversy as a general rule.
But when the controversy gets at least as much attention as the laughs, and Chappelle gets targeted for Netflix cutting back on comedy, one can reasonably wonder if the laughs are worth it. It will be interesting to see if and how Chappelle reacts in his next special.