Did Dwayne 'The Rock' Johnson Just Officially End His Feud With Vin Diesel?
The Rock and Vin Diesel reportedly were in a feud for some time now. Find out if the two have truly patched things up.
For better or worse, celebrity feuds fascinate fans. How real some of them are is highly debatable. But even if they're not, they play like little stories off the movie screen. The one between Vin Diesel and Dwayne Johnson seems to be headed for a happy ending. 
The two stars of the Fast & Furious franchise had been at odds to the point that the franchise itself separated them. Johnson went off to make the spinoff movie Hobbs and Shaw without Diesel and his cinematic family. It is also reported that Johnson will not appear in the next year's Fast & Furious 9. But that separation probably won't last forever.  
The Rock breaks up with Vin Diesel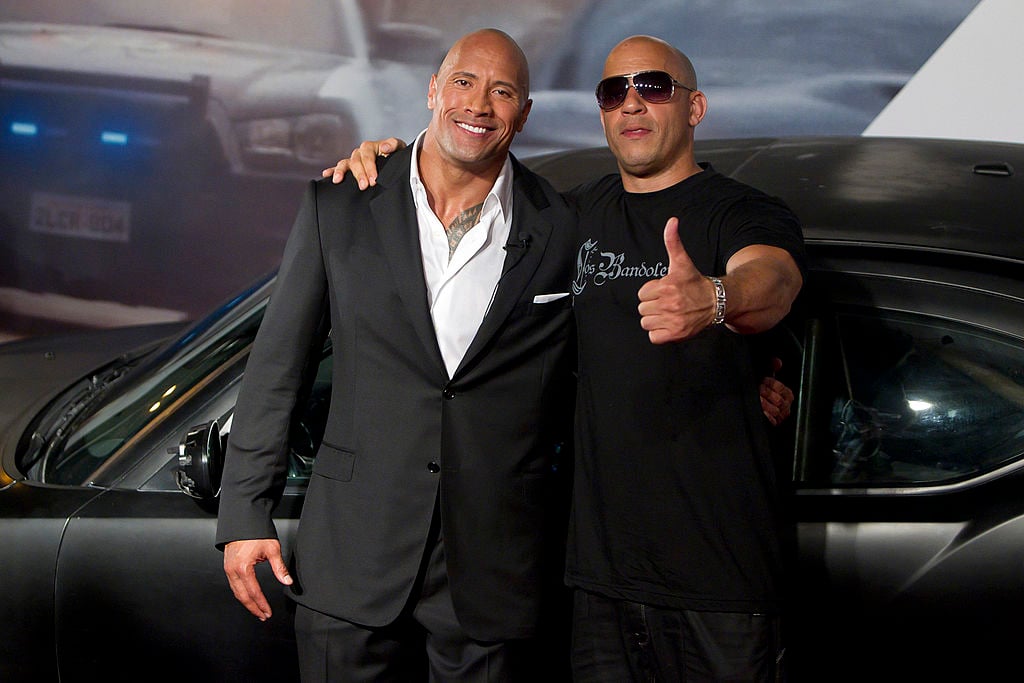 Having first gotten together in 2011's Fast Five, which transformed the franchise from a street-racing story to a heist series, Diesel and Johnson seemed to have a mutually beneficial partnership at first. The Fast & Furious movies, which started with Diesel, got a shot in the arm and Johnson's status as an action hero kicked up a few notches. For a while, the two co-existed well, especially after the tragic death of Paul Walker in 2013. 
Per Entertainment Weekly, things turned sour during the shooting of Fate of the Furious, with Johnson referring to unidentified individuals as "candy asses." It later became clear one of them was Diesel.
Last year, Johnson said of Diesel: "I wish him all the best, and I harbor no ill will there, just because of the clarity we have." He added: "Actually, you can erase that last part about 'no ill will.' We'll just keep it with the clarity."
The Rock and Vin Diesel appear to have made up
Now, the ice seems to have thawed. In an Instagram video thanking fans for the success of Hobbs & Shaw, Johnson addresses Diesel directly, saying: "Lastly, but not least, I want to thank brother Vin for your support of Hobbs & Shaw … My goal was always, all these years, to come into the Fast & Furious world and help elevate the franchise in any way that I possibly could."
What's the future of the 'Fast & Furious' franchise? 
A cynic might say there's too much money at stake for those stars to stay estranged forever. The nine movies in the Fast & Furious franchise have together made $1.6 billion in the United States alone, with Hobbs & Shaw ranking fifth. The most successful was Furious 7, which served as a tribute to Walker. 
The upcoming movie seems to hearken back to the past in several years. Director Justin Lin returns to the series, having made 3 through 6 but having sat out 7 and 8. Jordana Brewster returns to her role as Diesel's sister and Walker's wife.
Furious 7 literally sent Walker's Brian driving off into the sunset to live life with Brewster, so it will be interesting to see how the new movie references Brian. Diesel posted a photo of Walker's brother Cody visiting the set, although it's not clear If Walker was actually participating in the movie. He had done some of the doubling work to complete Furious 7.
The movie, which also brings back Charlize Theron's villain from Fate of the Furious, is scheduled for release on May 22. It adds yet another alpha male to the cast in the form of John Cena. 
What are Vin Diesel and Dwayne Johnson doing next? 
Diesel will next be seen in February's Bloodshot, about a slain mobster reanimated with superpowers. Fast & Furious 9  follows that, as well as sequels to Guardians of the Galaxy, xXx and Pitch Black and maybe even Avatar.
Meanwhile, Johnson is obviously continuing his movie stardom with the Jumanji sequel in December, this time carrying the personality of Danny DeVito. He's also going back to his roots, announcing that he will appear on Fox's Smackdown premiere this week. 
"There's no greater title than #thepeopleschamp. And there's no place like home," he tweeted.