Did Jay-Z Throw Colin Kaepernick Under the Bus With NFL Deal?
Jay-Z recently made entertainment history by entering a deal with the NFL and it might just be the shadiest thing he could do to Colin Kaepernick. Pretty ironic considering he advised a fellow celebrity to avoid becoming compadres with the infamous sports league. But, being the businessman that he is, it looks like Jay-Z may have gone back on his word.
Perhaps there might just be something to this deal, and he'll walk away with something beneficial for the masses. Maybe he'll end up as a pawn under the NFL's control. Or maybe, his actions will just be seen as a betrayal. After all, he once stood firm behind Kaepernick during his protests.
All about Colin Kaepernick's protest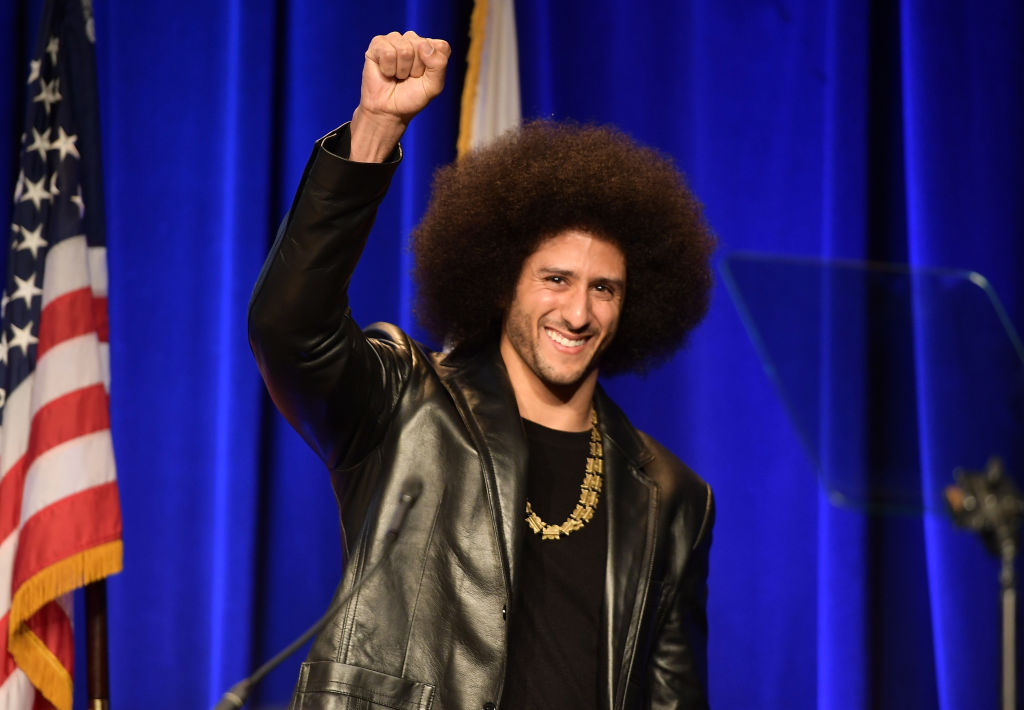 Back in the summer of 2016, Kaepernick decided he was tired of taking the injustices going on in America sitting down — well in this case standing up. Instead of standing for the national anthem, the football star sat throughout the entire thing. He didn't just do it once: He sat through the song for the first three preseason games. Why? It was his way of protesting against the increasing shootings of unarmed African American men by authorities.
The first two times went by without a hitch. But, during this third protest, he was in his uniform. His silent protest ruffled plenty of feathers, including a veteran who advised him to kneel as opposed to sitting as it would be more respectful. Kaepernick complied, no questions asked.
Kaepernick's protest slowly caught on. One by one other NFL players (and some soccer players) decided to join him. By the winter of 2016, the 49ers benched Kaepernick. The staff said that his gameplay was to blame, but many believed that they were punishing him for protesting. The following year he became a "free agent" and has been floating ever since. Collusion much?
What deal did Jay-Z sign with the NFL?
So what's up with this controversial deal Jay-Z signed and why is it pissing people off so much? Apparently, the union will serve three major purposes. For one, Jay-Z will become the go-to guy when it comes to all things entertainment. That spells tons of dollars for Roc Nation, a move that raises red flags to all those witnessing this momentous occasion.
Two, he will also be working alongside the league's social justice initiatives. One such program is the Inspire Change promotion. The NFL hopes to build its reach with the help of the A-list celeb. Lastly, the partnership will attempt to rewrite the drama that occurred, and continues to occur, between the NFL and all players who've gone the Kaepernick route. The goal: gain favor with other artists, put a lid on the commotion, and of course, profit.
Did Jay-Z through Colin Kaepernick under the bus for the NFL deal?
So, here's the big problem with this deal. When speaking out about it, Jay-Z decided to be "the voice of reason."
"I think we've moved past kneeling," said Jay Z. "I think it's time for action."
But the man has never kneeled. A fact that didn't escape Miami Dolphins wide receiver Kenny Stills, remains one of the players who still protests with his boy Albert Winston by his side. While talking with reporters, Stills gave his uncensored opinion on Jay-Z's responses during the interview.
He said: "Some of the ways that [Jay-Z] answered his questions, talking about, 'We're moving past kneeling,' like he ever protested. He's not an NFL player."
He isn't lying. Thus far, Jay-Z hasn't taken a stand in protesting that has jeopardized his career or earnings. He's also never publicly kneeled.
"He's never been on a knee," said Stills. "Choosing to speak for the people like he had spoken to the people. To be able to speak on it, and say that we're moving past something — it didn't seem very informed."
That's not even the worst of it though. During the meeting, people were bringing up a crucial tidbit. How could Jay-Z move forward with this deal if Kaepernick is still without work?
As far as Jay-Z concerned, this isn't about Kaepernick. It's about getting REAL change through action and conversation. It definitely sounds like he threw the former football champion right under the bus. Not only that, but he completely discredited the work that the NFL players are doing with their silent protests. Jay-Z's tactless choice of words led to responses from not just Stills, but other NFL players and Kaepernick himself. According to them, nobody is done kneeling.