Did Keanu Reeves and Sandra Bullock Ever Date?
Keanu Reeves is one of the nicest guys in Hollywood. The compassionate actor, despite 30+ years in the biz, has managed to remain humble. Sandra Bullock is one of America's sweethearts. She's a much-loved actress who fans love to cheer on in romantic comedies and fear for in heart-stopping suspense films like the recent head-turner, Bird Box.
Considering they've both been climbing the Hollywood ladder for over 30 years, have these two beloved artists ever hooked up?
When have Keanu Reeves and Sandra Bullock worked together?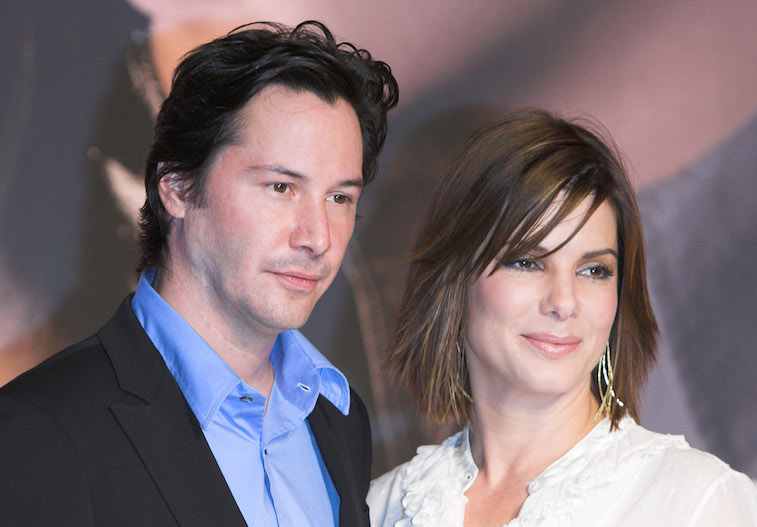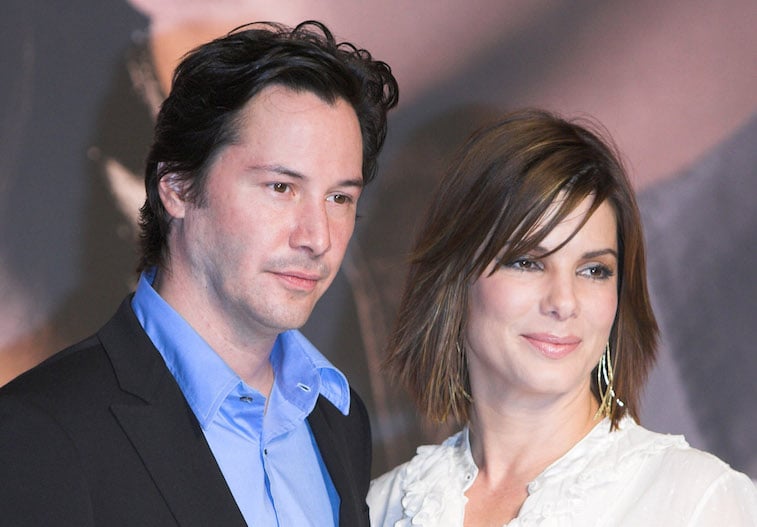 With so many years in, Reeves and Bullock had to have crossed paths at some point, right? While this isn't necessarily true, the two stars have shared the same set.
The first film that brought them together was Speed. In the 1994 flick, Reeves plays Jack Traven, a young police officer who ends up in a pretty crazy situation. He has to keep a bus at 50 mph or else it will go boom.
Bullock plays Annie, a spunky passenger who helps Traven and his partner Harry keep things under control.
Sadly, Reeves didn't reprise his role for Speed 2: Cruise Control despite Bullock opting to star in the sequel. The two did, however, find each other again over 10 years later in The Lake House.
The 2006 film has Reeves playing Alex Wyler, a lonely doctor who used to take up residence at a beautiful lakeside house. He finds himself exchanging letters with former resident Kate Forster, a flustered architect. The two fall in love but the fantasy angle of the film makes it quite a wild ride.
Perhaps their time shared in this world was enough to spark a few feelings. After all, they wouldn't have been the first pair to fall hard while working.
Were Reeves and Bullock dating other people while they worked together?
Love can make you do crazy things, like end a perfectly good relationship. Even so, things are a lot easier if you're single when you fall for your co-star! Let's take a peek into the dating history of these two A-listers to see if they had both space and opportunity to pursue a life with one another.
First up — Reeves! The Matrix star dated Sophia Coppola from 1991 to 1992 and Jennifer Syme from 98′ to 99′ but it looks like he was available during Speed. When it comes to The Lake House, Reeves already had his hands full with Claire Forlani.
Bullock, on the other hand, had just ended things with one of the greatest loves of her life in 1994, Tate Donovan. That means she was dating during filming and definitely too heartbroken for a rebound. In 2006, she was already married to Jesse James.
It looks like the stars didn't quite align, but anything is possible.
Did Keanu Reeves and Sandra Bullock ever date?
Reeves and Bullock actually have a charming and extremely frustrating story of missed connection! In December of last year, Bullock joined Ellen DeGeneres on her talk show.
Being the amazing host she is, DeGeneres brought up the time the two of them shared the stage for Speed. As it turns out, Bullock was really feeling Reeves!
"I think about how sweet Keanu Reeves was, and how handsome he was. It was hard, it was really hard for me to really be serious because he would look at me and I'd be like…"
This statement was followed by a reenactment of giggling that's reminiscent of a school girl in love! The actress turned producer went on to say that she though Reeves must not have liked something about her because nothing ever came of their meeting.
Funnily enough, once DeGeneres got Reeves on the show the other day she showed him the clip and he had no problems admitting that he also had a crush on her! He said he wanted to keep things professional, though since then he's had romances with women he's acted alongside!
Currently, Bullock is in a long-term relationship, but seeing this story of missed connection turn into a fairytale wedding would definitely please fans around the world.