Did Kristen Stewart, Naomi Scott, and Ella Balinska Get Along on the Set of 'Charlie's Angels'?
Despite Charlie's Angels flopping at the box office, it still proved we need more girl-power movies like this in the action genre. From the outset, though, perhaps there shouldn't have been any tinkering with beloved pop culture classics from 1970s TV. Kristen Stewart, Naomi Scott, and Ella Balinska arguably had some good chemistry in this current reboot, but not knowing whether they got along in real life makes all the difference.
One thing about the original TV cast of Charlie's Angels is they really did get along well and looked out for each other in how they were treated. So how did this new cast really get along?
There isn't a lot to go on other than a few interviews among Stewart, Scott, and Balinska. Let's take a minute to see how they really feel about each other based on their social media feeds.
In interviews, they seem to get along fine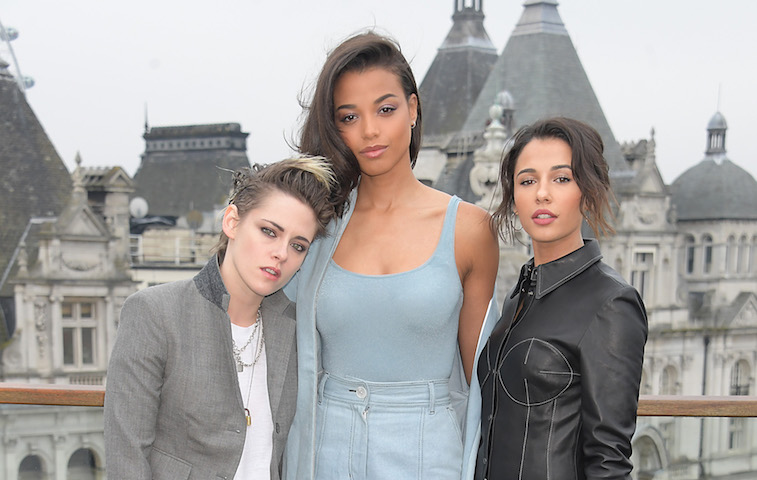 A lot of evidence exists online of how well the three got along during the press junket for Charlie's Angels. One interview has the three saying they were "there for all the right reasons," as in being friends while on-set.
According to Kristen Stewart in the interview, she said it was important for the cast to click in real life to make the chemistry feel genuine. She says the prior Charlie's Angels reboot movies had the cast getting along swimmingly behind-the-scenes. Stewart wanted this cast to be the same and they did hang out during off-time.
There is a strange comment from Stewart, however. She notes when the cast got together, they wanted to like each other to a point of saying hey, "what's up, are you going to be my friend?" Some might look at this as going against what Stewart said in not wanting to force an inauthentic friendship.
No matter how you look at it, though, they appear to have gotten along fine, if maybe not becoming BFFs.
What does Naomi Scott say on her social media accounts?
Take a look at Naomi Scott's Instagram, and fans will see at least one photo from November 4 showing all three actresses in a portrait ad for W Magazine. Other than that, there isn't any photo of the actresses hanging out together.
Also, there's a video posted there of them appearing on First We Feast doing the show's usual hot sauce challenge. In other words, all the photos of them together on Instagram were strictly for business or marketing purposes.
Maybe they didn't want to post any pics of them hanging out during the filming, simply because they might not have been appropriate to show to a wide audience. Plus, the studio might have been against doing that to keep the movie more under wraps.
At this point, audiences just have to take Stewart at her word they really were good friends, at least during filming.
What about Ella Balinska's Instagram page?
Over on Balinska's Instagram, it's clear she uses her page mostly to promote herself and for modeling photos. Nevertheless, she did post that W Magazine ad, plus posted several photo sequences from the cast's appearance on Ryan Seacrest's radio show in early November.
With no pic of Balinska hanging out personally with Scott or Stewart, they may be part of the typical thespian school of bonding on set, yet never really having time to do much else again afterward.
Is it possible to become friends for life with people you work with while ultimately only getting to know them briefly while filming a movie? A lot of examples exist like this where actors bond closely, trade text numbers, then communicate only occasionally by text in ensuing years.
Most actors only reunite with their co-stars occasionally due to diverging schedules. Only time will tell if these three reunite somewhere and what their reactions will be when seeing one another again.