Did Kylie Jenner or Travis Scott Choose Stormi's Name?
After months of speculation about a possible pregnancy, Kylie Jenner confirmed on Feb. 4, 2018 that the rumors were true. And not only that — she and Travis Scott had welcomed a baby girl three days earlier. She was named Stormi Webster — which prompted mixed reactions on social media.
Some people thought it was a great choice. Some were turned off by how unusual it is. And — of course — some wondered who came up with the moniker. It's been a mystery for more than a year. But fortunately, Scott revealed the answer in a new interview.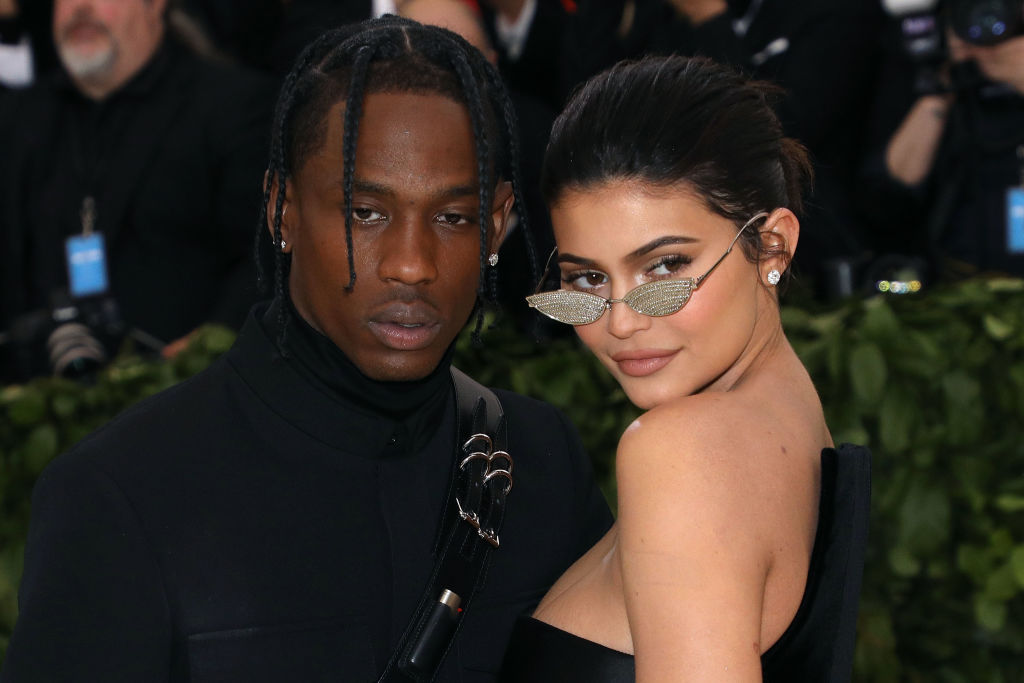 A quick look back at Kylie Jenner and Travis Scott's road to parenthood
After meeting at Coachella in April 2017, Jenner and Scott basically became inseparable. When the festival ended, the Kylie Cosmetics mogul boarded Scott's tour bus and traveled around the country with him on his Birds Eye View tour; Scott was happy to have her.
He told Rolling Stone that just a few short weeks later, in early May 2017, they conceived their daughter.
"At first I was like, 'Man, I need a son,'" he told the publication. "When we found out it was a girl, I was like, 'Huhhh.' But after a while I was like, 'Yo, this might be the illest thing that ever happened.' And when Stormi was born, I was like, 'Life is fire, bro.'"
Jenner gave birth to Stormi in a hospital, surrounded by her loved ones. The couple shared sweet footage of the moment back in August.
Who picked Stormi Webster's name?
In an XXL cover story published online on Dec. 30, Scott said, "Her mom and I came up with the name Stormi together."
It's certainly a change in direction from previous comments. Jenner has said in the past that Scott had been trying to take all the credit for creating the moniker.
"Travis thinks he thought of it but it was me, I remember the whole thing. But he swears he made her name up," Jenner explained on YouTube in October 2018 (via People).
"I was looking [at] nature names, like weather, Earth-inspired. Willow was on there, love the name Willow. But I know a Willow, she's a great Willow and I'm close with her. When you know someone with that name, you can't do that, it's taken," she said, referencing her friend Willow Smith.
Jenner eventually stumbled upon the name Storm and decided to add an "ie" to coordinate with her own name.
"Then I didn't fully choose her name. I wanted to have a week of just me and her to see if I wanted to change it," Jenner continued. "I had one other name in mind but Stormie always felt like her name from when she was in the womb. It's almost like she chose her name."
When it came time to finalize the name, Jenner said she dropped the "E."
"I called Travis and said, 'I didn't put an E and went with an I,'" she added.
A lot has changed since Stormi was born
Most notably, Scott and Jenner are no longer together. Multiple outlets confirmed on Oct. 1 that the couple had ended their two-year relationship a few weeks earlier. They reportedly broke up over their lifestyle differences and baby plans.
Despite their failed romance, Jenner and Scott are still good friends. They are committed to raising Stormi in a healthy environment and often spend time together as a family. Most recently, Jenner and Scott celebrated Christmas 2019 with their baby girl.
Scott spoke about parenthood in the XXL interview.
"I've been spending time with my family and with my daughter, Stormi," he said. "Being a dad is better than what I thought it would be."
"Stormi is one of the best human beings I know," he continued. "She's like my best friend. She makes life a little bit easier. She just inspires me and she surprises me every day with how she's thinking. It's so crazy."
As for Stormi's mom, Scott concluded, "I love her mommy and I always will."