Did 'Long Island Medium' Theresa Caputo Just Give the Kardashians Insight About Tristan Thompson?
Whether you believe that people can speak to the deceased or not, there's no doubt we all love watching Theresa Caputo. The star of Long Island Medium is known for her outgoing personality, big hair, and best of all, the ability to communicate with the dead. While we've seen her approach total strangers on the show when spirit calls to her, it seems she's not afraid to read celebrities, too — and most recently, she was at Kim Kardashian's house giving a private reading.
Kim wasn't the only one present for the reading, either. It turns out Khloe was also there — and it's leading many to suspect that Theresa was present to give insight on the current Tristan Thompson scandal. Here's what we know about their day together.
Kim Kardashian gushed about how Theresa Caputo was visiting her on Instagram
Not ever celebrity has shown Theresa Caputo love over the years, but it seems the Kardashians are very much believers in the medium's abilities. As Kim pulled Theresa in for a hug on her Instagram story on Feb. 26, Fox News reports she said, "You guys, today is probably one of the best days of my life and I have to tell you why. Guess who's at my house and I did a reading with?" Kim then excitedly added, "The Long Island Medium is in Calabasas, can you believe this? She's at my house."
Theresa cracked a few jokes herself, mainly for her daughter, Victoria, who also is seemingly a fan of the Kardashians. "You know, my daughter Victoria probably flatlined," Theresa joked in the video. And the medium also added a photo of her with Kim on Instagram to show her fans what she was up to.
"She's honestly one of the sweetest most genuine people I've ever met," Theresa captioned the photo. "@kimkardashian Thank you for trusting me with the souls of your loved ones it was an honor to channel for you." 
Khloe has sought out insight from mediums in the past
While it seemed like Theresa was there for Kim moreso than for Khloe, we can't forget that Khloe was present, too, and was certainly looking for clarity. Most recently, Khloe's on-and-off boyfriend and the father of her child, Tristan Thompson, was caught cheating with Jordyn Woods, Kylie Jenner's best pal and close friend of all the Kardashians. Not only was this news totally heartbreaking for Khloe, but it followed all of the other cheating scandals Tristan was a part of. Now, it seems Khloe has some serious healing to do.
This wouldn't be the first time Khloe has sought out help from a medium, either. Insider notes Hollywood Medium Tyler Henry sat with Khloe back in June 2017, and he issued some warnings about Tristan Thompson all the way back then. Apparently Tyler "saw some relationship issues" and said, "And for you, I feel like love life is not the area right now that's reaching its peak. Career is really that area." Back at the time of the reading, Khloe wasn't even pregnant with True Thompson yet, so Tyler's advice was pretty spot on for the trouble that was to come.
Was Theresa there to speak about Tristan Thompson?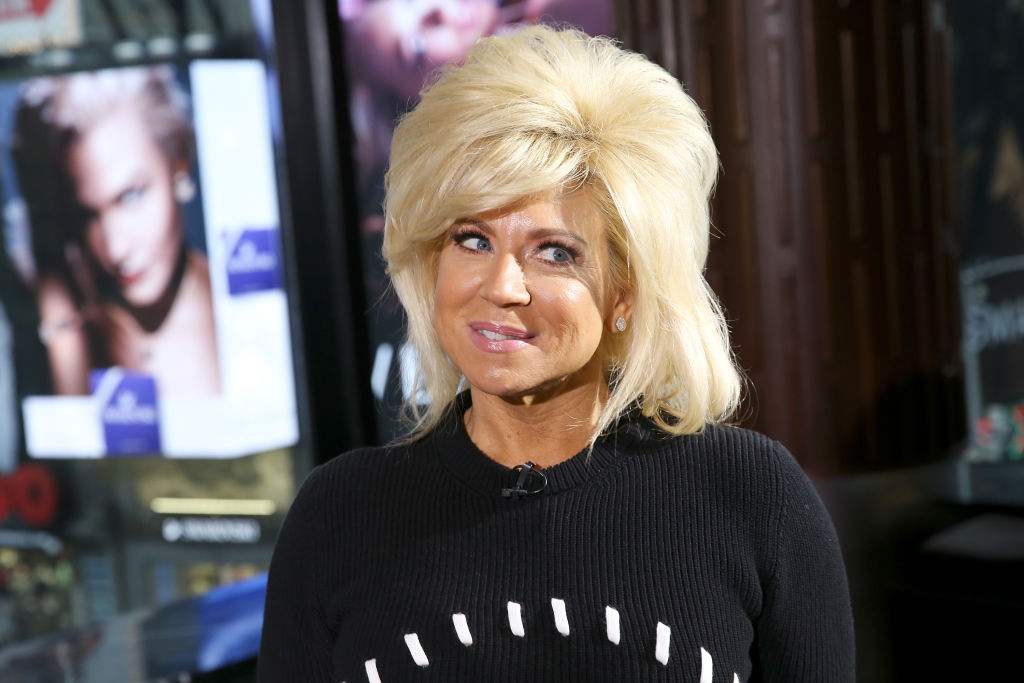 So, what was Theresa's real purpose for coming to Kim's house and seeing the Kardashians? It surely could have been for Khloe, especially knowing the star's history with seeing mediums in the past and for the current drama she's dealing with — but it also may have been to channel someone in Kim's life, as Theresa wrote about speaking with the souls of Kim's loved ones in her Instagram post.
More importantly, it's surely all for the next season of Long Island Medium that's set to premiere in the spring. While Theresa began her career speaking to deceased loved ones of everyday people, Inquisitr notes an episode of hers in Season 8 titled "Celebrity Spirit" stood out as the highest-rated season premiere. For that reason, there's no doubt Theresa will continue to reach out to celebrities to give them private readings.
Check out The Cheat Sheet on Facebook!