Did Netflix Cancel 'BoJack Horseman'?
All good things must eventually come to an end, but Netflix's recent announcement that the streaming service's original animated series BoJack Horseman would be ending with the show's sixth season, fans were thrown for a loop. After all, it's not like the show wasn't successful. With its previous season boasting a 95% on Rotten Tomatoes, it's clear that BoJack fans aren't growing tired of the misadventures of the titular former 1990s sitcom star and his friends. So, why end the show?
The conclusion of BoJack Horseman will take place in two parts. The first half of Season 6 will be released on Netflix on Oct. 25, 2019. The show will return for one final run on Jan. 31, 2020. Over the span of six years, BoJack Horseman won over fans with incredibly well-nuanced characters, accurate portrayals of mental illness, and endless examples of brilliant visual humor. Whether the show is ending too soon or at the exact right time remains to be seen. For now, fans only have one question:
Did Netflix actually cancel BoJack Horseman and if so, why?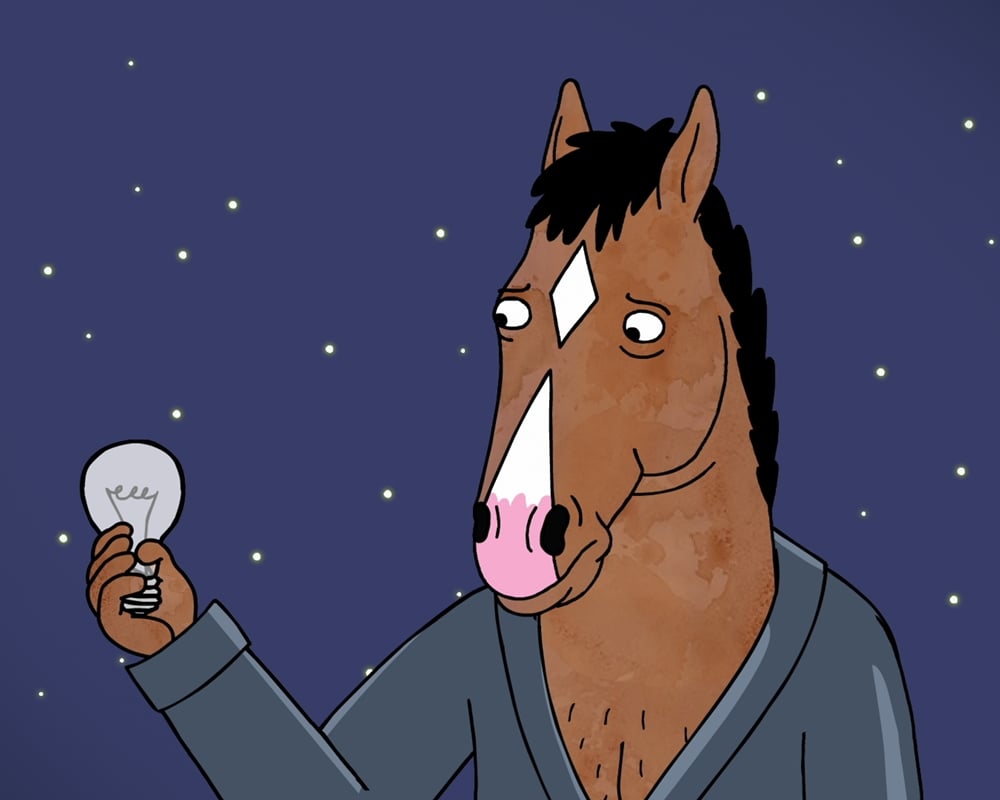 Original reports stated that the show's conclusion was a decision made by 'Bojack' writers
In an article from The Hollywood Reporter that was released shortly after the announcement for the show's curtain call, it is stated that the decision to end the show was made by BoJack Horseman creator Raphael Bob-Waksberg. The announcement arrived soon after BoJack Horseman's spin-off series Tuca & Bertie was canceled too, causing major backlash and disappointment from longtime fans of the show.
However, a shocking tweet from BoJack Horseman star, Aaron Paul, the voice actor for Todd Chavez, the show's main source of comic relief and BoJack's former roommate, proved that the show's cancellation might not have been a call made by the series' writers.
Aaron Paul reported that Netflix canceled 'BoJack Horseman'
Soon after the announcement of BoJack Horseman's final season, Aaron Paul replied to a tweet from a broken-hearted fan who begged for the show to continue.
"Netflix thought it was time to close the curtains and so here we are," Paul wrote on Twitter. His Twitter statement directly contradicts The Hollywood Reporter's previous claim that the show reached a natural conclusion agreed upon by the writers, not Netflix studio executives. The tweet also sparked an entire bonfire of fan rumors and theories about why Netflix would choose to end the series.
A popular rumor circulated, stating that BoJack Horseman was coming to an end due to the show's team of artists unionizing with The Animation Guild, a.k.a TAG, in order to receive a minimum wage, retirement benefits, and health benefits.
Recurring BoJack director Aaron Long was quick to shut down these rumors with a Twitter post, where Long wrote:
"Just to clarify since there's misinformation flying around online– it was already decided (by who I don't know) that Bojack season 6 would be the end long before the crew joined the union. Also emphasis on JOINED the union that every other US Netflix cartoon was already in. If it wasn't already set to be the last season, unionizing probably wouldn't have helped… but please just know the Bojack artists didn't kill the show by demanding the same pay as Big Mouth and Paradise PD!"

Aaron Long's Twitter
Netflix has not released an official statement confirming that they made the decision to end BoJack Horseman with its sixth season, nor have they addressed the wildly circulating rumors regarding the show's cancellation. So, what's the true story here?
The most likely scenario is that Netflix did want to cancel BoJack Horseman along with Tuca & Bertie, which happened to align with the writers' plans for the show. This theory would allow Bob-Waksberg and the BoJack team to construct the perfect conclusion to the beloved series with ample time. Even if BoJack Horseman wasn't ending with Season 6, it's unlikely that the show would have continued for much longer anyway.
Fortunately, 'BoJack Horseman' seems like it will end on a high note
Many BoJack Horseman fans were absolutely devastated to hear that the show would be ending soon, not realizing that the animated sitcom is actually one of Netflix's longest-running original series. As a matter of fact, not too many Netflix original shows have continued past their sixth or seventh season.
The approaching conclusion to Netflix's critically-acclaimed animated series is a bittersweet end for many. In the famous "Free Churro" episode from BoJack Horseman Season 5, BoJack recalls memories from his time starring on the sitcom Horsin' Around and delivers a line that holds especially significant meaning as the show's swan song is growing near.
"You can't have happy endings in sitcoms, not really, because if everyone's happy, the show would be over, and above all else, the show… has to keep going. There's always more show," BoJack says, "You never get a happy ending, 'cause there's always more show."
Maybe the conclusion of BoJack Horseman is a sign that our beloved characters of Hollywoo will have their happy ending after all.