Did Prince William Snub Prince Harry in This Polo Match Moment Caught on Video?
Rumors that Prince William and Prince Harry are feuding persist — continuing with their most recent appearance together at a charity polo match, where it looked like William snubbed his younger brother. The two seemed happy enough, but eagle-eyed fans spotted Harry reaching out to pat his brother on the back and it wasn't so well received.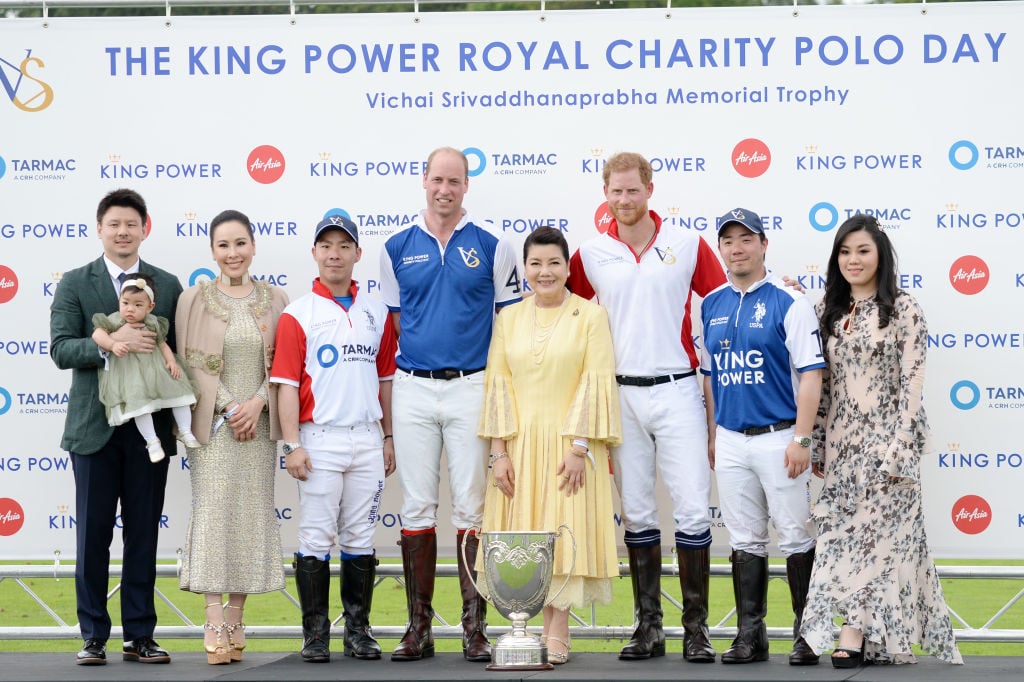 The princes posed for photos together
A video captured Prince Harry and Prince William gathering to pose for photos during the trophy presentation at the King Power Royal Charity Polo Day for the Vichai Srivaddhanaprabha Memorial Trophy at Billingbear Polo Club. It appeared that Harry reached out to put his arm around William.
The gesture, however, was not met with a reciprocating arm around his brother, nor did William seem all too happy to accept the pat on the back after his team won the match. Instead, William kept his arms behind his back during the photoshoot.
Prince Harry may have just been guiding his brother to come closer into the photo as everyone posed, but many wondered if he wasn't also lovingly putting an arm around his brother and William snubbed him by not doing the same.
Kate Middleton and Meghan Markle appeared to be on good terms
If there has been any feuding between the princes' wives, Kate Middleton and Meghan Markle, it certainly appeared that things were smoothed over between them at the polo match. The women interacted with each other and their children as they supported their husbands.
Royal biographer Duncan Larcombe, however, believes that the outing was an "orchestrated front." During an interview with Nine News Australia, when host Belinda Russell shared that, based on appearances, one had to ask, "What feud?," Larcombe reacted: "Isn't that what we're supposed to think after today?"
He continued: "It was carefully orchestrated — there are always photographers at these polo matches."
He continued: "They all looked very happy today, so it's against the backdrop of the rift, of course… I think that they might not be the best of buddies. But you've got to take a lot with a pinch of salt… I think they'll be rather pleased with those pictures."
Their body language was analyzed
At baby Archie's recent christening, people continued to examine whether there continues to be a rift between the couples, with one body language expert believing there is still tension among them.
Judi James analyzed the photos taken at the christening and told Express.co.uk: "William's fig-leaf hand gesture and rather wary-looking smile looks a world away from the more relaxed warmth from Charles and Doria at the other end of the group."
She further described Middleton's pose as "uneasy," explaining, "Kate's self-diminished pose with her arms pulled into her torso and hands clasped in her lap makes her look rather uneasy, but this could be all about positive motives if she decided to sit small to avoid looking too regal and even upstage the parents and their baby."
James further noted: "The jury's still out then in terms of any rift, although neither Harry nor William appear to be in much of a hurry to show us all those non-verbal sibling bond and tie gestures that they grew up using."