Did Princess Diana Schedule Prince Williams Birth Around a Polo Match?
We all know that Diana was the Princess of Wales but was she also the princess of shade?
In Andrew Morton's Diana: Her True Story, Diana recounted her experience giving birth to both Prince Harry and Prince William, but not without throwing a little shade at her former husband, Prince Charles.
Picking the date to give birth to Prince William
If you thought that the media circus surrounding Meghan Markle's pregnancy is insane, then you might not remember how crazy it was when Diana had William.
In fact, the pressure was so great that Diana decided to induce to give birth more quickly.
"When we had William, we had to find a date in the diary that suited Charles and his polo," the princess said. "William had to be induced because I couldn't handle the press pressure any longer, it was becoming unbearable. It was as if everyone was monitoring every day for me."
Diana was very "grateful" that Charles could find time to be there for his son's birth.
"Anyway, the boy arrived, great excitement," she continued. "Thrilled, everyone absolutely high as a kite – we had found a date where Charles could get off his polo pony for me to give birth. That was very nice, felt grateful about that!"
Diana's pregnancy with Harry
Diana didn't have to work around a polo schedule for Harry's birth. In fact, leading up to the prince's birth, Diana and Charles were the closest that they had ever been, according to Diana.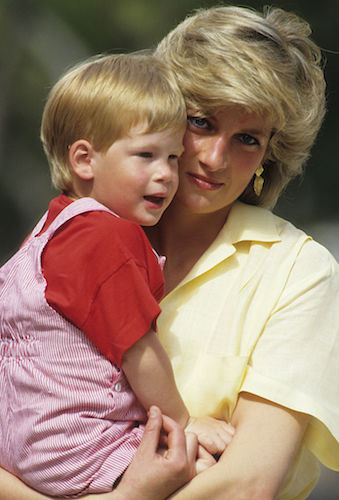 Though this pregnancy brought her and her husband closer together, Diana still didn't tell Charles the sex of the child before he was born.
"I knew Harry was going to be a boy because I saw on the scan," she said in the memoir. "Charles always wanted a girl. He wanted two children, and he wanted a girl. I knew Harry was a boy, and I didn't tell him."
Once the baby was born, Charles was less than ecstatic.
"First comment was: 'Oh God, it's a boy,' second comment: 'And he's even got red hair,'" she said remembering the day that Harry was born.
By Harry's christening, Charles still hadn't warmed up to the fact that he was a boy.
"'We were so disappointed – we thought it would be a girl,'" Diana said that Charles told her mother at Harry's christening.
But Diana's mother didn't want to listen to Charles' negative outlook.
"Mummy snapped his head off, saying: 'You should realize how lucky you are to have a child that's normal,' she said. "Every since that day the shutters have come down, and that's what he does when he gets somebody answering back at him."
Sadly, shortly after Harry was born, Diana and Charles' marriage went up in flames.
"Then, suddenly, as Harry was born, it just went bang, our marriage," she continued. "The whole thing went down the drain."
Charles went on to rekindle his romance with Camilla, Duchess of Cornwall and marry her.
Read more: Has Prince Harry Introduced Meghan Markle to Princess Diana's Family?
Check out The Cheat Sheet on Facebook!