Did Princess Diana Suffer From Postpartum Depression After Giving Birth to Prince William?
As Meghan Markle's due date draws closer, people are looking deeper into the royal births of the past.
Several parts of Markle's birth plan differ from how the rest of the royal family has done things in the past. For instance, she has chosen not to give birth in the Lindo Wing at St. Mary's Hospital like the royal family has for the past four decades. She also chose not to do a photo op on the steps of whichever hospital that she gives birth in, like her sister-in-law Kate Middleton did. Instead, Markle and Prince Harry will spend the first few days of the child's life enjoying him or her privately before sharing images of the baby with the world.
As we get closer to the birth of Harry's first child, people are reminiscing on Harry's own birth, as well as his brother William's.
Were the births planned?
Before Princess Diana passed, she spoke to Andrew Morton about her experience giving birth. He printed their conversation in his 1992 book, Diana: Her True Story.
In the book, she revealed that she had to schedule Prince William's delivery because the media pressure surrounding her pregnancy became too much to bear.
"When we had William, we had to find a date in the diary that suited Charles and his polo," she said of scheduling the Prince's birth. "William had to be induced because I couldn't handle the press pressure any longer, it was becoming unbearable. It was as if everyone was monitoring every day for me."
"Anyway, the boy arrived, great excitement," she continued. "Thrilled, everyone absolutely high as a kite – we had found a date where Charles could get off his polo pony for me to give birth. That was very nice, felt grateful about that!"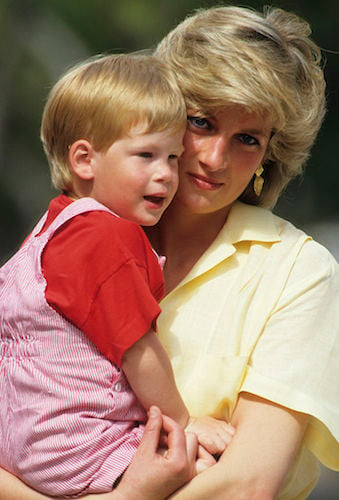 What was it like for Diana after the birth?
After giving birth, Diana still didn't feel at ease.
"Came home and then postnatal depression hit me hard and it wasn't so much the baby that had produced it, it was the baby that triggered off all else that was going on in my mind," she told Morton. "Boy, I was troubled."
She was worried, not only about her new baby, but also about her husband, despite how rocky their relationship had been.
"If he didn't come when he said he was coming home I thought something dreadful had happened to him," she said. "Tears, panic, all the rest of it. He didn't see the panic because I would sit there quietly."
Shortly after William was born, he was christened. But the royal family's treatment of Diana at the event didn't help her depression.
"Endless pictures of the Queen, Queen Mother, Charles and William," Diana said. "I was excluded totally that day. I felt desperate, because I had literally just given birth – William was only 6 weeks old. And it was all decided around me. Hence the ghastly pictures."
After giving birth to Prince Harry, Charles and Diana ultimately decided to go their separate ways.
Read more: Has Prince Harry Introduced Meghan Markle to Princess Diana's Family?
Check out The Cheat Sheet on Facebook!