Did Ramona Singer From 'RHONYC' Throw Shade at 'RHOC?'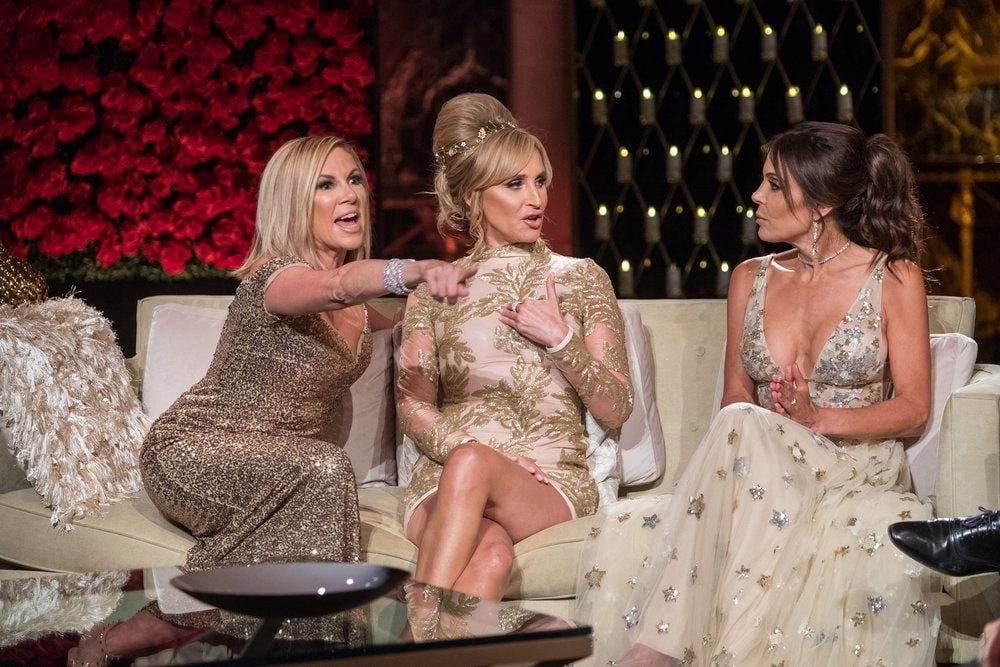 Oh no she didn't! Did Ramona Singer from The Real Housewives of New York City just issue a Real Housewives of Orange County takedown?
The whole thing went down after Bravo's Real Housewives awards where individual housewives across the franchise won for important contributions like "best wig" and "best shade," People reports.
Orange County housewives picked up a few awards ("best shade" for Kelly Dodd and "best couple" for Tamra and Eddie Judge).  Sonja Morgan from The Real Housewives of New York City walked away with "best comedic performance." Also noteworthy was the "best actress" award, which Bethenny Frankel won.
While the awards are done for fun, Singer bragged to Dodd earlier that her franchise is the best.  She went so far to say Orange County was almost irrelevant without New York.
Singer told this 'RHOC' castmate this
During the Real Housewives awards on Watch What Happens Live Dodd tells Andy Cohen she ran into Singer.  She says Singer insisted that New York was the real reason why the entire franchise is successful.  "We put Bravo on the map. No one knew about Orange County," Singer allegedly said. "New York City put everything on the map," she said. Singer goes onto say New York brought the network press. "We made the Housewives popular! The O.C.? Who knew?!"
Cohen looks confused, insisting it all started with Orange County. Dodd continues by saying the Singer asserted that the franchise was "going under." And that New York made Bravo relevant.
Cohen put 'best shade' up against Singer's comments
So Cohen decides, "why not call Singer and hear it from her personally?" Singer answers the phone, saying she was just thinking of Cohen.
Cohen totally calls Singer out but Singer holds to her comments about how New York put Bravo on the map. Instead of back peddling, Singer doubles down. She keeps saying how New York was the best series. Plus some person, a "head person," someone named "James Bond" told her New York was the best too. O.k.?
The conversation seems to go nowhere as Singer continues to insist New York dominates and that the series is what delivered considerable press to Bravo.
Then he asks the RHOC OG
While appearing on Watch What Happens Live, Vicki Gunvalson, the original cast member of The Real Housewives of Orange County was asked to respond to Singer's assertion. Gunvalson says "Oh no she just didn't, I have to adjust my crown!" She reminds viewers she started on the show 14 years ago. She adds, "My show."
Check out The Cheat Sheet on Facebook!