Did Rihanna Just Call Jay-Z a 'Sellout'?
The lineup for the 2020 Super Bowl halftime show was just revealed: Jennifer Lopez and Shakira will be taking the stage. While many fans are thrilled about the duo, the conversation is nowhere near over.
Lots of sports fans are still speculating about which entertainers might have turned down the gig recently. Iconic performer Rihanna was rumored to have been asked to perform by the NFL and the singer reportedly declined the request. That was all unconfirmed until the business mogul spoke out, putting to rest the question about whether she has ever been asked to perform at the Super Bowl.
Ironically, her comments have caused a firestorm on social media, with some fans wondering whether or not she intended to throw shade at fellow artist: rapper Jay-Z. Rihanna disclosed why she wouldn't be willing to perform at the Super Bowl halftime show and, in turn, said some things that have fans guessing she's throwing shade.
What did Rihanna say about the halftime show?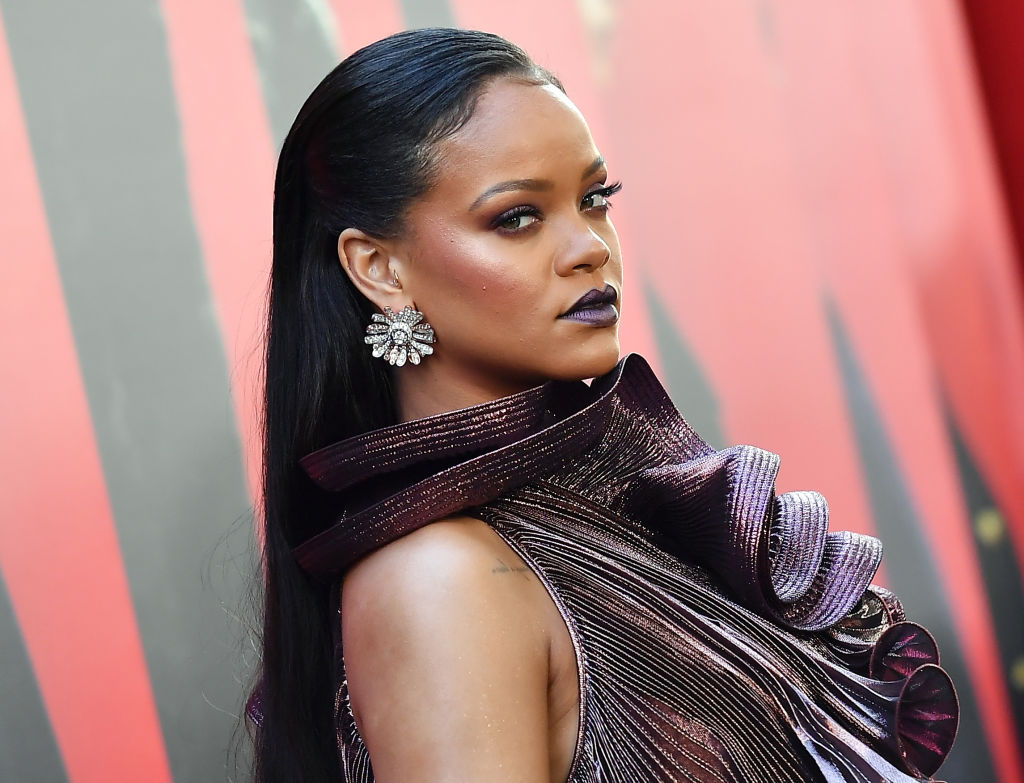 Rihanna rose to fame for her intensely danceable songs and provocative, no-nonsense personality. Her songs, "Umbrella," "Good Girl Gone Bad," and "Shut Up and Drive" ensured her a place in pop music history. But in recent years, Rihanna has largely stepped away from music in order to focus on her business ventures.
She has released a makeup line, a lingerie collection, and even an exclusive line of high-fashion clothing. All in all, Rihanna doesn't really seem to be missing the music scene much. Still, her fans are still clamoring for her to make a grand return to music.
In a recent interview with Vogue, Rihanna revealed that she was courted by the NFL to be the entertainer for the 2019 Super Bowl halftime show. She admitted that she had turned them down, mainly due to her support of former San Francisco 49ers star Colin Kaepernick.
Rihanna said that she "couldn't be a sellout" by performing for the same organization that she believes treated Kaepernick so poorly and that because she doesn't agree with some of the NFL's policies, she was not about to "be of service" to them in any way. Ultimately, Maroon 5 ended up performing at the 2019 Super Bowl halftime show.
What is Jay-Z's collaboration with the NFL?
Rihanna might be taking a stand in a very outspoken way, but not all music stars feel the same way about the NFL. Recently, it was announced that the rap icon Jay-Z — and husband of Beyonce — had teamed up with the NFL as their "live music entertainment strategist." Essentially, Jay-Z's entertainment company Roc Nation would "advise on selecting artists for major NFL performances like the Super Bowl."
"With its global reach, the National Football League has the platform and opportunity to inspire change across the country," Jay-Z said in a statement. "This partnership is an opportunity to strengthen the fabric of communities across America."
Shortly after, it was announced that J.Lo and Shakira would perform at the 2020 halftime show.
Jay-Z's involvement drew criticism from social justice activists. The rapper's move was deemed as greedy and hypocritical since he has supported Colin Kaepernick in the past but now chooses to make money off the establishment that leaves Kaepernick unemployed.
Did Rihanna mean to throw shade at Jay-Z?
Many fans read Rihanna's comments about not being a "sellout" as a direct dig at Jay-Z, who, in spite of his vocal support of Kaepernick in the past, still chose to work with the NFL. Rihanna has collaborated with Jay-Z in the past, so the two certainly have a working relationship.
Jay-Z himself has addressed the issue during a press conference in 2019, when he stated that he believes the social justice issue has gone "past kneeling." Many activists took issue with his statements, and have accused him of not standing up for Kaepernick and the "Take a Knee" movement."
Certainly, Rihanna could have been taking a subtle swipe at Jay-Z with her comments, but she avoided directly calling him out. Rihanna has proven that she has no problem speaking her mind, and as the big game draws closer, she could definitely open up even more about her thoughts regarding the NFL halftime show and those stars who do choose to continue working with the massive organization.