Did Ryan Serhant From 'Million Dollar Listing' Think Tyler Whitman Came to His Office to Fight Him?
As an up and coming broker in a sluggish luxury Manhattan market, Tyler Whitman from Million Dollar Listing New York has to be even more on his game.
The rising real estate star was challenged by his bosses at Triplemint to start selling in the $5 million to $10 million range. Which, in a down market, is no easy feat, even for seasoned brokers. So when Whitman lands an opportunity to score a high-level listing in Tribeca he intends to walk away with victorious.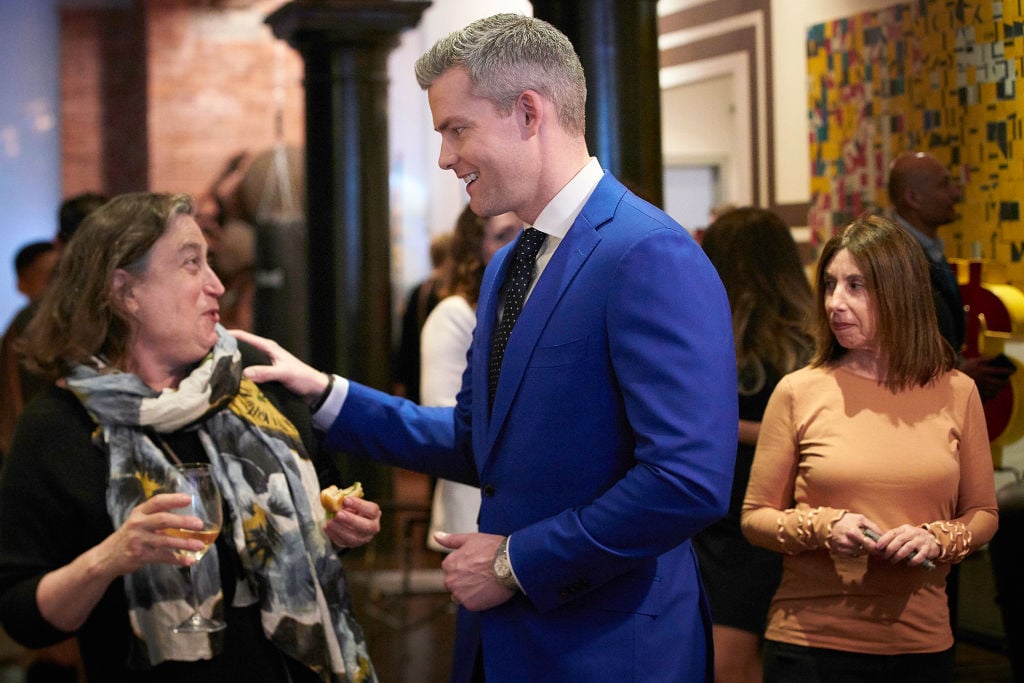 At the same time, Ryan Serhant is also pitching for the listing. During the meeting, the owners tell Whitman they are interviewing a number of brokers to get an idea of the market. So who walks away with the listing? Plus does Whitman visit Serhant to get into a fight?
Serhant vs. Whitman
The expansive space is crammed with expensive artwork and Whitman learns the sellers are art dealers. While the art gives the property a unique flavor, it also positions it for a more specific buyer, which can be an added challenge in a tough market.
Cameras follow both Serhant and Whitman as they tour the home. The sellers clearly put considerable money and love into their home that includes funky details like a turn of the century dental camera that is transformed into a lamp. While the decor and design is unique, the home only offers two bedrooms, plus windows are limited.
Both brokers marvel at the artful design. However, Whitman points out the two bedrooms and lack of light may pose an issue. He says in a confessional interview he is a big believer in being upfront and honest with clients. Meanwhile, Serhant reads the client as being extremely passionate about their home.
Who scores the listing?
Serhant says his strategy is to connect with the seller's passion for their home. "And ask them a lot of questions," he says in a confessional. Whitman believes he feels chemistry with the client. "I feel like the stars are aligning, I really think I can get this listing," he says in his confessional.
The sellers end up asking Whitman more questions about his firm, which is still new, but quickly up and coming. They admit they have been out of the market and don't have a frame of reference for how to price their home too. Both brokers ponder a fair price. And both brokers come in with a listing price of $5.5 million. Which, of course, the sellers think is too low.
Although both brokers present the same list price, Serhant walks away with the listing. While Whitman makes his presentation and then leaves to allow the sellers to think about it, Serhant plays into the seller's love of art. "What are you passionate about," he asks the seller. When the seller says creating and designing, Serhant agrees that the space reflects that. "Picasso wasn't done after one," he says. Then he moves the sellers to agree to hire him on the spot.
Whitman wants to learn (not fight)
When Whitman learned he lost the listing to Serhant, he wanted to find out why. In a recent episode, he visits Serthant at Nest Seekers to hear about what Serthant did during the listing presentation to help him to improve his game. Whitman says losing the listing was "soul-crushing" and "devastating."
Whitman's intentions are pure, but Serhant assumes Whitman is there looking for a job. But when Whitman shares he too was up for the listing, Serhant seems shocked. "Is he here to fight me," he asks in a confessional. "He gonna try to knock me over the head and take my listing?"
But Whitman says he felt as though he "crushed" the appointment so he just wanted to know what Serthant did to score it. However, instead of taking it as a compliment and sharing some insights with Whitman, Serhant becomes a little cocky. He acts like he's never heard of Triplemint. Then says in a confessional, "How do I not sound like a douchebag? I probably did exactly what you did, but a lot better." But Serhant then launches into his philosophy of selling and offers some constructive feedback, which Whitman seems to appreciate.
Does this mean it is game on between Whitman and Serhant? Tune in to Million Dollar Listing New York, every Thursday, 9/8c only on Bravo.