Did the Drama With Khloé Kardashian Help Jordyn Woods' Career?
Not too long ago, Jordan Woods was known simply as Kylie Jenner's best friend.
That all changed after the cheating scandal between Woods and the father of Khloe Kardashian's daughter, Tristan Thompson.
It's been interesting watching Woods to go from sidekick to influencer in her own right.
Once the media frenzy and subsequent backlash against Woods died down, she took matters into her own hands and paved a pretty envious career of her own.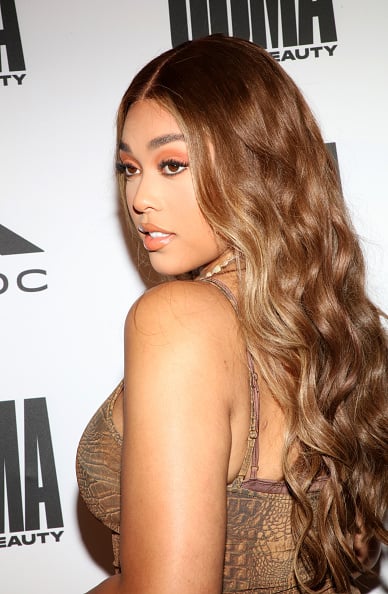 Woods and Thompson allegations first surface
Entertainment news site Hollywood Unlocked was the first to reveal the news.
According to one of their contributors who was at a house party thrown by Thompson, Woods and Thompson were all over each other, with Woods even staying until the wee hours of the morning! TMZ soon followed with added information that the two shared a kiss.
Thompson initially denied that anything went down with a tweet he captioned, "FAKE NEWS" while Woods remained mum.
The damage was already done. Fans and spectators later found out that Woods moved out of Jenner's guest home that she had been living in with Jenner and Jenner's daughter Stormi.
Khloe took her frustrations to social media after it was teased that Woods would tell her side once and for all on Jada Pinkett Smith's 'Red Table Talk.'
Woods tells her side in sit down with Jada Pinkett Smith
After a week of suffering cuber bullying from Kardashian fans and celebrity supporters, Woods was ready to reveal it all. She confided in close family friend, Jada Pinkett Smith, on her popular Facebook talk show 'Red Table Talk.'
Woods revealed that after a night out, she was invited by Thompson to take the party back his place for a house party with other mutual friends. Things appeared normal to her at first until she says there was a shift and when she went to leave the party, Thompson kissed her, leaving her shocked.
Woods expressed remorse and Kardashian calmed down on her accusations that Woods was responsible for the breakup of her family with another series of tweets.
Woods becomes her own brand
Woods allowed the interview with 'Red Table Talk' to speak for itself and refused to give additional comments to other media outlets. Instead, she focused on building a career outside of her connection to the Kar-Jenners.
With her mother working as her manager, she enlisted the help of marketing guru Sheeraz Hasan to assist with closing her business deals.
The plus-sized model and lover of all things beauty decided to make her mark in the cosmetics industry first, with a collaboration with Eylure with an official lash collection.
From there, she took on fashion and started her own activewear line to promote body positivity and released a shoe collection with Barney's.
Her latest appearance was in rapper Rick Ross' music video as his leading lady, a role she took pride in as her later father was a huge fan of the rapper.
Will Woods and Jenner ever reconcile?
The saddest part of the whole Kar-Jenner-Thompson-Woods drama has been the loss of the friendship between Kylie and Jordan.
Friends since middle school, Jenner was stuck in the middle of her sister's heartbreak and her best friend's mishap. On an episode of 'KUTK,' Jenner was filmed talking to sister Khloe about the scandal.
"I think that this whole Jordyn situation needed to happen…for me, for you, for her, for everybody," she says. "She was my security blanket. We did everything together. It just felt like, I have Jordyn, I don't need anything else, and I feel like there's a part of me that needed to grow without her."
She ultimately chose family and distanced herself from Woods.
In a recent interview with Cosmopolitan UK, when asked if she thought she and Kardashian would ever be friends again, Woods is optimistic. "I hope everything falls into place and that we can all grow and build our relationships with our family and God," she added. "And come back together one day and be stronger and happier."