Did Tom Brady Leave Bridget Moynahan While She was Pregnant?
Tom Brady has two kids with his current wife, Gisele Bündchen. But Brady also has another child, John, whom they call Jack, with his former girlfriend, Bridget Moynahan. And when Brady and Bündchen started dating, a lot of people were under the impression that Brady had left Moynahan mid-pregnancy to be with the super model. But what really happened?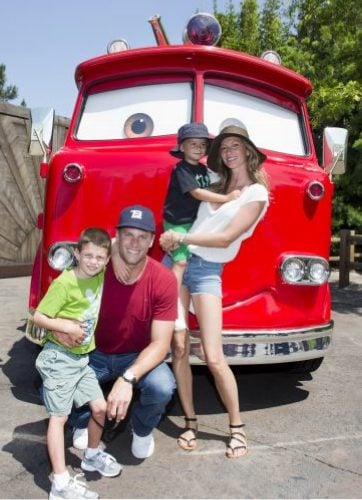 Tom Brady and Bridget Moynahan dated for nearly three years
The NFL quarterback and actress began dating in 2004. Their relationship was pretty high profile, and the couple seemed happy together. They attended events with one another and were always close to each other in public. But somewhere along the line, the romance faded. The couple called it quits in December 2006, and just a few weeks later, Brady was set up on a blind date with super model Bündchen.
Brady and Bundchen had their first date right after Brady's split
It didn't take long for Brady to get caught up in another romance. Before Bündchen and Brady started dating, Bündchen was asked about him in an interview. "He's cute, but if he has a girlfriend, he's gay to me," she told the Boston Herald of the quarterback. At the time, Brady was still with Moynahan, but when those two called it quits, he was set up on a blind date with Bündchen. The two reportedly had their first date in December 2006, and by January, they were already a serious item.
Brady found out about Moynahan's pregnancy more than two months after he'd starting dating Bündchen
Brady was shocked when he learned Moynahan was carrying his child. It was about three months after the two had split, and roughly two and half months since he and Bündchen had started dating. When he told Bündchen, she was just as shocked.
But despite rumors that Brady knowingly left Moynahan when she was pregnant, the quarterback actually didn't find out about the pregnancy until a couple months after things were officially done with them. As for whether or not he left her to pursue a relationship with Bündchen — that has never been confirmed.
But Moynahan was still heartbroken about being a single mom
Although the breakup happened before either of them were aware of the pregnancy, the reality was that Moynahan still had to be a single mother. There was a lot of anxiety that came with raising a newborn on your own (although Brady did spend a lot of time with his son). She told Harper's Bazaar the first thing she did when her son was born was cry. She didn't suffer from postpartum depression, thankfully, but she said she felt very anxious about raising the child. In time, though, she learned.
Today, Brady and Moynahan co-parent well
When Jack was first born, things seemed up in the air. But Moynahan and Brady have squashed any negative feelings they may have had toward each other. Today, they co-parent well. And Moynahan and Bündchen appear to get along, too. The two were photographed hugging as Moynahan dropped Jack off at his father's home back in 2014. Moynahan and Brady never spoke badly about one another in public, either. Moynahan said there's no reason her son would ever need to read about something like that in the news as he got older.
Check out The Cheat Sheet on Facebook!