Did 'The Vampire Diaries' Stars Nina Dobrev and Paul Wesley Ever Date?
'The Vampire Diaries' was a beloved TV series, and at least some of the actors dated one another. What about Paul Wesley and Nina Dobrev?
We know it's not real life, but we can't help it: Sometimes you just have to ship your favorite TV and movie couples in real life. When we're lucky, they even make our dreams come true (looking at you: Sarah Michelle Gellar and Freddie Prinze, Jr). So what about The Vampire Diaries pairing of Nina Dobrev and Paul Wesley — did they ever date? Here's what we know.
Nina Dobrev and Paul Wesley starred in 'The Vampire Diaries'
The Vampire Diaries aired on The CW from 2009-2017, for a total of eight seasons. Based on the book series of the same name, it follows a young woman, Elena Gilbert (Dobrev), who falls for a seemingly slightly older guy. Only, as it turns out, he's a vampire. And there are plenty more supernatural creatures in her town.
Throughout the course of the series, Elena dates both Stefan Salvatore (Wesley) and his brother, Damon Salvatore (Ian Somerhalder). Then there's the whole thing with her doppelgangers — but we digress. Basically, there's a whole lot of almost-but-not-really incestuous behavior going on here.
Dobrev famous dated her other co-star
Like her character, Elena, Dobrev quickly fell for someone she (in a manner of speaking) worked alongside. Not long after the series began, it was reported that she and Somerhalder were an item in real life. This worked out nicely with their on-screen romance, for the most part.
However, when the relationship ended a few years later, Dobrev and Somerhalder still had to work together. Dobrev eventually left the series (returning for the finale), but there doesn't appear to be any ill will between the two. In fact, Dobrev is friendly with Somerhalder and his wife, Twilight actress Nikki Reed, to this day.
Did she and Wesley ever date?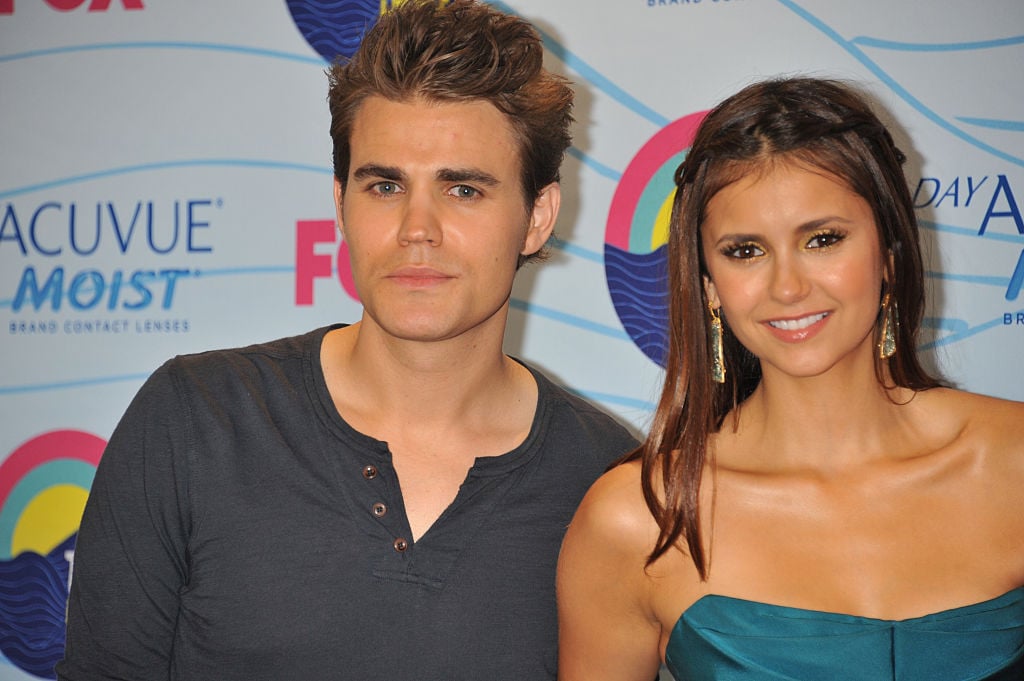 Dobrev and Wesley also spent quite a bit of time together over the years. So, did they ever date, either before or after she was with Somerhalder? As far as we can tell, they were never more than friends. And for a time, they were less than that.
In a 2019 interview, Dobrev said, "Paul and I didn't get along at the beginning of the show." She continued, "I respected Paul Wesley. I didn't like Paul Wesley. We despised each other so much that it read as love but… We really just didn't get along the first five months of shooting."
But this faded over time. "First of all, Nina's a dear friend of mine," Wesley said in response. "I text with her at least once a week. We talk all the time. We hang out all the time, so I think it was a little click-baity to be honest with you because we're such good friends."
Wesley and Dobrev recently had a reunion
In case you need any more proof, Dobrev and Wesley recently met up and put on a bit of a show for us all. In a video on her Instagram, Wesley approaches Dobrev, and they hug and exchange pleasantries. They talk about the hubbub around the whole thing, calling it "stupid."
Wesley assures Dobrev that he doesn't "hold grudges." She's grateful — but then, he throws her in the pool! It's a cute, silly video to make fun of the whole ordeal, which she appropriately captioned, "I 'despise' you." So not, they may not have ever dated, but these two former co-stars have an adorable friendship.