Disney Reaffirms Commitment to Strong Females in 'Moana'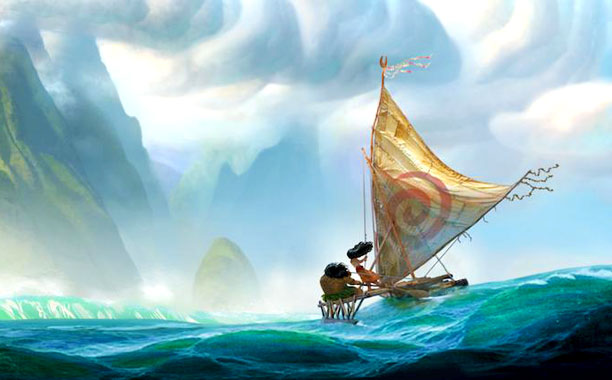 Get ready to meet Disney's latest strong-willed heroine. The studio has just announced its next animated musical feature, Moana, centered on the eponymous brave 14-year-old girl who sets out on an epic journey in the South Pacific.
Disney unveiled a first look at the movie (seen above), which already looks to be cinematically stunning. The flick, scheduled for release in late 2016, is described as "a sweeping, CG-animated comedy-adventure." Set in the ancient world of Oceania, it follows "born navigator" Moana as she "sets sail in search of a fabled island." Per the film's official synopsis, Moana teams up with the legendary demi-god Maui during her journey "to traverse the open ocean on an action-packed voyage, encountering enormous sea creatures, breathtaking underworlds and ancient folklore."
Disney has already started building a strong creative team to create Moana. Rob Clements and John Musker, who previously helmed other Disney classics like Little Mermaid, Aladdin, and The Princess and the Frog, have signed on to co-direct the movie.
The project seems to be part of Disney's latest effort to put heroines front and center of not only its films but also the promotion behind each film. Some of the studio's other recent female-centric movies, like 2010 Rapunzel story Tangled, have been accused of hiding the prominence of the female lead character in the marketing. Even trailers for the 2013 Disney darling Frozen were once criticized for being "misleading" and downplaying the film's sisterhood storyline. But with Moana, there's no mistaking it: She's the heart of the story and Disney wants you to know it.
Of course, there's a reason for this notable shift. Despite initially catching some flak, Frozen went on to become a staggering worldwide phenomenon. It won two Oscars and became the fifth-highest-grossing film of all time, earning $1.27 billion worldwide. Kids everywhere — and let's face it, some adults — can still be heard singing "Let it Go," the beloved single from the movie's hit soundtrack. After that response, it's clear Disney finally got the message — audiences want more strong, lovable female lead characters on the big screen.
To be fair, the studio had previously tried to amp up the girl power aspect of a story (to much critical appraise), with Pixar's Brave in 2012. But while the movie did well (earning $539 million at the worldwide box office), it didn't even come close to creating the same reaction as Frozen did last year. After the latter film's huge success, Disney seemed to have no qualms about playing up Angelina Jolie's turn as Maleficent at every possible turn. Their strategy paid off, as Maleficent went on to gross over $757 million worldwide.
Now, it seems the studio is hoping to continue the same trend with Moana. Like Frozen, the new movie aims to give audiences the kind of female lead character they can't help but root for. As Musker described in a statement, "Moana is indomitable, passionate and a dreamer with a unique connection to the ocean itself." In fact, the character has already spurred her own Internet fanbase, with tons of Tumblr users already creating their own interpretations of the latest Disney heroine.
This is arguably the first time since the days of Pocahontas and Mulan that Disney is putting its female lead at the very forefront of their own stories. As with those films, Moana is significant for another reason besides being her own hero. As the first Polynesian princess and only the fifth Disney princess of color, she also signifies the studio's effort to diversify its characters, a lack of which has long since been another point of criticism for the studio.
Whether Moana will be able to replicate the success of Frozen or Maleficient remains to be seen, but Disney clearly sees an opportunity, having bumped up the release date from 2018 to 2016. And the studio is not wrong: With heroine-led films getting more and more attention at the box office and the public continuing to push for more culturally representative characters, particularly in animated films, Moana may be coming not a moment too soon.
More from Entertainment Cheat Sheet:
Want more great content like this? Sign up here to receive the best of Cheat Sheet delivered daily. No spam; just tailored content straight to your inbox.