Disney's 'Jungle Cruise' Trailer: A Wild First Look at the Upcoming Film
The adventurous spirit of one of Disney's most iconic theme park attractions will debut on the silver screen with the upcoming family action-adventure film Jungle Cruise. There will be a mystical tree with magical healing properties, sinister dangers lurking within the jungle, and yes, infamously corny humor.
Disney's theme parks are full of iconic landmarks and attractions inspired by the many timeless cinematic classics the studio has created, like Peter Pan's Flight at Walt Disney World. Every so often, a film will originate from the turnstiles of a theme park ride like Disney's Pirates of the Caribbean franchise, a swashbuckling success based on the famous park attraction. Next summer, Jungle Cruise will sail into theaters as a nostalgic reminder of everything we love about the ride with the exciting addition of action-packed adventure, but for now, we have the first official trailer for the movie.
Here's the first glimpse at Disney's Jungle Cruise: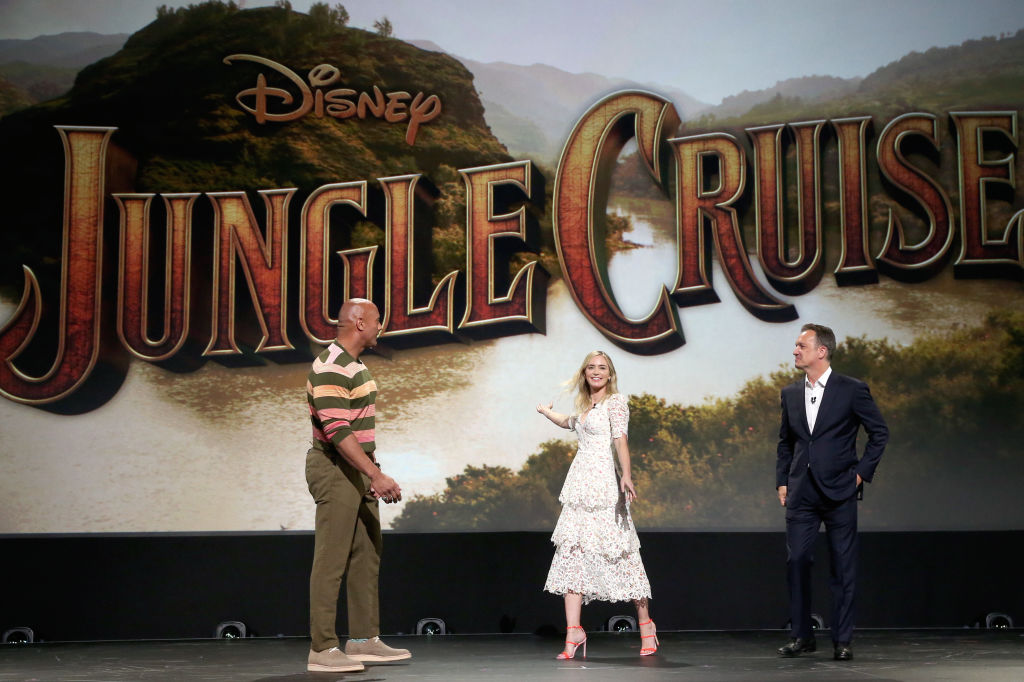 The first trailer teases an adventure cruise for the magical Tree of Life
The first official trailer for Jungle Cruise opens with Emily Blunt as Lily Houghton, an ambitious, quirky scientist in search of the mysterious Tree of Life, a magical tree with healing abilities nestled deep in the heart of the Amazon jungle. Houghton comedically fights her way out of a sticky situation before catapulting herself out of danger and onto a quickly departing bus.
Meanwhile, Frank, played by Dwayne Johnson, is a riverboat captain who takes intrigued tourists on an exciting, albeit heavily rigged, jungle cruise with "wild animal" encounters and attacks from "vicious jungle dwellers". Here, we get our first official wink at the Disney attraction as Frank proudly gestures to a waterfall and refers to it as "the backside of water", one of the most iconic jokes from the ride.
Lily and her brother McGregor, played by Jack Whitehall, join Frank in their quest for the Tree of Life. And, it looks like they aren't alone. Throughout the trailer, Frank and Lily battle it out together against all types of enemies, from a group of competing thugs to fantastical forces within the jungle.
Will the group ultimately discover the powers of the magical Tree of Life? Either way, audiences will be in for a wild ride.
The adventure-seeking stars of 'Jungle Cruise'
The Jungle Cruise attraction at Disney's theme parks wouldn't be whole without the charismatic performances from the rides' operators. Jungle Cruise is no exception and judging by the trailer, the movie's promising cast of characters will take audiences on an exciting, entertaining ride that's more than worth the price of admission.
Emily Blunt's Lily Houghton radiates with charm as a resilient, passionate truth-seeker whose presence echoes that of the legendary treasure-hunting archaeologist, Indiana Jones. Her brother, McGregor, is played by English standup comedian Jack Whitehall. Frank, played by Johnson, shines as the gruff and tough con artist with a heart of gold. Zero Dark Thirty star Édgar Ramírez and Breaking Bad supporting actor Jesse Plemons will both appear as two bad guys fighting to reach the Tree of Life first in Jungle Cruise. Paul Giamatti will also be making an appearance.
'Jungle Cruise' took a journey to create
Since its initial announcement in 2006, Jungle Cruise has gone through a world of changes. Originally, the feature was written by producer Josh Goldstein and filmmaker John Norville, who reported that their version of the story would be a very loose adaptation of the attraction. Five years later, a new version was rumored with a script by Shrek co-writer Roger S.H. Schulman, featuring the reunion of Toy Story co-stars Tom Hanks and Tim Allen.
In 2015, John Requa and Glenn Ficarra created a final script, which was perfected by rewrites from a variety of talents, including Michael Green, Patrick McKay, and J.D. Payne. Dwayne Johnson was brought on board during the same year and Emily Blunt joined the cast three years later.
After over a decade of development, Jungle Cruise will finally be ready to set sail into theaters on July 24, 2020, and pay tribute to one of Disney's most memorable theme park attractions in history.
Read more: How Much Money Was Dwayne "The Rock" Johnson Paid for 'Jungle Cruise'?
[Correction, 10/14/19: An earlier version of this article implied that Josh Goldstein and John Norville were originally supposed to write the script, but hadn't done so. The producer and filmmaker had in fact written a loose adaptation, based on the theme park ride.]