Disney's Live-Action 'Aladdin' Just Made Another Huge Misstep
Aladdin fans have been keeping an eye on the live-action film since the beginning of the casting process when there were reports that Disney was having trouble finding Middle Eastern leads. It's no surprise that the announcement of a brand-new character to the world (played by Billy Magnussen) has fans concerned about Disney's intentions.
Here's what we know about the controversial new character and why fans aren't happy about the addition.
1. There's a new prince in Agrabah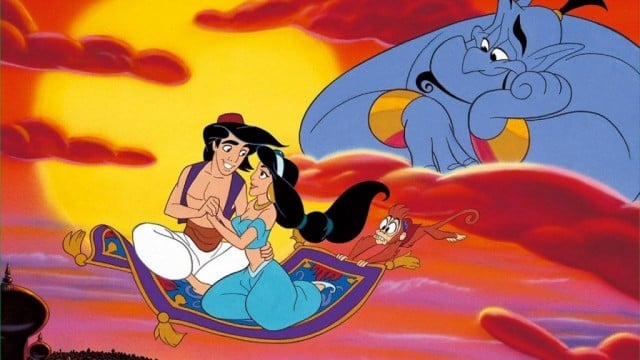 We don't know much about Magnussen's character, as the original movie doesn't feature him. The character's name is Prince Anders, a Norwegian royal. He's a suitor from Skanland and a potential husband for Princess Jasmine.
If you think this character sounds a little familiar, you're not the only one. Screen Rant believes Prince Anders could possibly be the Norwegian version of Prince Achmed, "a snooty and pretentious Arab prince who was one of the many potential suitors the Sultan had lined up to marry his daughter."
But the full cast list has yet to be announced, so there's still a chance Prince Achmed just has yet to be cast.
2. Who is Billy Magnussen?
You might recognize Magnussen from Into the Woods, Bridge of Spies, and The Big Short. He's no stranger to the big-screen — and unfortunately, big-screen controversy, as seen in his upcoming Bruce Lee movie, Birth of the Dragon.
Here's what we know about Magnussen on a personal level: His mother was an aerobics teacher and his father was a bodybuilder and kickboxer, so it's no wonder he's so in shape. He's the maternal grandchild of two Lithuanian immigrants, and he was born in New York City.
3. Why people are upset
https://twitter.com/atomicwick/status/905225212924502016
Since announcing the introduction of Magnussen's character, there's been some negative feedback from Aladdin fans. The main argument is that if the movie is supposed to take place in the Middle East, why the contrived inclusion of a Norwegian prince (or, simply put, a white actor)? The original animated film didn't have any white characters, why does the live-action recreation need one?
"Disney might not have whitewashed an existing character yet, but his addition to a story starring characters of color is already being seen as a blatant attempt to insert a white character in a story where there are none," said The Daily Dot.
4. This wasn't Disney's first misstep with Aladdin
Controversy sparked when it became known that Disney was having trouble casting the live-action film. They put on an extensive, world-wide search for Middle Eastern and Indian descent actors, but were unsatisfied with the results, causing fans and critics to become skeptical early on.
It's even been said that the film's director, Guy Ritchie, would have liked to have cast Tom Hardy as Jafar (a role that will now be played by Marwan Kenzari, a Dutch-Tunisian actor)
5. Hollywood's history of whitewashing
Whitewashing has been a problem in Hollywood since the birth of the film industry. Not only are there not many roles for anyone who isn't Caucasian, but when there are, they're often played by white actors. That creates little work for diverse performers, and fails to represent diversity in one of our biggest mediums of entertainment.
Recently, one of the biggest instances of whitewashing in Hollywood was when Scarlett Johansson was cast as the role of Major Motoko Kusanagi in Ghost in the Shell. "We're looking at these beautiful white bodies saying these Japanese names, and it hurt my heart a little bit," said Japanese-American Actress Keiko Agena about the film.
6. Disney has spoken out on the matter
From the beginning of this project, the film's producer, Dan Lin, tried to make it clear that director Guy Ritchie and Disney would avoid whitewashing the movie. He feels that, because he is Taiwanese, he has a special duty to avoid whitewashing any part of the script, according to Screen Rant. Lin said:
Look at me. I mean I'm not a typical guy. Listen, I'm very fortunate working in Hollywood; I am diverse. So when I came in to make the movie, I wanted to make a diverse version of the movie. Luckily for me, Guy Ritchie has the same vision and Disney has the same vision, so we're not here to make Prince of Persia. We want to make a movie that's authentic to that world.
7. The cast looks excited
https://www.instagram.com/p/BY00iYRlA4E
Will Smith recently posted a photo featuring the leads of the film. Smith will be playing Genie; Mena Massoud is playing Aladdin; Naomi Scott is Princess Jasmine; and as previously mentioned, Kenzari is in the role of Jafar.
Smith captioned the photo: "We just started shooting Aladdin and I wanted to intro you guys to our new family … "
The cast looks happy and thrilled to start filming, despite any recent controversy.
Check out Entertainment Cheat Sheet on Facebook!