DJ Khaled And Wife Announce Baby No. 2
Who doesn't like baby announcements? This time, DJ Khaled—who always seems to be in party mode—has another reason to celebrate. He and his wife, Nicole Tuck, just revealed they're expecting their second child. The producer shared the news on social media today and the congratulations keep pouring in.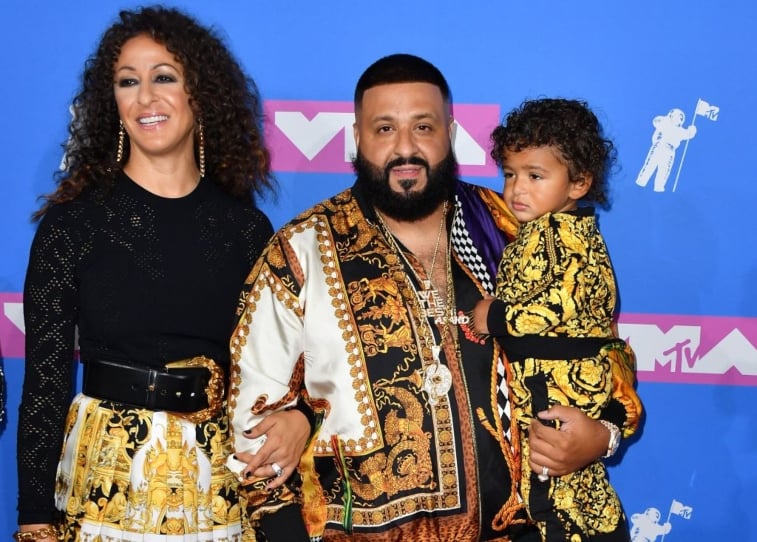 Toddler Asahd is front and center in adorable moment with dad DJ Khaled
Just hours ago, the "We The Best" hitmaker posted a video on his Instagram account of Tuck receiving an ultrasound. The couple's toddler, Asahd, can be heard in the background expressing his excitement. But perhaps no one is more excited than DJ Khaled himself.
Why? Besides the fact that a new addition is joining the brood, they've found out the gender of baby number two! Check it out. Although Tuck doesn't always like to be on camera, this clip is bubbling over with family affection.
Asahd—who per People—will turn three on October 23, is heard saying one of his father's famous catchphrases: "Another one!" In addition to sending congratulations messages, fans want to know if the DJ will come up with a new tagline for the second baby.
DJ Khaled loves fatherhood so much, he dedicated an entire album to his firstborn
After the birth of first child, the proud dad has been seen taking the little boy everywhere. From red carpets to talk show appearances, Khaled usually has the now 2-year-old in tow. In May of this year, Khaled dropped his 11th album, titled "Father of Asahd" that also features his son as an executive producer.
He's said in multiple interviews, including the one below with Jimmy Fallon, that after his son was born, his entire life changed. Asahd inspires everything he does.
Now, it's all about doing for him, and he considers his child—soon to be children—to be a spiritual blessing and the most important thing to him. Listen, Khaled says he's not just a father, but the father of Asahd.
Khaled shared the first birth online
Back in 2016, Khaled famously snapchatted Tuck during the labor and delivery process at the hospital. He had his own music playing in the video that included updates from the doctor, scenes in the delivery room, and baby Asahd's little footprint.
USA Today pointed out that fans thought the experience was TMI, but you can't blame the man for being over the top excited. Over the top is what he does.
We're not sure if he plans on livestreaming this event too, but Khaled will probably keep fans posted on Tuck's due date and labor. One thing is for sure, DJ Khaled, Asahd, and Mama Asahd (as he calls Nicole) are over the moon about the baby boy who is on the way.
"God is the greatest. All I ever wanted to do was inspire the world to be great and to leave a legacy. Almost 3 years ago when I found out my queen was expecting our son Asahd I knew my life would change forever and that OUR legacy would soon be on the way.

Just when I thought life couldn't get any better, I received another blessing that my queen is expecting an addition to our legacy.
I'm feeling more inspired than ever now."
Khaled, who always expresses his gratitude for his fans and everything he has, might even feel inspired to drop another fatherly album after baby two arrives. We'll see.