Do Kylie Jenner and Travis Scott Live Together?
Kylie Jenner and Travis Scott have taken some pretty major steps in the two years since they started dating. They got matching tattoos, had a baby, and they've even talked about getting married one day.
But do they actually live together? If you keep up with Jenner's Instagram, you know that she's seemingly always at home with her family and friends rather than Scott, which raises questions.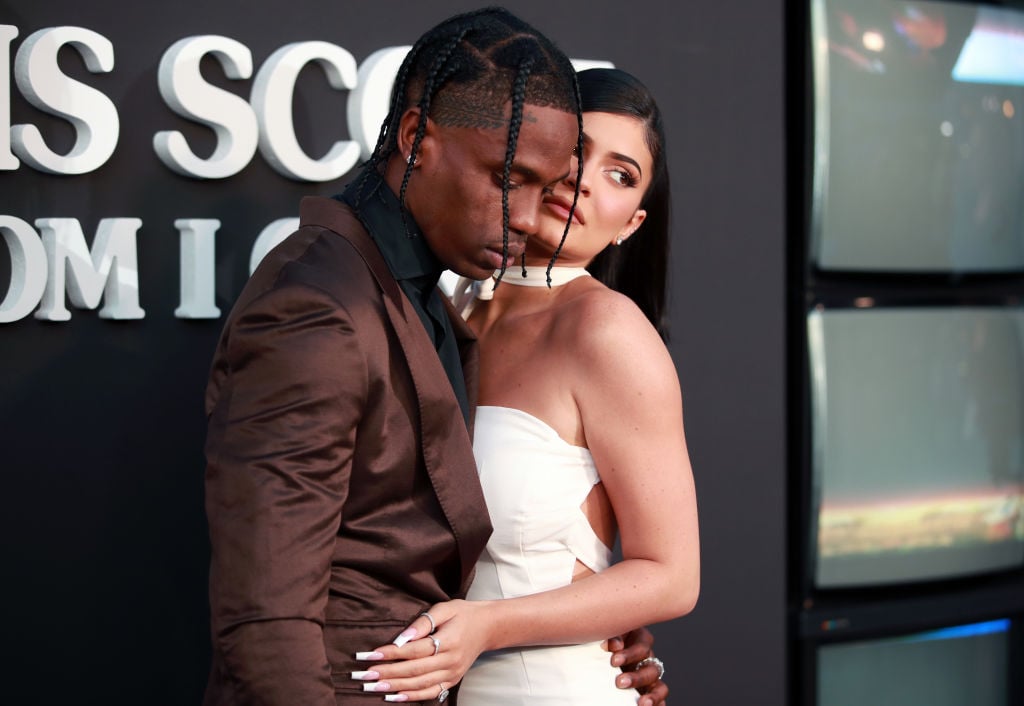 Jenner has opened up about this, though
Jenner told GQ in July of 2018 that she never really separated from Scott after they met at Coachella in April of 2017.
"Coachella was one of the stops on his tour," she explained. "So [Travis] said, 'I'm going back on tour—what do we want to do about this?' Because we obviously liked each other."
"And I was like, 'I guess I'm going with you,'" she continued. "I really jumped on [his tour] bus. And then we rode off into the sunset. I did the whole tour with him."
Jenner added that their cross-country trip really helped them get to know each other and grow in an "organic" kind of way.
"We had a lot of downtime," Jenner explained. "It was organic. And we would just go to these random cities. We got to not be who we really were. Like, if we were in L.A., I feel like it would've been way different. Everything happened for a reason. We weren't going out as 'Kylie and Trav.' We would just be in Cleveland, walking the street for hours. We would go on walks, and no one would bother us."
She later revealed whether they had an actual home together
In an interview with her sister Kendall Jenner for Vogue Australia's September 2018 issue, the Kylie Cosmetics mogul addressed reports that she and Scott weren't living together.
"I'm actually scrolling through Instagram right now, and it says that me and Travis don't live together, and so I just want to say that we never miss a night with each other," she explained.
"We go back and forth from my Calabasas house and the city home that we actually got together," she added.
She did not elaborate on the home that she mentioned, but reports later offered a deeper look into their living situation.
Jenner and Scott bought a home in 2018
People reported in October of 2018 that the couple had dropped $13,450,000 for a house in Beverly Hills, California.
"Kylie and Travis's new Beverly Hills house is spectacular," a real estate source told the outlet. "It's contemporary, but very warm at the same time. The property is also very private."
Jenner and Scott reportedly bought the house "as an investment." But the insider added that they seemingly planned on staying there, too.
Photos of the listing show that the home features a modern design, a pool, multiple balconies, panoramic windows, and a stunning kitchen.
Why you don't see them home together more often
Well, Scott and Jenner are busy people. So, when they finally have downtime, they seemingly prefer to keep off of social media and hang out as a family.
"When we have our days off, we play with Stormi all day, and the three of us have a lot of fun together," Jenner told Playboy in September of 2019.
"We do a lot of swimming; Stormi loves swimming, so we're always in the pool or playing in her room or taking her out to lunch with us. After she falls asleep, we watch a lot of TV and we get lost in the theater room and just watch a whole lot of shows and movies. We usually fight over what TV show we're going to watch. We have a lot of fun together. We're always laughing or getting into deep talks," she continued.
So, not only do they live together, but they've got a cute little routine, too.