Do Prince George and Princess Charlotte Enjoy the Spotlight?
Prince George and Princess Charlotte are the children of Prince William and Kate Middleton, and there is hardly anyone in the world who doesn't know who they are. But the two kids are young, and they've already been thrown into a life full of publicity, cameras, and millions — if not billions — of fans. Do these two royal children enjoy the spotlight?
George and Charlotte reportedly don't know they're royalty
Although everyone around them knows, George and Charlotte (and Louis, of course) supposedly don't yet know that they're royalty. George and Charlotte are only five and three years old respectively, so it would be very difficult for them to grasp everything that comes along with explaining the royal family. For now, Will and Kate are doing their best to give all three of their children the most normal childhood possible.  "… Right now it's just a case of keeping a secure, stable environment around [George] and showing as much love as a I can as father," Will said in a past interview about why George doesn't know he's royalty. When the time is right, Will and Kate will inform their children of their royal lineage.
The two have learned to handle the spotlight well
Although the children don't know they are royalty, they must be somewhat aware that their own lives differ greatly from the lives of other kids their age. When Prince Louis was born, Will took George and Charlotte to meet their new baby brother. The two walked past hundreds of people standing outside the Lindo Wing, and Charlotte gave a famous wave to the crowd as if she'd been doing it for years. Both children attend school with other kids their age, so it must sink in to a degree that things are different for them. However, they've been able to handle the spotlight well so far.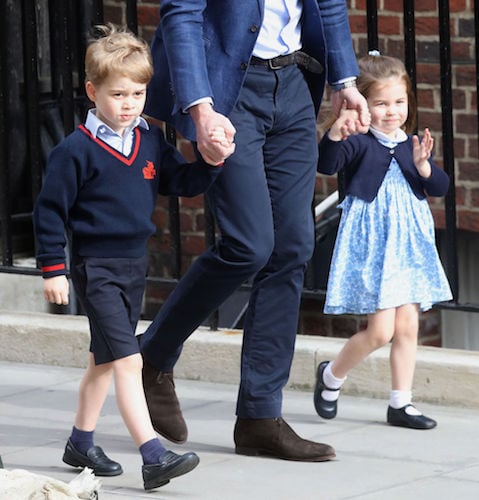 For now, the kids don't seem to mind the attention — but that may change as they realize the responsibility that comes with it
At this age, the kids essentially do what their parents tell them — if Will asks Charlotte to wave to the crowd, she does. But as they get older, that may change. Right now, they're little kids, and they can essentially do no wrong. But once they start to develop more responsibility and realize the whole world is watching their every move, they may shy away from the spotlight a bit. (Prince Harry infamously hated growing up with all eyes on him.)
George is the future of the Monarchy, so he has a lot of responsibility on his shoulders
George hasn't yet been told he is royalty, but when he realizes that responsibility, there may be times when he wishes it wasn't all resting on his shoulders. He's imminently in line for the throne, so he, for all intents and purposes, has no choice but to become king. As he grows up, there may be times when he doesn't love being constantly watched. For now, though, George and Charlotte don't seem to mind the public eye — but that could be because Will and Kate do their best to keep a sense of normalcy.
Check out The Cheat Sheet on Facebook!