Do Prince George and Princess Charlotte Like Their Nanny?
Prince George and Princess Charlotte spend a lot of time in the spotlight, but their parents, Prince William and Kate Middleton, have even more royal responsibility. Although they adore their kids, Will and Kate can't do it all by themselves. George and Charlotte have a nanny who has been working with the family for some time and helps care for the kids. But how do the children like the woman they spend so much time with?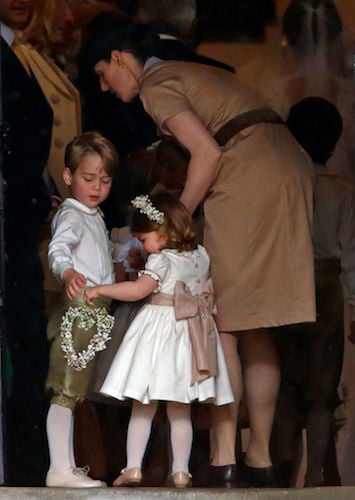 The kids' nanny is Maria Borrallo, who joined the family in 2014
Maria Borrallo, who is from Spain, joined the family in 2014, when George was only eight months old. She is the sole caretaker for George, Charlotte, and Louis, and she's practically a part of the family at this point. Borrallo actually went to school to learn the ins and outs of nannying. She is a graduate of Norland College, which teaches nannies everything from defensive driving to cooking to taking care of royal family members, according to Town & Country Magazine. The royal family has a history of hiring nannies from the school.
Borrallo has accompanied the children on almost every important outing
Borrallo is the nanny, but at this point, she might as well be a family member. Will and Kate trust her to go anywhere with them. She accompanied Princess Charlotte to Meghan Markle's wedding, and she rode in the backseat to Queen Elizabeth's annual Christmas lunch last year to help look after Charlotte and George during the holiday. All three of the royal kids haven't even known their lives without her, and she'll likely be around for at least another decade, until Louis is old enough to take care of himself.
The kids appear to be used to Borrallo and enjoy spending time in her care
Since the kids spend so much time with Borrallo, they appear to be comfortable with her. If things weren't working out, Will and Kate likely would have replaced her with someone else. She has been seen playing outside with the kids and appears to care for them on more than just a professional level; she seems to truly have a relationship with them. George and Charlotte also seem to have a good relationship with each other, which definitely makes Borrallo's life a bit easier.
Will and Kate are so satisfied with Borrallo that they haven't added anyone else to their staff
Will and Kate have three kids now, but they haven't added any new nannies to their staff since they hired Borrallo. While three children may warrant more than one nanny in some families, Borrallo seems to have such a great repertoire with the children that Will and Kate didn't feel the need to bring on anyone new when they had Louis last year. It looks like Borrallo will be around to care for the kids for a long time, but it doesn't seem like Charlotte or George mind spending time with her. It's unclear if she'll look after any other royal children once these kids are grown, but either way, Will and Kate will probably give her a great review.
Check out The Cheat Sheet on Facebook!