'Doctor Who': Jodie Whittaker and Castmates Surprise a Young Fan
Though Doctor Who is loved by fans of all ages, it started out as a somewhat educational show for children. While it soon became popular with adults as well, children are still an important part of Doctor Who's audience. So, therefore, there are many children out there, especially in the U.K., who love the show.
One young Doctor Who fan got the surprise of her life recently, during the BBC's Children in Need telethon. The show raises money every year for BBC's Children in Need charity. And what happened this year? Well, the cast of Doctor Who had a special surprise for a young fan named Anastasia.
How did the 'Doctor Who' cast surprise Anastasia at 'Children in Need'?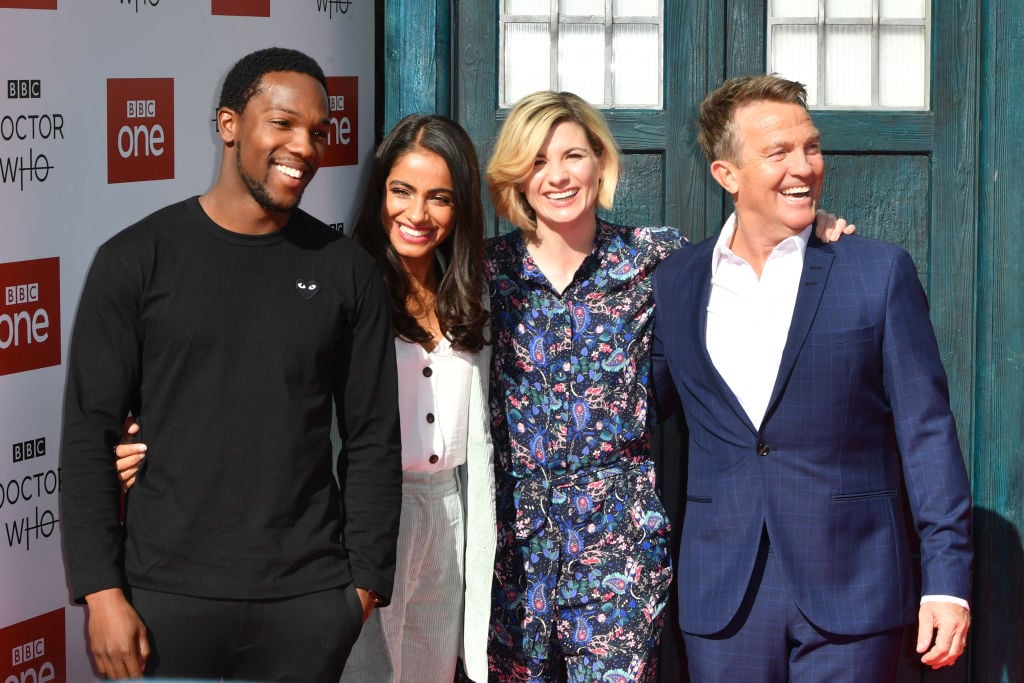 The presenter of the show mentioned that Anastasia likes Doctor Who. She then told Anastasia to look at the big screen behind them because someone has a message for her. Anastasia obliged, and what she saw surprised her. On the screen was Jodie Whittaker as the Thirteenth Doctor, with her castmates Tosin Cole, who plays Ryan Sinclair, and Mandip Gill who plays Yasmin Khan.
Whittaker started by saying hello to Anastasia and saying that they wish they could be with her. Gill chimed in by saying that the signal is a bit delayed and asking Anastasia to "bear with" them. Cole added that surely the Doctor could fix that. At this point, Whittaker agreed and pointed her sonic screwdriver at the screen to fix the signal.
And then the real fun began.
What happened next?
After Whittaker pointed her sonic screwdriver at the screen, surely the signal would be fixed. Well, there was something even better. The screen parted to reveal the Doctor Who cast, to Anastasia's delighted scream.
Children in Need really had a nice Doctor Who surprise for everyone, including Anastasia herself. The young girl immediately ran to hug Jodie Whittaker, who was in character as the Thirteenth Doctor. After a long hug with Whittaker, Anastasia also hugged Gill and Cole, who were also in character.
And there is more.
What other 'Doctor Who' surprises were in store for 'Children in Need'?
That wasn't the end of Children in Need's Doctor Who surprise. When asked what she wanted to say "to an actual Time Lord," Anastasia said that Whittaker is "amazing." Whittaker then told Anastasia that she and her castmates had heard of her and that she could probably teach them a thing or two before their next season. Then, something amazing happened.
Whittaker said, "We also wanted to bring you a little something, because you look like you could be the next Time Lord, so you're going to need your very own sonic screwdriver." The sonic screwdriver is such a big and iconic part of Doctor Who. Many fans actually own replicas of the Doctors' sonic screwdrivers and it is probably extra special for young fans to own one. Not to mention getting handed one by the current Doctor.
That would be special for any Doctor Who fan, but it is probably particularly special for younger fans, for whom the show has a particular kind of magic. Younger fans can probably believe in the reality of the show in a way that older fans can't. And for Anastasia, Doctor Who is definitely something special.