'Doctor Who' Fans Are Freaking Out Over The Thirteenth Doctor's Tuxedo
Doctor Who has seen many changes come along with the Thirteenth incarnation. Not only is Jodie Whittaker the first woman to play the role of the Time Lord, she brings with her a new showrunner Chris Chibnall, a new TARDIS interior, new writers, and a new composer. With all this change, some fans are probably wondering what is the same with the show. Well, there is one thing.
The Doctor still looks great in a tuxedo. Yes, that's right. Jodie Whittaker's Thirteenth Doctor is going to be wearing a tuxedo — with a bowtie, of course — in season 12.
Why is the Thirteenth Doctor going to be wearing a tuxedo in season 12?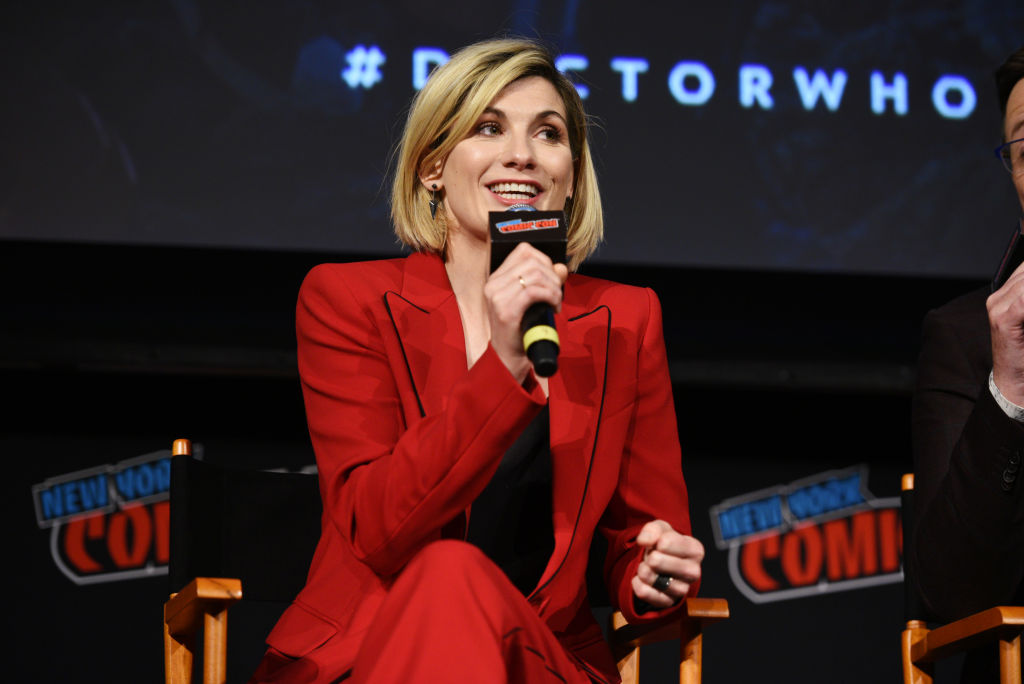 So she seems to be going somewhere that requires a formal outfit. Yet then why not wear a dress? Of course, a dress wouldn't be the Doctor's style. It wouldn't be very practical for running around in, and the Time Lord certainly does a lot of that.
According to Radio Times, another reason that the Doctor is wearing a tuxedo is to pay tribute to James Bond. In the trailer for season 12 of Doctor Who, it seems the alien and her companions are on some kind of spy adventure. The heroine is also wearing a bowtie — bowties are cool, after all — much like her Eleventh incarnation would have. So that might be another reason for the outfit, to remind fans a bit of the Eleventh version of the Time Lord.
What do the fans think about the Thirteenth Doctor's tuxedo?
It seems like many fans are excited about seeing the Time Lord and her companions in formal outfits. One fan on Twitter posted about "the Thirteenth Doctor in a suit with a bow tie," with a gif of Patrick from Spongebob Squarepants surrounded by hearts. So, basically, this fan loves the outfit. Another fan tweets that there is "Doctor Who in 2020, Doctor wearing a bow tie."
The fact that the Time Lord is back and wearing a bow tie makes this fan say "That's it. Life is finally worthy of living." Another fan says "Jodie Whittaker as The Doctor proving once again that bow ties are cool while slipping in a possible nod to being the next 007," with a thumbs up and a smiley face emoji. So this fan seems to like Whittaker's outfit as well.
How else are fans reacting to the new costume?
Yet do fans like the tuxedo too much? One fan tweets, "might be controversial to say, but this is a much better costume for [the Thirteenth Doctor]." This is compared to her usual outfit of different shirts with rainbowlike stripes on them, pants, and a white jacket. Still another fan adds that they "really wish they'd gone with a costume like this for [Whittaker's version of the main character.]"
Of course, you can't please everyone. One critical fan states that "the fact people are screaming over the Doctor wearing a tuxedo shows how bland and uninteresting the show's been recently." Well, that fan is certainly entitled to their opinion. Though we're sure other fans would disagree.
Overall, fans seem to be excited for the tuxedo and the new season of Doctor Who in general. When the show comes back in 2020, fans will likely have a lot more to "scream over" and talk about. And fans probably wouldn't have it any other way.