Does All This Internet Love Make Keanu Reeves Uncomfortable?
Those who follow the career of Keanu Reeves are already aware he's one of the nicest, most genuine men in all of Hollywood. Some are wondering if his many good deeds should garner him the title of Time magazine's Person of the Year. As a matter of fact, it was one of Reeves' biggest fans, Jackson Beem, who started a Change.org petition to make this potential honor become a reality.
We recently witnessed Reeves on the red carpet at the premiere of Pixar's Toy Story 4 as the voice of Duke Caboom, one of the newest characters and latest additions to Disney's platform for playthings that come to life.
During an interview before entering the theater, Reeves is visibly and audibly stunned to learn he has recently been dubbed "the internet's boyfriend."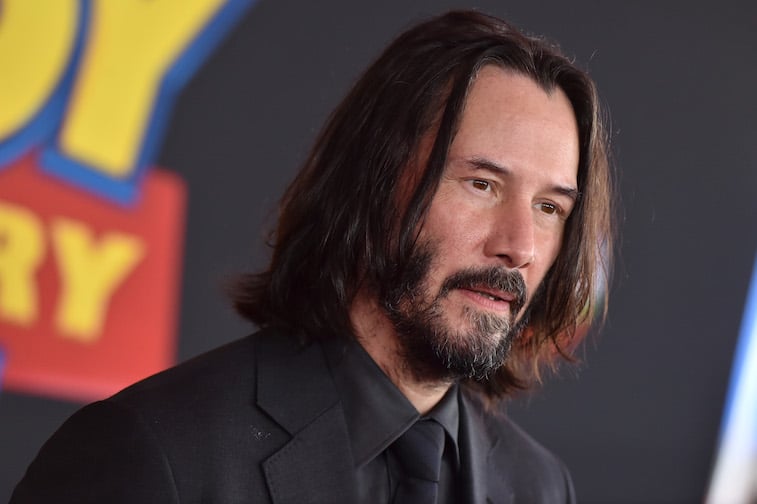 Switching from uncomfortable to appreciative
After hearing the news, Reeves responds, "I've been what?" calls the notion "wacky" and becomes increasingly uncomfortable during this part of the interview.
The commentator tells Reeves: "Everyone is just been kind of gushing over you on the internet, you didn't know that yet?"
Answering a question with a question is common interviewing tactic and viewers kept watching as Reeves begins to blush and stumble with his words.
A true professional both on-screen and off, Reeves quickly gets his act together and manages to change the subject to one of positivity in how fans and the public have embraced his many characters over the years.
It's examples like this one when he's shying away from a complimentary accolade and bringing the focus back to the fans that make his followers embrace him even more.
Similar response to point-blank praise
If you think Reeves' reaction to receiving praise on the red carpet was a one-time moment when he was momentarily caught off-guard, let's look at a similar situation.
In another interview with ET Online, when asked how he's receiving all the attention and support for his accomplishments, Reeves gives a statement that follows the former response almost to a tee when he says:
"It's been really nice and special for me. Just how well the John Wick film was received and then also recently with Always Be My Maybe and then being connected with CD Projekt Red. I've just had the chance to be working with really cool people and be a part of really cool projects."
For someone who is accustomed to being in the limelight, Keanu seems to have a special talent for redirecting the spotlight away from him and ensure it's shining on others including those he works with and the fans that continue to support him.
Offscreen life filled with tales of tragedy and loss
When the actor does open up about his personal life, it's not a very pretty picture and is packed with moments of tragedy and loss. The 54-year-old actor and star of The Matrix recently recalled some of his struggles in a piece published by MSN.
During an interview with Rolling Stone, Reeves recanted a time when he lost the love of his life, actress Jennifer Syme in a car accident less than two years after their daughter was stillborn. Some of his other noteworthy challenges included:
A childhood of moving from Lebanon to Australia and parts of the United States before settling in Canada
An absentee father who would later be jailed for possession of heroin and cocaine
Becoming very close with his co-star in Private Idaho actor River Phoenix who died of an overdose when Reeves was just 23
Reeves is proof positive your past doesn't define who you are and just because you've had a rough upbringing, dealt some pretty crappy cards in life and suffered tremendous losses, it doesn't mean you automatically become a douchebag. Obviously, quite the opposite is true and we'd all like to commend him for his stellar character, amazing love of life and others.
Cheers Reeves, and we're looking forward to "Bill & Ted 3: Face The Music" slated to be released on August 21, 2020.