Does 'Altered Carbon' Have a Season 2 Premiere Date?
Altered Carbon, the Netflix original, is one of the streaming service's most popular shows. The show is suspenseful but not necessarily scary, but it does require paying close attention in order to follow what's going on. (There are plenty of interesting things to know, such as the idea that bodies are "sleeves" and the characters don't always remain the same person.) Netflix took a risk with the show, since the sci-fi-esque plotline typically attracts a very specific audience. But in July 2018, it was announced that there would be a second season. Things will be different, though — here's what we know, including some major cast changes and whether the show has announced a season 2 premiere date.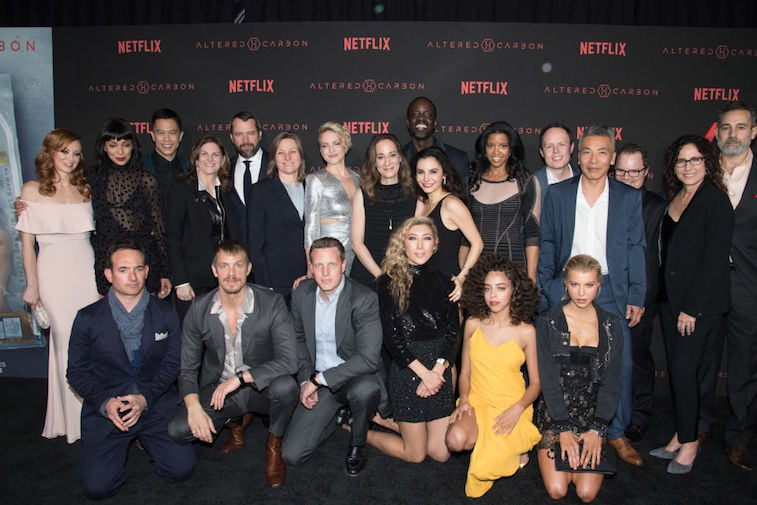 Earlier this year, the show announced there would be cast changes for season 2
The show takes place more than 300 years into the future, and it's based on the 2002 novel of the same name. Despite being one of the most Googled shows of 2018, the show actually debuted to fairly low ratings. But with each passing episode, the show got more intriguing, and once it caught on, its fan base expanded. The show was renewed for a season 2 in July 2018, but there were also reports that there would be some major cast changes.
During the first season, actor Joel Kinnaman played the lead role of Takeshi Kovacs, but for the second season, "Avengers" actor Anthony Mackie will take over the role. Simone Missick, who also had a role in the Marvel franchise, was cast as Trepp, an expert bounty hunter who can track down just about anyone. The only two well-known cast members who remain the same are Kovacs' love interest, Quellcrist Falconer, who is played by Renee Elise Goldsberry, and Poe, who is played by Chris Conner. Netflix announced through a YouTube video all the cast changes fans can expect for next season.
Filming for the new season didn't start until February 2019
Although the show premiered to mixed reviews, Netflix was able to lock in at least one more season. The intense cast changes could be to keep audiences questioning what season 2 has in store and make everyone want to come back for more. The show's first season premiered more than a year ago, but filming for season 2 didn't start until nearly a year after its release date; it's likely the cast changes took some extra time. In February 2019, filming started up once more in Vancouver, British Columbia.
The show likely won't be back for at least another year — but no date has been specified
As with most sci-fi shows, there is a lot that goes into filming Altered Carbon. It's been reported that there were talks of adapting the book into a show for nearly 15 years before it actually happened. Radio Times reported that the production was so costly and intense that it took just under two years to completely film the first season. Season 1 lead Joel Kinnaman said the production had a bigger budget than the first three seasons of Game of Thrones. If the second season of Altered Carbon requires the same amount of work, it will likely be at least another year — if not two — before the series comes back.
Check out The Cheat Sheet on Facebook!