Does Andy Cohen Hold The Record for the Most 'Tonight Show' Appearances?
Andy Cohen from 'WWHL' was floored when he realized he no longer held the record for 'most appearances' on 'The Tonight Show.' Who unseated him?
Watch What Happens Live with Andy Cohen host, Andy Cohen was feeling a little "salty" last night during Jimmy Fallon's appearance.
Fallon graced the WWHL stage, answering questions, playing games and getting real during the WWHL After Show. Amid Cohen and Fallon's playful banter, Cohen shared that he was feeling a little "salty" about one of Fallon's recent guests on The Tonight Show with Jimmy Fallon.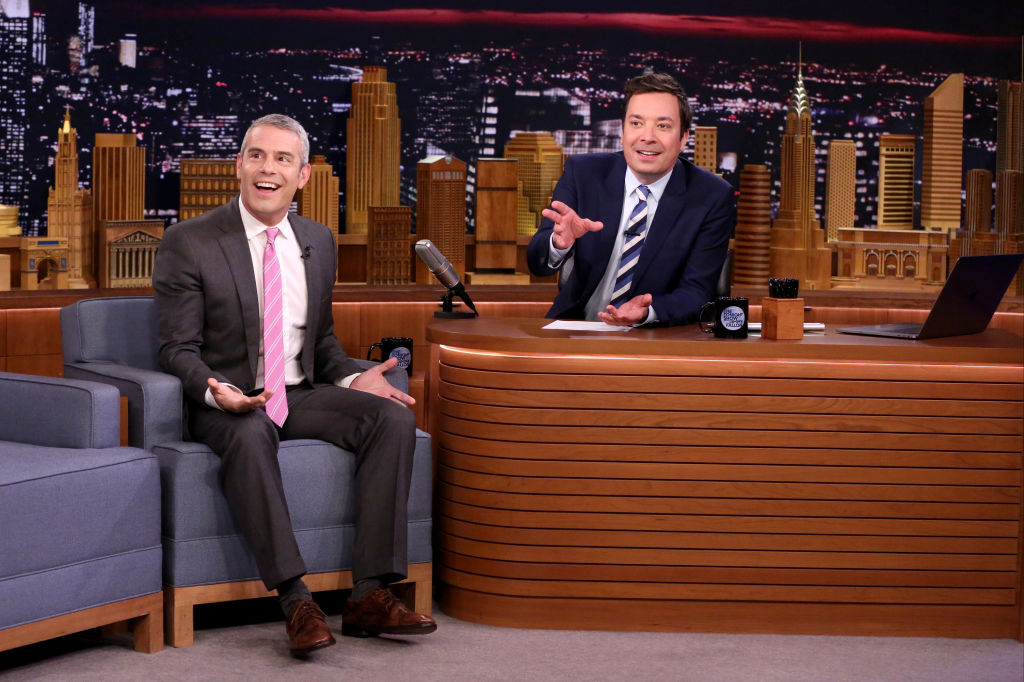 Cohen said, "I was a little salty the other night watching your show and seeing Bindi Irwin's brother. I used to have the record for the most Tonight Show appearances! But now it's Bindi Irwin's brother!"
How many times as Cohen been on the show?
Ever since Fallon took over the hosting gig, Cohen was the long-time record-holding champion. Fallon took The Tonight Show batton in 2014 and Cohen made a guest appearance during the first year.
Cohen went onto make 13 Tonight Show appearances since Fallon became the host, clearly a record Cohen holds dear. When he remarked about being unseated as having the most appearances, Fallon laughed when Cohen kept referring to Robert Irwin as Bindi Irwin's brother. "He has a name," Fallon laughed. "It's not Bindi Irwin's brother. Robert Irwin." Bindi Irwin has appeared on the show only twice.
As the two laughed Fallon assured Cohen he can regain his record title. "You'll come back again," Fallon said. Cohen will likely be back soon as he and Fallon are going to be attending the Dead & Company show at Madison Square Garden on Halloween. He has tasked Fallon with learning as many Dead songs as possible leading up to the show. During Fallon's WWHL appearance he proved to be an excellent student.
Cohen should also watch out for this actress too
Irwin only recently unseated Cohen when he shared some happy news with Fallon in September. "I'm walking Bindi down the aisle, which will be awesome," Irwin told Fallon, UPI recounts. Irwin also said he snapped a photo of the proposal moment, adding that he's thrilled for his sister.
The last time Cohen appeared on The Tonight Show was in April so he's probably due for a return. While he and Irwin both have 13 appearances under their belts, Miley Cyrus has made 13 too.
Cyrus last appeared on the show in December 2018, which means she'd have to beat Cohen to the guest seat if she were to be a contender for "most appearances."
Fallon recounts what happened with Cher behind the scenes
She's only been on once with Fallon, but Cher's Tonight Show appearance made quite an impression on the comedian. He shared what occurred backstage that was a total mic drop moment.
Fallon recalled he and Cher were going to walk out onto the stage holding hands as a nod to The Sonny and Cher Comedy Hour. "And then at one point, I had her say, 'Snap out of it' and slap me across the face," Fallon says. "She didn't want to do that. She goes, 'I like you. I don't want to slap you.'"
Although Fallon said it was fine, Cher decided she'd slap him, but then kiss him. However, the moment before the curtain was going to be pulled back and the two were supposed to go on stage, Fallon asked Cher if she was going to first slap and then kiss him? Or the other way around? "She goes, 'I'm going to do whatever I want. I'm Cher,'" he recalled.