Does 'Gilmore Girls' Have a Thanksgiving Episode?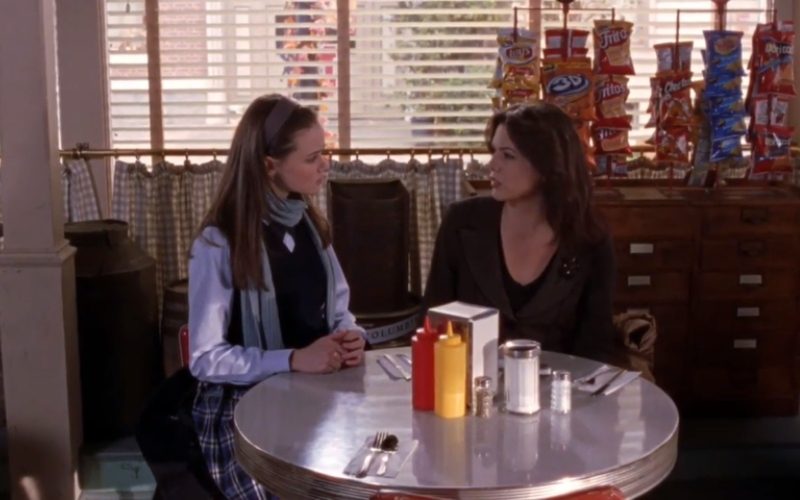 Gilmore Girls is interesting when it comes to holidays because it avoided covering many real ones. Yet citizens of Stars Hollow was often found celebrating something in its square. There was the episode where the town had a huge hay bale maze. Another episode showed single townies putting together picnic baskets in hopes to find love. But did Gilmore Girls ever have a Thanksgiving episode? Here is everything to know about the show covering the holiday.
Gilmore Girls has a Thanksgiving episode called 'A Deep Fried Korean Thanksgiving' Season 3 Episode 9
The show did have a Thanksgiving episode with "A Deep Fried Korean Thanksgiving." In it, Lorelai (Lauren Graham) and Rory (Alexis Bledel) manage to go to four Thanksgiving meals. One is at Lane's (Keiko Agena) where they have tofurky, another is at Sookie's (Melissa McCarthy) where the cook is having a breakdown, another is at Luke's (Scott Patterson) diner with Luke and Jess (Milo Ventimiglia), then there is one at Lorelai's parents' house.
Every episode you can find Lorelai and Rory eating a lot of junk food. So the running joke in this episode is that they have been preparing all this time for this big event. Of course, other things go wrong that has nothing to do with whether they can eat all of their meals.
A lot of characters get their time to shine in this episode. Sookie memorably gets very drunk in order to deal with her husband deep frying their turkey. Lane and Dave (Adam Brody) manage to sneak away to have a cute moment after their Thanksgiving. Also, Lorelai has to face the possibility that Rory might have different college plans than what they previously imagined. Even Kirk (Sean Gunn) gets many scenes talking about his new cat that is also named Kirk.
There are other episodes that also have a Thanksgiving atmosphere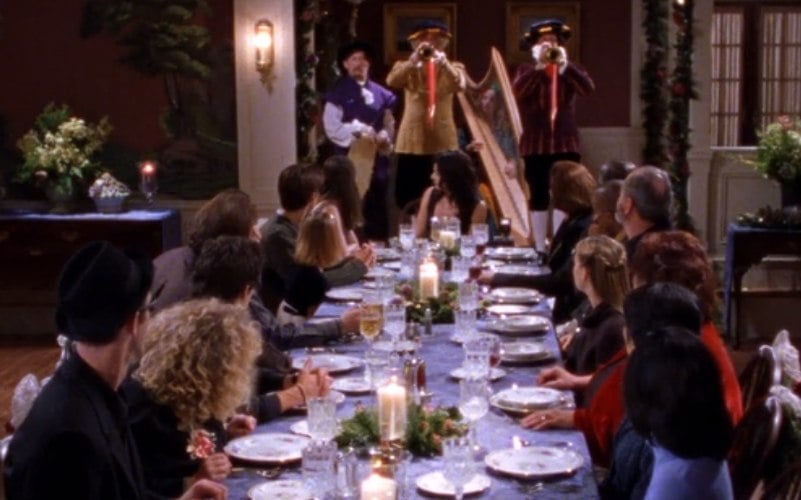 There might be just one official Thanksgiving Gilmore Girls episode. But there are a few others that work as well. For example, "The Bracebridge Dinner" at Season 2, episode 10 is where citizens of Star Hollow have a huge meal together at the Independence Inn. The themed dinner leads to many people dressed up in Elizabethan costumes and riding around in horse-drawn sleighs.
Another good binge for this time is the entire four episodes from the show's revival. They could work given the newer episodes were released on Thanksgiving, especially if you previously spent your holiday binging them right after they came out. The last episode also ends with "Fall" but it doesn't focus on a Thanksgiving feast.
Then there is "Kiss and Tell" Season 1, episode 7, which shows Stars Hollow full of pumpkins and Rory dresses up as a pilgrim for the Autumn Festival. Season 7, episode 18 "Hay Bale Maze" could also work given the maze gives Stars Hollow the atmosphere for autumn despite it actually taking place in spring.
So Gilmore Girls has only one Thanksgiving episode packed with four meals. But the show definitely has many other episodes that take place during the time and are pretty festive.
Read more: 'Gilmore Girls' Cast: Then and Now Photos
Check out Entertainment Cheat Sheet on Facebook!