Does Kate Gosselin From 'Jon & Kate Plus 8' Have Custody of All 8 Kids?
When Jon and Kate Gosselin stepped on to the reality TV scene back in 2007, the TLC audience was immediately captivated by their story. Not only did the couple have twins, but they then had sextuplets. And thanks to Jon & Kate Plus 8, fans had a chance to watch the Gosselin family navigate life as one big, happy family.
The series was cut down to just Kate Plus 8 and eventually was cancelled altogether after a highly-publicized feud and nasty divorce. And while we know there were money struggles during the settlement, many also wondered who won the custody battle over the kids. Here's what's known about who maintains custody today, and which children are living where.
Jon and Kate's marriage crumbled around 2009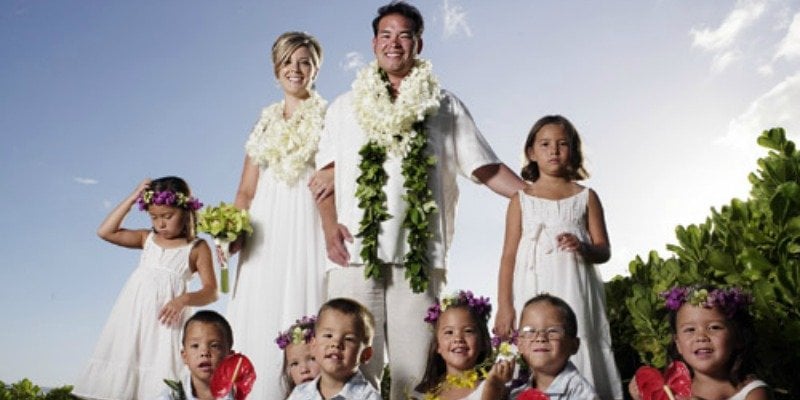 The Gosselin's may have appeared to be a happy bunch on TV, but the illusion was quickly dispelled by 2009. As for why the couple was choosing to divorce, Kate claimed Jon had turned into a completely different person overnight. She said that Jon used to be attentive to her and the kid's needs, but a few years after the airing of their show, he started spending his evenings out and buying motorcycles and cars for fun.
As for Jon, he has a different side of the story. While he admitted he would stay out late at the bars without coming home until 4 a.m., he said he did it because his relationship had completely soured by that point. Jon claimed Kate never said a word when he would spend his nights away from her, and to him, that meant she just didn't care.
Kate allegedly maintains custody of all eight children
The legal battle between Kate and Jon didn't appear to be too amicable — and the most important discussion of all came down to who would maintain custody of the kids. Immediately after the divorce, news outlets reported that Kate had full custody of all eight children — but there were rumblings years later that Jon had achieved custody of at least one or two of the sextuplets. However, according to a recent report from People, Kate still has custody of the kids.
Hannah Gosselin lives full time with Jon, however
In the summer of 2018, fans of the Gosselin tribe noticed that Hannah Gosselin, one of the sextuplets, was at Jon's home a lot more than she was with her mother. This had many fans believing that Jon had somehow won a more recent custody battle for Hannah. Radar Online reports Jon even took to Instagram live to tell his fans that his 14-year-old daughter was choosing to live with him full time "permanently." The live video also seemed to show Jon and Hannah bonding through music, as the teenager was singing while Jon was DJing in his home.
This was one of many times Jon and Hannah were seen together in 2018. And the previous summer, Radar also reported on a public dispute between Jon and Kate after Hannah allegedly refused to return to Kate's home after spending ample time with Jon. Even if Hannah spends the majority of her time at her father's house, it seems Kate still has custody, however.
Jon and Kate's troubled son, Collin, also spends a lot of time at Jon's house
Hannah isn't the only member of the Gosselin family to spend time with her dad. Collin, another one of the sextuplets, also celebrated his 14th birthday with his father and Hannah this year, People reports, showing that they may have a closer relationship than many thought they had in the past.
Fans of the family don't see Collin as much as the other kids, and that's because he's enrolled in a program for kids with special needs. Kate has explained in the past that the program is helping Collin "learn the skills he needs to be the best him he can be." She's also candidly spoken about his special needs, saying they've affected the entire family. "I don't know what the road ahead entails, but I'm very happy with the care that he's getting, and am still completely comforted by the fact that he is so clearly exactly where he needs to be," she told People.
Check out The Cheat Sheet on Facebook!