Does Kate Middleton Have Any Close Friends in the Royal Family?
Kate Middleton joined the royal family officially in 2011, but she and Prince William first started dating in the early 2000s. Kate has had time to get to know all the members of the family, and she's definitely not a newbie anymore. But what are Kate's relationships like with the people Prince William calls blood? Does she have any close friends within the royal family?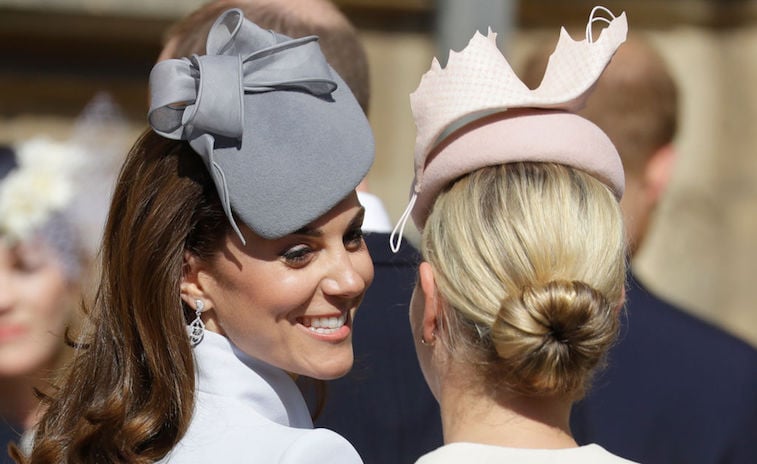 Kate has known the royal family for nearly 20 years
Kate is not new to the craziness of the royal family. From the constant publicity to the hundreds of annual public engagements to the tabloids and rumors, Kate has lived through a lot since she first met Will in 2001. The couple didn't start dating right away, but once they were both single, they hit it off. They went public with their relationship in 2004, but William broke up with Kate briefly in 2007. After he realized his mistake, the two got back together and were married in 2011. Now, they have three children, and Kate has a lot of royal knowledge — and some close royal relationships.
Kate has struck up quite a friendship with Will's cousin, Zara Tindall; the two spend time together with their children, and they were all smiles at this year's Easter service.
Harry once referred to Kate as 'the big sister he never had'
Harry and Kate have always been close. When Will and Kate got married, Harry lived near them at Kensington Palace, and the two developed a close relationship. He once referred to Kate as "the big sister he never had," and he cared a lot about her opinion when he introduced Meghan Markle to the family. While the two were living so close, Harry was also able to spend time with George and Charlotte. Once Harry married Meghan, they decided to move to the grounds of Windsor Castle instead, and there were reports of a feud between Meghan and Kate. However, Harry and Kate still seem to get along well.
The queen and Prince Philip both admire Kate — and vice versa
Kate has always had a close relationship with the queen. Kate is regal, polished, and good with the public, which is exactly who the queen wanted the future king to end up with. The two are often spotted laughing together on public engagements, and Kate has said in the past that she has a lot of admiration for Prince Philip, too. (Kate will eventually have a similar role to Philip in the royal family.)
Princess Beatrice and Princess Eugenie may have had a problem with Kate early on
When Kate first married into the royal family, there may have been some tension between her and Will's cousins, Princesses Beatrice and Eugenie. Beatrice reportedly disliked Kate's quick rise in popularity, and since Eugenie is her sister, she felt the same way. While Beatrice and Kate still don't spend much time together, Eugenie has seemed to warm up to the duchess a bit. More than a decade after Kate first met the royal family, she and Eugenie seem to have a decent relationship.
Nobody can understand the relationship between Kate and Meghan
When Meghan and Kate first met, there were reports that the two women instantly liked each other. When they attended their first solo outing, they were all smiles. But sometime after that, the press took a turn in describing what seemed to be a good relationship. Instead, there were constant rumors that Kate and Meghan were in some kind of feud. Last year, the women were in the media nearly every day for some new fight. Now, the rumors have died down a bit, but it's unclear how true they were to begin with. People have since been trying to figure out if the two women get along or not.
The royal family members always respect one another, regardless of relationships
Kate has plenty of people within the royal family she can turn to, including Will, of course. But the people she isn't as close with still respect her, since that's what the royal family does. Whether people like Kate or not, she will someday be the Queen Consort and the second most widely respected person in the royal family. But she seems to be on good terms with most of her royal relatives.
Check out The Cheat Sheet on Facebook!