Does Kourtney Kardashian Get Along With Scott Disick's Girlfriend Sofia Richie?
Kourtney Kardashian, Scott Disick, and Sofia Richie are just one big happy family.
In past months, Kourtney Kardashian was not the biggest fan of Scott Disick's young girlfriend.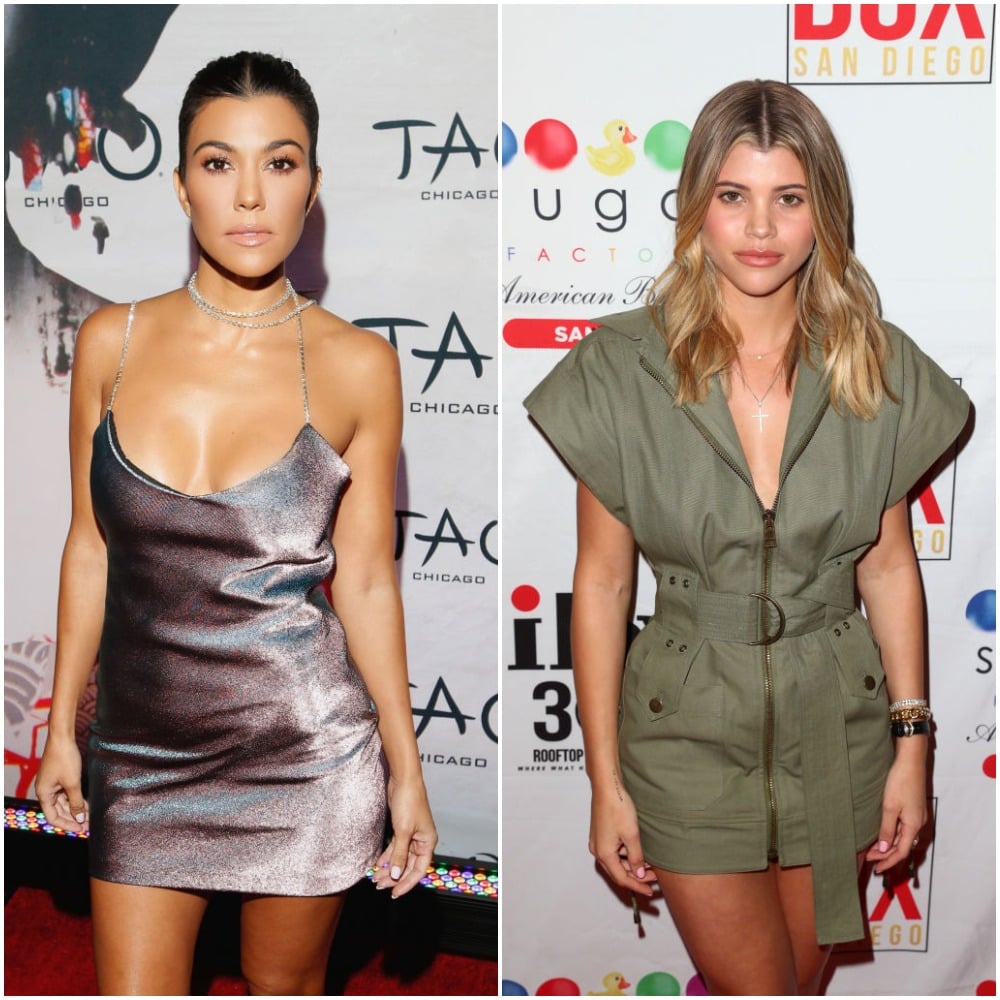 The mother of three believed her ex would be better off with someone his own age other than a woman 15 years his junior.
After a few months of getting to know each other, Kourtney Kardashian and Sofia Richie have built a solid relationship and now consider each other friends.
Their relationship was rocky in the beginning
In September 2017, it was revealed Kourtney Kardashian's ex and father of her children, Scott Disick, was dating 18-year-old model Sofia Richie.
It is not clear how the two initially met and came to be a couple, but they seemed to be very serious about each other pretty early on in their relationship.
The two were always spotted together either on vacations, dinner dates, and even on shopping trips.
In the early months of their relationship, many people were concerned the relationship was not good for either Disick or Richie.
The thought of Sofia Richie dating someone so much older than did not sit well with her family.
As for Kourtney Kardashian, her reaction to Scott Disick dating a girl 15 years his junior was not a positive one.
It has been revealed that Kardashian did not approve of Richie in the beginning and believed her ex was making a huge mistake.
"The initial reaction from Kourtney when she found out that Scott was dating Sofia was not positive," an insider revealed. "Like most people, she thinks Sofia is way too young for him and doesn't get it."
Kardashian actually didn't believe Disick and Richie's relationship would last but after the first few months of them dating, the reality star started to see just how serious the relationship was.
They began spending time together
After a few months of dating, Scott Disick decided it was time for Sofia Richie to meet his and Kourtney Kardashian's three kids.
Though Kardashian was hesitant about it, she finally allowed her kids to finally meet the woman who was making her ex very happy.
"Kourtney didn't think it would last and she never thought Sofia was going to meet her kids," says the source. "But now, Sofia spends a lot of time at Scott's, so Kourtney allowed her to meet the kids. She has met them a few times."
Once Sofia Richie met the Disick children, the model began spending a lot more time with the family, including Kourtney Kardashian.
In December 2018, Kardashian, Disick, Richie, and the kids spent a pre-Christmas vacation in Cabo San Lucas, Mexico.
"It wasn't a surprise that Sofia went away with them — it was a family trip. Sofia and Scott are together, they are in love and she's part of the family now," a source revealed to Us Magazine.
It has been said that Kourtney Kardashian appreciates the way Richie treats her kids and because of that, decided to give the young model a chance.
"Everyone really likes Sofia. She's really sweet and she's so good with the kids. They all get along, it's crazy. When you get to a stage with your ex and you can be around him and his new [girlfriend], that's a great stage to be in, and Kourtney knows how lucky they are. Kourt and Scott make sure to make everything as normal as possible for the kids," the source revealed.
Kardashian, Disick, and Richie are a big, happy family now
Now that Scott Disick and Sofia Richie have been dating for a year and a half, Richie is now considered part of the family.
After traveling together and getting to know the rest of the Kardashian family, Sofia Richie and Kourtney Kardashian are now on better terms.
It has been said that Kourtney Kardashian "sees Scott and Sofia all the time," an insider reveals. "They are in a good place."
Unlike most exes, Kourtney Kardashian is happy Scott Disick has moved on with someone who cares deeply for him.
Kardashian has come to terms with the fact that Scott Disick and Sofia Richie are very much in love and are not breaking up anytime soon.
Richie is going to be around for a long while and Kourtney Kardashian has sweeping any hard feelings she had under the rug.
Though they are not the best of friends, Kourtney Kardashian and Sofia Richie's relationship is just getting better with time!