Does Kris Jenner Have a Favorite Grandchild?
Kris Jenner now has nine grandchildren. For the past 10 years, she's been welcoming new babies into the family, and she always says how much she adores the grandkids. But now that five of her six children have little kids of their own, Jenner is bound to become a bit closer to certain grandkids — but does she have a favorite?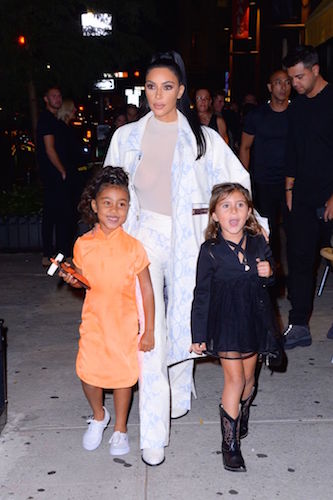 Jenner has nine grandchildren from five of her kids
Jenner is no stranger to being a grandma. To her grandchildren, she's known as "Lovey," which was the nickname of one of her mother's friends that Jenner always adored growing up. Over the past 10 years, Jenner has welcomed nine grandchildren from five of her kids. Kourtney Kardashian, Jenner's oldest daughter, has three children. Kim Kardashian has three children, plus another baby on the way. Kourtney, Kylie, and Rob each have one daughter. Kendall is the only child without any kids, but she doesn't seem to mind; she's been in a relationship with NBA star Ben Simmons and has always kept her life and future plans private.
Jenner has always been very close with her first grandchild, Mason
When Mason Disick was born back in 2009, he came as a pleasant surprise to the family. Kourtney Kardashian and then-boyfriend Scott Disick weren't trying for kids and were actually broken up when Kardashian got pregnant. The two got back together and welcomed their son, and Jenner instantly adored him as any grandmother would. Mason Disick is the oldest grandchild; he'll be 10 this year, which means he's had the longest time spent with Jenner and is the most mature of the grandkids. That could play into why Jenner tends to favor him — he's probably easier to spend time with than some of the littler ones.
Jenner also adores North, who is Kim's first daughter
Fans have long thought that Kim Kardashian was Jenner's favorite daughter. It would make sense, since the Kardashians essentially have the second-oldest sister to thank for their fame. And when Kardashian welcomed a daughter with husband Kanye West, it was Jenner's second grandchild but her first granddaughter. Naturally, Jenner was eager to buy outfits and spend time with the newest girl in the family, since she hadn't had a young daughter in many years. And now that North has even made her modeling debut, Jenner is probably molding her in the exact same way she shaped her own daughters.
Jenner has cried at nearly every grandchild's baby shower
No matter whose baby is being born or how many grandkids Jenner has, she will always love them all. She cried at Mason's shower, who was her first, and again at True's shower, who was her last (for now). Grandmothers have an unconditional love for their grandkids, and with all of Jenner's kids living in California, she gets to spend plenty of time with them and develop close relationships with all of her kids. Things have gotten rocky between Jenner and granddaughter Dream's mother, Blac Chyna, but nothing will stop Jenner from having a good relationship with the grandkids.
Check out The Cheat Sheet on Facebook!