Does Kylie Jenner Have a Nanny?
Kylie Jenner's daughter, Stormi turned one year old in February, but she's still getting the hang of parenting. Plus, the makeup mogul has a lot of responsibility when it comes to her job, since she owns 100% of Kylie Cosmetics and just launched a new skincare line. Her boyfriend and Stormi's father, Travis Scott, is a rapper, and he often travels to make appearances. With so much going on in her life, how does Jenner have time to care for Stormi? Does she have a nanny?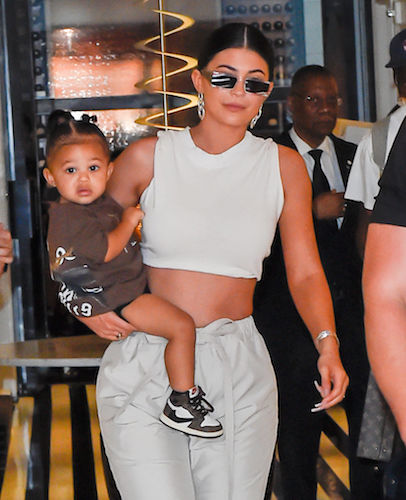 Jenner decided to keep her entire pregnancy a secret
When rumors first started to leak that Jenner might be pregnant, people were torn about what to believe. She had only just started dating Scott less than two months before the pregnancy, and she was still a teenager when she got pregnant. Though anything can happen, many fans suspected it was just another rumor because her age and relationship status were outside the "norm" in terms of announcing a pregnancy. But in February 2018, Jenner shocked the world when she announced that she and Scott had welcomed a daughter together.
Stormi has become the center of her world
Since Stormi was born, Jenner has become obsessed with her daughter (rightfully so, of course). She posts plenty of photos of Stormi on Instagram, and Scott is just as obsessed with his little girl, too. The couple threw Stormi a massive first birthday party, and they spared no expense. From the inflatable Stormi face that greeted guests at the door to the designer-filled goodie bags, Jenner and Scott pulled out all the stops for a birthday their daughter won't even remember (but what else do you do when you're a billionaire?) But with that said, both of them also have very demanding careers.
Some have said Jenner has as many as four nannies to help her out
When Jenner first gave birth to Stormi, she reportedly didn't want to hire a nanny. However, with so much going on in her life, it probably became difficult to give Stormi the attention she deserved. Plus, though Jenner has plenty of siblings, most of them have children of their own and can't always play babysitter when she needs them. According to Life & Style, a source close to Jenner said that she has slowly been hiring more and more nannies to help with her daughter. Today, she reportedly has four nannies working for her. They likely alternate shifts, since who needs four nannies at one time? Though when you're a member of the Kardashian-Jenner family, it's possible.
She and boyfriend Scott have joked about having another baby
Right now, it seems that Jenner and Scott's careers are too demanding to adequately care for a second baby. But they'd be lying if they said the thought didn't occur to them. When Jenner wished Scott a happy birthday on Instagram a few months back, she joked that the two should have another little one. Reports have suggested they're "trying" for another baby, but time will tell if those rumors prove to be true. It's unclear if they'll keep the next one a secret the way they did the first.