Does Lisa Vanderpump from 'RHOBH' Forgive Camille Grammer?
Camille Grammer seemed to be one of the few Real Housewives of Beverly Hills left in Lisa Vanderpump's circle of trust. She and RHOBH alum, Joyce Giraud were the only cast members who attended Vanderpump's Vegas opening of Vanderpump Cocktail Garden. Plus she's seemed to be a pretty neutral party throughout filming.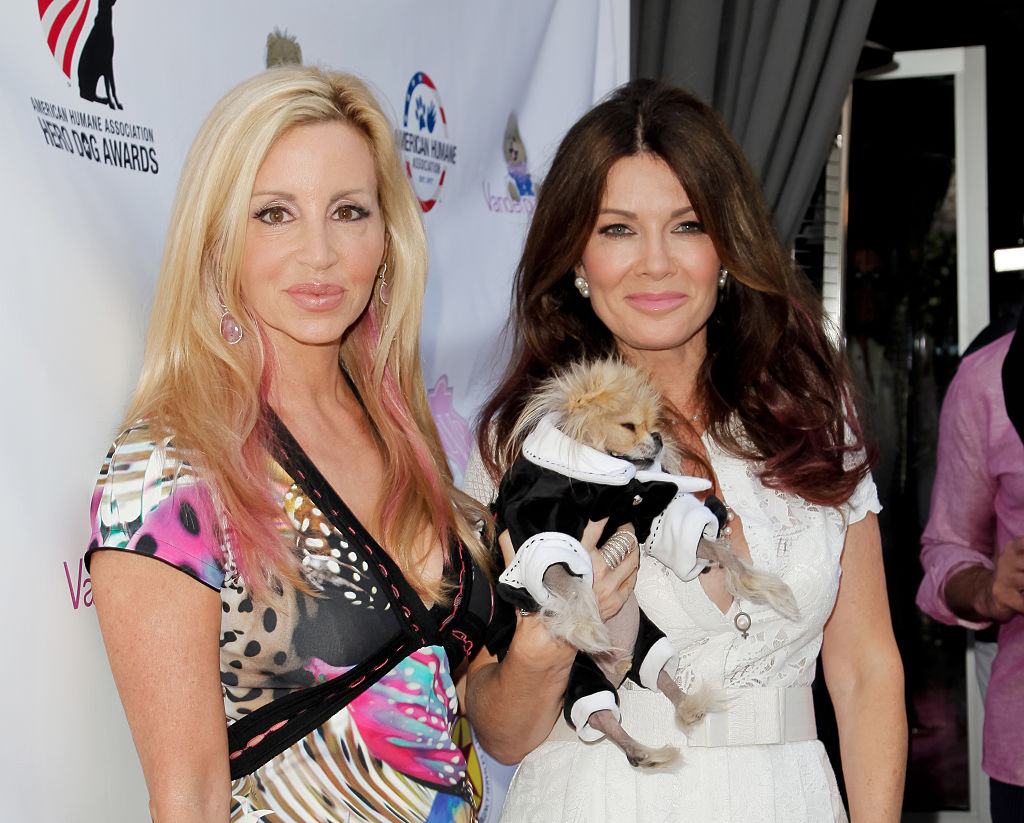 But some silly comments made after a cocktail may have put Grammer in the hot seat with Vanderpump. During last night's RHOBH, the women had dinner in town while Vanderpump celebrated her birthday without anyone from the cast.
New cast member Denise Richards was invited to Vanderpump's soiree but only got to say hello and goodbye to Vanderpump. Richards arrived much earlier than Vanderpump and ran out of time for the drink they were supposed to have had together. Even though Vanderpump and Grammer seemed to be on good terms, Grammer wasn't invited to the party. But she did make some comments to the other women that may have dinged her friendship with Vanderpump.
The women gathered during Vanderpump's birthday celebration
Cameras followed both groups during the night of Vanderpump's birthday celebration. On one hand, Vanderpump enjoyed a lovely birthday party with friends and family at Tom Tom. Meanwhile, the rest of the cast gathered for dinner at another restaurant.
Of course, the women talked about Vanderpump and the fight she had with Richards. As the ladies continued to ruminate over the falling out, Grammer starts getting silly. She makes some comments about her ex-husband and then jokes about being an ex-dental assistant. Grammer moves onto joking about Vanderpump's veneers and gum line.
The ladies laugh hysterically, but Grammer knows she maybe went too far. "I'm going down," she says in the episode. "Just bring my casket to my wedding."
Vanderpump addresses the comments on 'WWHL'
Host Andy Cohen covers a lot of ground with Vanderpump on Watch What Happens Live. Vanderpump says she hasn't watched the episode but said Grammer warned her she had said something really mean about her teeth. "She should focus more about what comes out of her mouth and less of what is in mine," Vanderpump says.
She flashes her million dollar smile at Cohen. "My gums are beautiful, check them out," she says. Vanderpump continues by saying she doesn't know how Grammer would even make that statement.
Then she adds that the women have had so many procedures, no wonder that's where they went. "Some have had complete hair transplants," she exclaims. "But would I even mention it? Not till now!" She says grinning from ear to ear, swiveling coyly in her chair.
Grammer apologizes
Grammer immediately took to Twitter to issue an apology. "I am very disappointed in my distasteful comments about Lisa," Grammer tweeted. "It was a joke but it was in very poor taste. I'm so sorry @LisaVanderpump." Grammer continued and wrote, "It was a bad joke and a needed change from pyppygate. I was trying to bring some levity. Lisa has beautiful teeth and there was nothing wrong with her gums. Again it was a bad [email protected] I'm sorry."
Vanderpump retweeted both of Grammer's comments. She wrote, "I guess if you want to be inducted to the #rhobhmeangirls you have to come up with something. @TheRealCamilleG Thank you for ur apology."
Grammer also tweeted about her comments before the episode too, showing she truly felt remorse. Some of the cast from Vanderpump Rules addressed Grammer's tweet. Scheana Shay wrote, "I thoroughly embarrass myself in our finale … " And SUR manager, Peter Madrigal added, "We've all been there, Camille. It's easy to forget you're on tv when the buzz kicks in. Glad you're back by the way. It's really nice to see you so happy."
Even though Vanderpump thanked Grammer for her apology, does that mean Grammer is back in Vanderpump's circle? Or, like what Dorit Kemsley says, Grammer may be punished first?
Check out The Cheat Sheet on Facebook!