Does Lisa Vanderpump from 'RHOBH' Really Forgive Camille Grammer? Maybe Not So Much
After making a buzzed comment about Lisa Vanderpump, Camille Grammer from The Real Housewives of Beverly Hills felt immediate regret.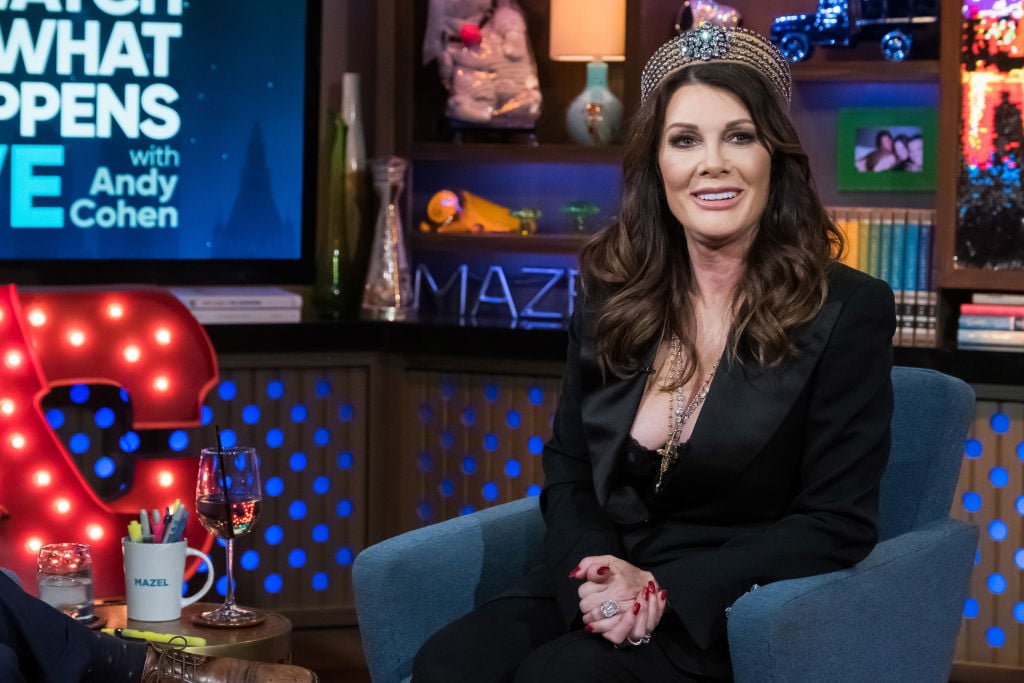 Grammer met with the cast, while Vanderpump celebrated her birthday separately. The women gabbed about the fight between Kyle Richards and Vanderpump. Then Grammer made a few remarks that she regretted instantly.
Amid a few joke bombs about her ex-husband, Grammer said she was also an ex-dental assistant. And then continued to say that she had an opinion about Vanderpump's veneers and gumline. But then said, "I'm going down. Just bring my casket to my wedding." At first, it appeared that perhaps Vanderpump let the comments go. Grammer was the only one from the current cast still on good terms with Vanderpump. But now…maybe not so much.
She apologized
Before the episode aired showing Grammer making the comments, Grammer tweeted her regret. "I am very disappointed in my distasteful comments about Lisa. It was a joke but it was in very poor taste. I'm so sorry @LisaVanderpump."
Vanderpump thanked Grammer for apologizing. But added if she wanted to be inducted into the "mean girls" club she'd have to come up with something. Later Vanderpump added, "Nothing wrong with my gums! She made it up and apologized."
Grammer also apologized two additional times on Twitter. Plus, a few of Vanderpump's employees and personalities on Vanderpump Rules seemed to support Grammer too.
But maybe the comments upset Vanderpump
Vanderpump seemed to be willing to accept Grammer's apology. While she thanked Grammer, maybe she no longer trusts her. She blogged about how she really feels.
"In my infinite naïveté I was totally unaware that Camille had spewed such garbage and salivated over my absence from the group until I was enlightened, courtesy of Andy on WWH," she wrote. "She apparently had confided in one of my close friends, prior to this being aired, as we celebrated in Vegas, that she had regret in manufacturing BS at my expense."
She added that being on reality television can be a wonderful platform to support causes and grow a business. But it doesn't give you license to bash someone's appearance. "To conjure up vitriolic statements about a person, with no regard for their feelings or ramifications that might ensue, is abhorrent," Vanderpump added.
Apology accepted?
Vanderpump continued by saying the cast has tried to denigrate her reputation and accuse her of lying. "But to now attack my physical appearance, takes it to another level. I know as a woman I would never stand back, grinning, without uttering even a modicum of defense."
"Of course, on social media, she apologized, claiming it was a 'joke,' she said she tried to bring 'levity' to a situation, but the hurt still lingers… Are there no boundaries? We could all invent a smorgasbord of insults, hurling defamatory statements that would linger in the air, long after the episode was finished."
Vanderpump added she wasn't going to go as low and "wrestle in the dirt" when there are real issues to address instead. Sounds like those remarks put Grammer outside of Vanderpump's circle of trust.
Check out The Cheat Sheet on Facebook!