Does Marvel's Kevin Feige Regret How Things Ended With 'Spider-Man'?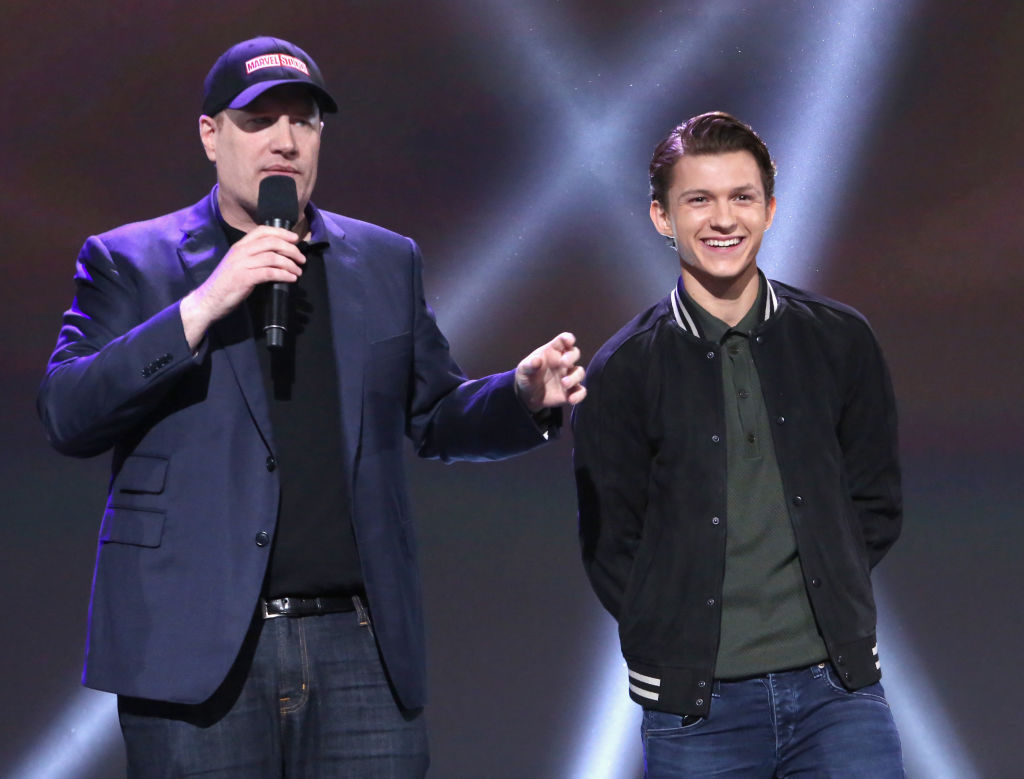 Some Spider-Man fans have made it clear they are not ready for their favorite hero to move on from the Marvel Cinematic Universe. However, there are two Spider-Man fans who seem ready to accept a future where Sony and Disney have parted ways: Tom Holland and Marvel President Kevin Feige.
Both of them appeared at last weekend's D23 Disney fan convention, with Feige promoting new Marvel shows on Disney+ and Holland promoting Onward, the Pixar feature in which he and fellow MCU alum Chris Pratt provide voices. Both men expressed their gratitude and intent to move forward as best they can.
Kevin Feige calls his time with Spidey 'finite'
Two things are well known about Feige: One is that he loves Spider-Man and the other is that he is a master planner and world-builder. It's not unreasonable to assume that privately, Feige must be very disappointed that Spider-Man cannot be part of the MCU going forward, because the Spider-Man: Far From Home end credits scene made it clear that Spider-Man was going to be a key player in future movies. There was also talk that Spidey would be a key member of the reconfigured Avengers.
However, Feige seems prepared to leave Spider-Man behind, because he's grateful he got the chance to use the character at all. Marvel Studios does not own the movie rights to Spider-Man, but Sony does. So Disney/Marvel had to strike an agreement so Spider-Man could appear in Disney movies and MCU characters like Iron Man and Nick Fury could appear in Sony movies. That deal expired after five films, and Sony and Disney have not agreed on terms to continue.
Feige told EW:
"We got to make five films within the MCU with Spider-Man: two standalone films and three with the Avengers. It was a dream that I never thought would happen. It was never meant to last forever. We knew there was a finite amount of time that we'd be able to do this, and we told the story we wanted to tell, and I'll always be thankful for that."
Feige will be able to adapt
Whether Feige feels any regret or not is hard to know for sure. Doubtlessly, he would have loved to have carried on with Spider-Man. No one would argue that the MCU is more fun with one of Marvel's most beloved characters than without.
Still, Feige will make do. Part of being a master planner is being able to adapt when circumstances change. Feige had to deal with this early on after the second MCU film, The Incredible Hulk. Edward Norton played Bruce Banner there, and he and Marvel didn't see eye to eye. Similarly, the role of Rhodey changed from Terrence Howard in the first Iron Man to Don Cheadle for the remainder of the movies.
Granted, a recasting isn't as dramatic a change as having to deal with the forced removal of an entire character. However, the MCU built itself up to great success without Spider-Man, and it will surely be able to succeed without him if it has to. And that universe will only expand with the addition of former Fox properties the X-Men and The Fantastic Four.
Tom Holland chimed in too
Holland still plans to continue playing Spider-Man for Sony. He spoke to EW also:
"It's been five amazing years. I've had the time of my life. Who knows what the future holds? But all I know is that I'm going to continue playing Spider-Man and having the time of my life. It's going to be so fun, however we choose to do it. The future for Spider-Man will be different, but it will be equally as awesome and amazing, and we'll find new ways to make it even cooler."
Kevin Feige is not the only one capable of making a good Spider-Man movie. The first two Sony Spider-Man movies directed by Sam Raimi still hold up, and Spider-Man 2 is arguably better than either of the two standalone movies Holland appeared in. And think of the possibilities of a crossover with Venom, the sequels to which stand to be better movies if Holland can participate.