Does Meghan Markle Have a Stylist as a Duchess?
These days, it seems that no one can get enough of Meghan Markle. From her iconic go-to hairstyle to her amazing and unique jewelry choices, the Duchess of Sussex always looks perfect from head to toe.
Every time Duchess Meghan steps out, she practically makes jaws drop around the world with the outfits that completely flatter her no matter what. Whenever the Duke and Duchess of Sussex are scheduled to make an appearance, we know we can always count on the duchess to wearing something spectacular.
So, does Markle put together her own looks or does she have a stylist as one of the many perks of being a duchess?
Meghan Markle's style before becoming a royal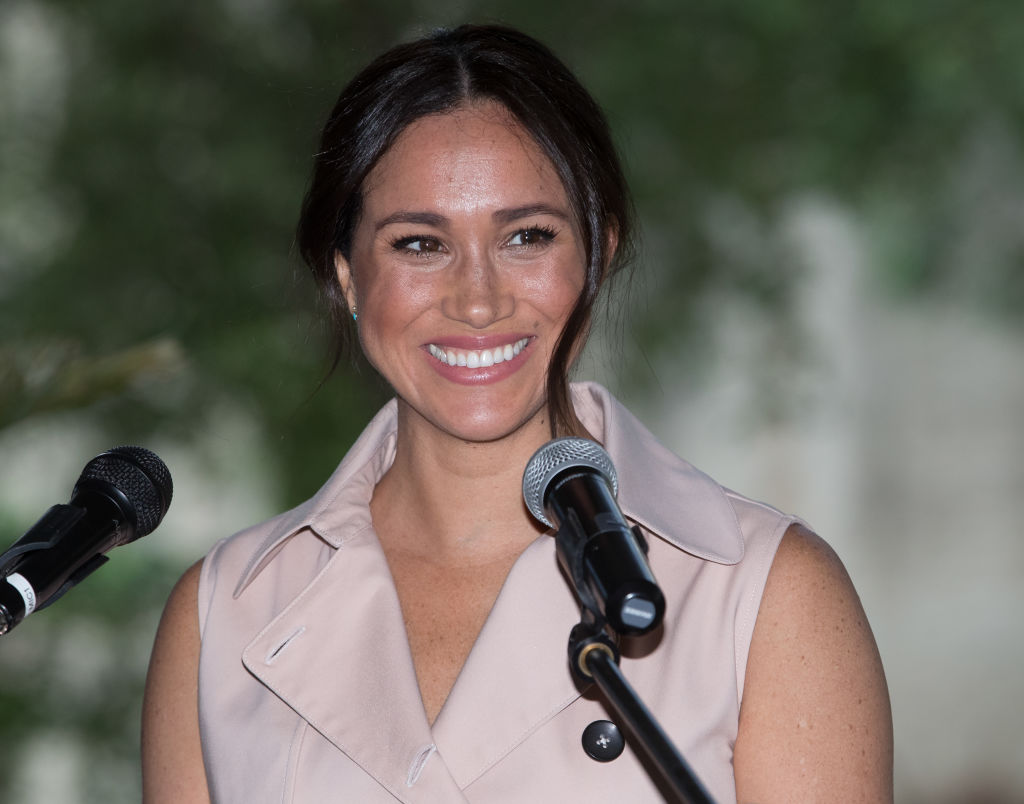 In the past few years, it is pretty safe to say that Duchess Meghan's life has changed drastically. She had to retire from her acting career in order to marry Prince Harry, and she also had to pack up her bags and move across the pond to England so that she could start her new life as a royal.
As if that weren't enough, Markle must now adhere to royal rules and protocol when it comes to what she wears. Before her days as a duchess, Markle's style was slightly different than it is now.
According to Harper's Bazaar, before marrying Prince Harry, the Suits actress was known to sport dresses that were slightly above the knee and even an occasional belly-baring outfit. She was a big fan of jeans and on more than one occasion, Markle didn't hesitate to sport leather pants for events or appearances.
The "Markle Effect" is very real
Now that Markle is a member of the royal family, her style makes a huge impact on the world. Everything that she wears seems to sell out pretty quickly, sometimes in a matter of hours or even minutes. Fashion designers just love when the duchess chooses to wear one of their pieces, and according to The Guardian, having her do this can affect a brand's turnover more than they ever could have imagined.
What is Duchess Meghan's style like now that she is a member of the royal family? Town & Country reports that she is a big fan of blazers, button-down shirts, and long skirts. The Duchess of Sussex has also been seen in stylish trench dresses on several occasions, such as when she and Prince Harry introduced Baby Archie two days after his birth.
We have seen the Duchess of Sussex in dresses with sheer sleeves, as well as the occasional more daring look, such as a jumpsuit or belted denim dress. One thing, however, is for sure: No matter what Markle chooses, she always looks nothing less than gorgeous.
Markle recently debuted her fashion line, Smart Works, a charitable collection of women's workwear. This is just another way the duchess has managed to reach out to people who need her, as the fashion line is aimed toward women who are unemployed and need to prepare for interviews.
Does Meghan Markle have a stylist as a duchess?
Markle always seems to make the perfect fashion choices. So, is she choosing her own clothes when she dresses for royal events or is someone helping her to put together the perfect look?
Many fans will be surprised to learn that according to Elle, Duchess Meghan is actually a stylist to herself! Markle has an eye for what looks good, and she always hits the mark perfectly when picking out her clothes.
Another thing about the easy-going, relatable duchess is that she does her makeup herself as well. Aside from her wedding day look, Duchess Meghan has been known to take care of things on her own. Although she has looked to others for style inspiration, Markle deserves all of the credit for how amazing she looks each time that we see her.