Does Meghan Markle Send Messages With Her Outfit Choices?
Each time Meghan Markle makes an appearance, her outfit sends the fashion world into a complete frenzy! The Duchess of Sussex always looks stunning, whether she chooses to wear wide-cut black pants and a blue and white striped button-down shirt, or a one-shouldered black dress.
However, it seems that some of the outfits that the Duchess is seen wearing portray more than just her lovely taste in clothes. Could it be that Meghan Markle is sending messages with her choice of outfits?
Does Meghan Markle send messages to fans with her outfit choices?
It would appear that sending messages is exactly what Meghan is trying to do! Just before she and Harry announced their engagement, Meghan was pictured wearing a Misha Nonoo 'Husband' shirt, prompting fans to speculate that she would soon be sporting a new ring on her finger.
Again, after announcing her pregnancy, Meghan chose a dress with the name 'Blessed', which is symbolic because that is exactly how she and Harry were feeling.
Even her wedding gown may have had a hidden meaning
On the day of Meghan and Harry's wedding, fans were sitting on the edge of their seats just waiting to catch a glimpse of the bride in her dress. She did not disappoint when she stepped out of the car in a crisp white gown featuring a high neckline and three-quarter length sleeves.
The dress seemed perfectly appropriate for the royal bride, and its modest cut seemed to tell the world that Meghan was ready to take on the formal role of Duchess of Sussex.
The royal family is known for their conservative style, and while Meghan chose a dress that could not have flattered her more, she seemed to embrace the beliefs of her new family perfectly.
Did Meghan copy a design?
For one engagement, Meghan donned a lovely black dress that fans worldwide expressed their admiration for. However, it is a well-known fact in the fashion world that there were some designers that were not happy they were not asked to design the iconic dress Meghan wore for her wedding. One particular designer felt that the black dress Meghan wore was a copy of one of her styles and that Meghan was wearing the dress due to a disagreement over the designer of her wedding gown.
Who are Meghan's favorite designers?
Almost everything that Meghan is seen wearing sells out immediately! So, which designers does the Duchess turn to when she needs to be outfitted for Royal engagements, or even for date nights with Prince Harry? She seems to be a fan of Carolina Herrera, famously wearing one of her pale pink designs to Trooping the Colour.
Also by the same designer, Meghan looked absolutely stunning in a tailored denim dress when she cheered Harry on at a polo match. The Duchess is also known to wear pieces by Theory, Strathberry, Mackage, Mother Denim, and of course, Givenchy.
Meghan's best style moments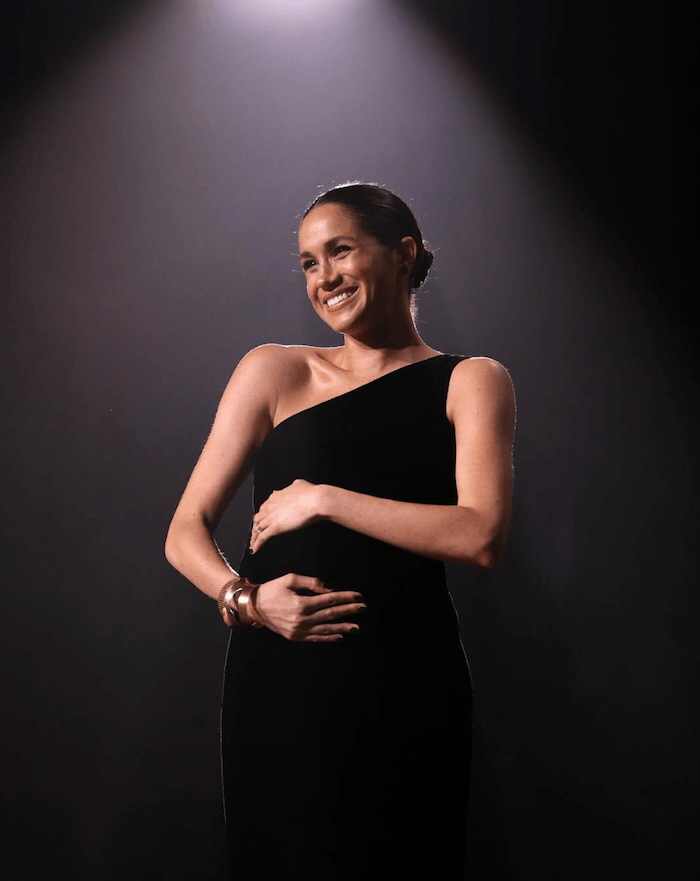 In the months since Meghan has joined the royal family, she has had some exceptional style moments. Never one to shy away from taking a fashion risk, Meghan beautifully showcased her growing baby bump in a fitted floral dress in December 2018. That same month, she made a surprise appearance at the Royal Albert Hall in a bespoke black dress with a thigh-high slit and bold statement jewelry. When visiting Wellington, New Zealand, Meghan looked stunning in a sleeveless tuxedo dress by Maggie Marilyn, that hit above the knee and showed off her enviable figure.
With so many great fashion moments and so many opportunities for more, we can wait to see what outfits the Duchess of Sussex will be wearing in upcoming months!