Does Meghan Markle Take Diet Pills to Lose Weight? Buckingham Palace Responds to Scammers' Claims
It takes a lot for Buckingham Palace to issue a response to a rumor about one of the royal family members, but the palace definitely felt like new claims that Meghan Markle endorses weight loss pills was worth a statement. Did Meghan Markle use pills to lose weight after having baby Archie? Of course not.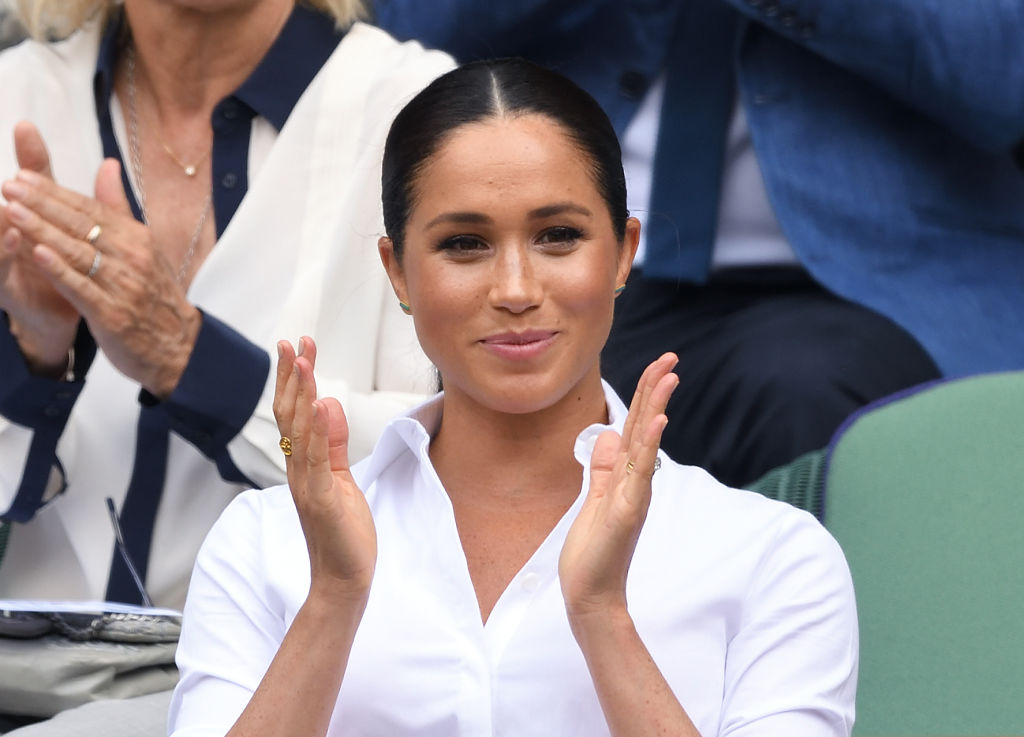 Advertisements claim Markle uses diet pills
What better way to sell diet products than to have a celebrity endorsing the product? That was definitely the motive for scammers who featured fake quotes from Markle in their advertisements.
The Mirror initially reported on the diet supplement advertisements that show the duchess before and after her pregnancy, with a supposed quote from Markle reading: "Post pregnancy my body had lost its shape. But, with keto body tone, I came back."
She's also quoted in one ad's interview saying: "All my life I've been passionate about taking care of my weight due to the pressures of Hollywood to stay young and look fit. For the last 10 years I've been traveling the world and sourcing organic ingredients and weight loss remedies. The culmination is the launch of my all-female-owned weight loss line which combines the world's richest and most sought after ingredients at affordable and everyday prices."
The ad claims the duchess is endorsing her new "weight loss line" after being "forced" to by the royal family.
Buckingham Palace responds
In a rare move, a Buckingham Palace source responded to the outrageous claims, noting: "This is obviously not true and an illegal use of the Duchess' name for advertising purposes. We will follow our normal course of action."
How Markle is really getting into shape following Archie's birth
Markle did share her favorite workout in her recent guest-edited issue of Vogue — a fitness class called Ritual. The class, described as having "elements of yoga, Pilates, and barre," is offered at London-based Heartcore studio.
The duchess wrote in her guest editor's letter that the issue's beauty section "puts its energy towards internal beauty, celebrating the power of breathing and meditation, and [includes] a favourite workout that urges you to use your heart as much as your core."
The Heartcore website shares the following description for Ritual class: "Stretch your limits and open yourself up to change with our unique remix of Pilates, Yoga and Cardio. Energetic and invigorating, our classes are designed to strengthen, lengthen and tone you from the inside out. Through a continuous flow of movements, sequenced to improve your flexibility and core strength, we revitalise key postural muscles and bring a strong, powerful focus to your whole and balanced body."
Markle enjoys yoga for fitness
Markle is a well-known fan of yoga, as she told Best Health: "Yoga is my thing. There are so many benefits that come with the practice of yoga… increased flexibility and muscle strength, greater happiness, increased mental focus, a greater ability to relax, decreased anxiety and better sleep."
The duchess reportedly has been doing yoga following Archie's birth, with royal expert Katie Nicholl telling ET: "She has been taking it easy. And I hear that yoga is very much on her post-birth fitness regime, nothing too strenuous."