Does Michael Strahan Regret Leaving 'Live' Co-Host Kelly Ripa? The Answer Might Surprise You
It's been three years since Michael Strahan abandoned his duties on Live. The announcement shocked many, including co-host, Kelly Ripa. The split reportedly ended in severed ties with Strahan moving to Good Morning America. Ripa recruited best friend, Ryan Seacrest, to take Strahan's empty seat. Now that all is said and done, does Strahan regret leaving the show?
Michael Strahan and Kelly Ripa paired up after Regis Philbin left the show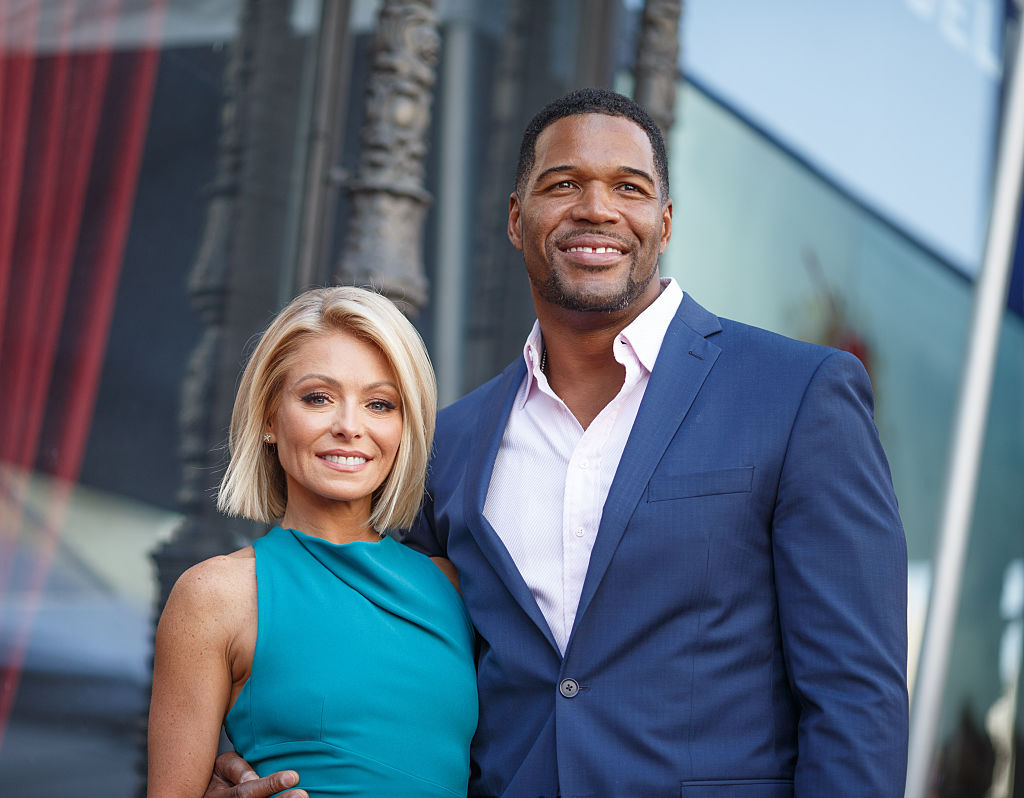 After Regis Philbin announced his retirement from Live With Regis and Kelly, many auditioned for the co-host chair but only one landed the spot.
Ripa hadn't expected Philbin's announcement. Though Philbin has been invited back to the show (and appeared once), the two have not spoken, according to multiple outlets.
Strahan, an ex-NFL player, and correspondent, officially joined Kelly in 2012 as the new co-host. He'd appeared 16 times both as a guest and fill-in host.
During their four-year stint, Strahan and Ripa won two Daytime Emmys Awards for Outstanding Entertainment Talk Show Host, alongside Ripa. One of which was awarded after Strahan announced his departure. Awkward much?
Drama ensued after Strahan announced he'd be leaving the show
In April 2016, reports allege that Ripa discovered Strahan's plans to exit only minutes before news broke in the morning meeting for Live. He accepted a full-time role with GMA, in which he'd appeared as a special correspondent twice a week.
When the show aired, Ripa was noticeably absent to which Strahan explained she had the day off.
Ana Gasteyer filled in while Ripa continued her time off, extending it from one day into the weekend to "process" what had happened and to also celebrate her wedding anniversary with Mark Consuelos. Strahan used the time to make light of the situation.
"I was reading some stuff, and it sounded like I died. I'm like, 'It's not a eulogy, people', The Hollywood Reporter noted. He then added he wouldn't rule out a future return after his September GMA start date. "I'm always available to guest co-host if I get a call because I consider myself to be a part of this family forever."
Ripa returned to more heartbreaking news
Ripa returned the following Tuesday only to be met with more shocking news: Strahan's final day would be May 13, not in the summer. She used her time on the show to clarify her thoughts on all that had happened.
"I needed a couple of days to gather my thoughts," she said. "After 26 years with this company, I earned the right. In that time, I gained some perspective. I always speak from the heart."
She continued, "I didn't want to come out here and just say something I regret. What transpired, though, over the course of a few days, has been extraordinary in the sense that it started a much greater conversation about communication and consideration and, most importantly, respect in the workplace."
Her lengthy explanation addressed her feelings about the show she calls her " second home."
"We are family. Apologies have been made. The best thing to come out of all of this, guys, is that our parent company has assured me that Live is a priority."
After that, Ripa congratulated Strahan saying she was "thrilled" for him, reminding all that they're in the entertainment business.
"Let's get back to what we do best and start the show," she said. "My dad, who was a bus driver for 30 years, thinks we're all crazy. I think he's right."
Meanwhile, Strahan called his time on the show "transformative," and his departure "bittersweet."
Does Strahan regret leaving the show?
In the time between Strahan's departure and Seacrest taking the spot, Ripa welcomed 68 different Live guest co-hosts. Seacrest became the official partner in 2017, making the name Live With Kelly and Ryan.
In a previous interview with Graham Bensinger, Strahan spoke about the way he left things and if he had any regrets saying, "There's nothing I would have done differently."
He went on to say he handled it professionally but never intended to stay there forever.
"I have been a professional from day one there to the last day I left… I had the opportunity to do something that most people don't — I got a chance to evolve; to do different, creative things…People get so complacent. It makes me sick that someone [says], 'You got a good job, you just got to keep it.'"
He later added he intends to step away from TV altogether once his children are in college. As far as whether the wounds with Ripa ever healed, it doesn't look like it.
"I learned through all that went down with that, you can't convince people to like you," he told Time. "I haven't spoken to her in a long time."
Three years have passed since the ordeal and though each have moved on, some wounds don't heal proving you can't un-burn bridges.