Does Money Change a Person? 5 Movies Showing Money Corrupts
It's sort of ironic that Hollywood would make movies extolling the evils of greed and money. After all the place does shove blockbuster sequels down our throats every summer, seeking ever higher profits off of less and less creativity.  But teaching about the nastiness of greed has been a moral lesson prominent in storytelling since Aesop's Fables, so a theme that touches on such a universal of humanity is a natural one to be explored in films as well. Here's a list of five of the most well-known movies cautioning us about the moral degeneration that occurs with the accumulation of too much cash, and how the lust for money can turn anyone into a terrible person.
1. Wall Street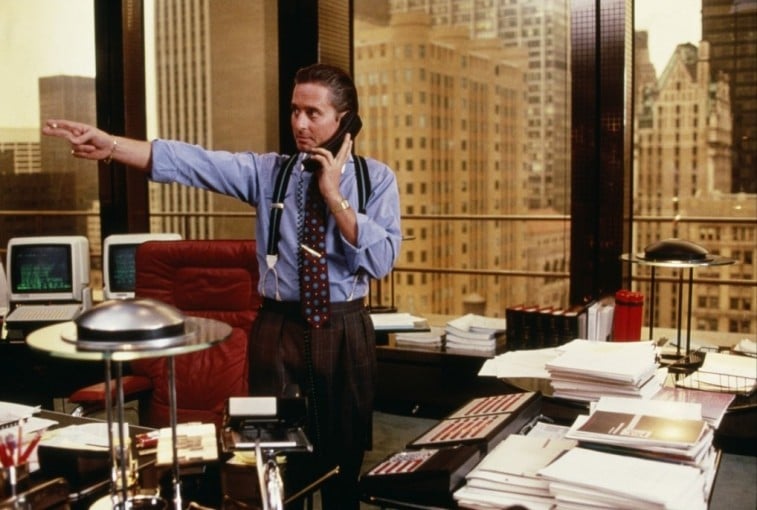 This 1987 classic from Oliver Stone is probably the most famous dramatization of the corrupt world of Wall Street. Michael Douglas's character Gordon Gekko is practically synonymous with Wall Street excess and he is seen as an archetype of 1980s greed, even memorably saying at one point in the film "greed is good." Douglas went on to win the Academy Award for the part. Charlie Sheen plays the young stockbroker who idolizes Gekko, wishing to follow in his footsteps. Sheen's character finally is able to convince Gekko to work on inside trading together, and his status skyrockets, with him gaining a corner office, a penthouse on the Upper East Side, and a trophy girlfriend played by Daryl Hannah. Their alliance eventually falls apart when Sheen's character comes to realize, as these stories typically play out, that Gekko will screw over everyone for cash, even him. A cautionary tale of lusting after too much money, and of the corrupt way that Wall Street operated in the 1980s. Many would say that despite the efforts of the Securities and Exchange Commission this is still the way things work today.
2. The Wolf of Wall Street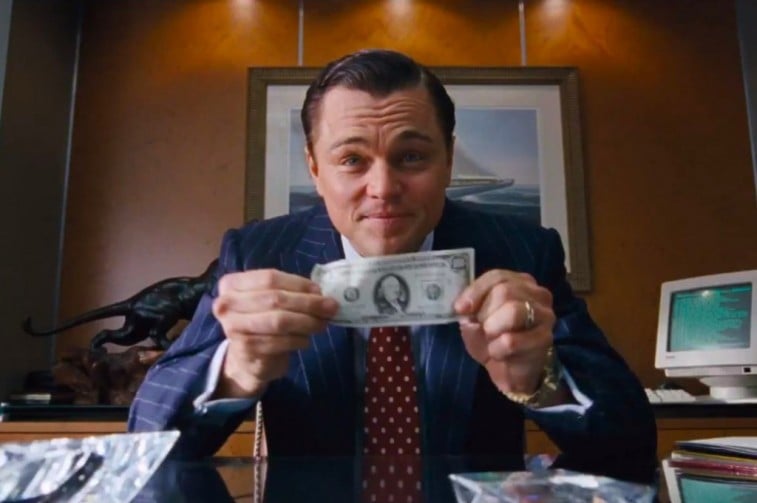 Martin Scorsese's epically raunchy black comedy about real-life stockbroker Jordan Belfort is like the comedic, true version of Wall Street. Leonardo DiCaprio gives a landmark performance as Belfort in the controversial film that pushed the limits of the R-rating. The movie is based on Belfort's memoir and shows how Belfort rose from being an average stockbroker to running the corrupt firm Stratton Oakmont that engages in rampant corruption to make millions ripping people off selling them phony stocks. The firm gains more attention, good and bad, the richer it and Belfort get. He and his associates fall into constant heavy abuse of prostitution and drugs as the FBI and SEC get closer to tracking him down. The richer Belfort gets the more heinously immoral he behaves and the more out of control his life spirals. While the moral lesson of the very end of the film is a bit ambiguous, and one can really question whether Belfort was just "bad" all along regardless of the money, his life clearly gets worse the more money he gains.
3. The Muppet Christmas Carol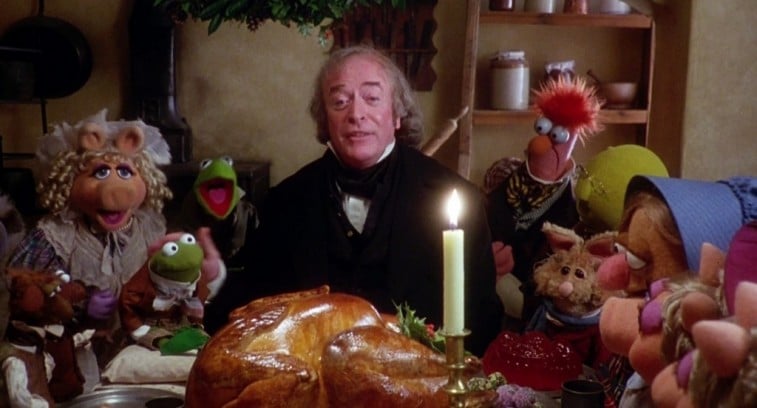 Really any adaptation of Dicken's Christmas classic will do here, as Ebeneezer Scrooge is so greedy that his last name has become synonymous with the term. The Muppet's version is just a great retelling that stays faithful to the source material and features Michael Caine as Scrooge. Kermit the Frog plays Bob Cratchit, the overworked, underpaid clerk working for Scrooge who is only allowed a paid day off on Christmas because Scrooge is conforming to social pressure not to have his employees working on the holiday. Gonzo and Rizzo the rat narrate the familiar tale of how Scrooge is visited by the ghosts of Christmas past, present, and future. Scrooge's greed has taken everything from his life, and having it all laid out in front him on Christmas Day makes him realize how he's had his priorities wrong all along.
4. Citizen Kane
[featured_image img_url="http://www.cheatsheet.com/wp-content/uploads/2014/05/Screen-Shot-2014-05-09-at-2.47.25-PM.png" caption="source: RKO Radio Pictures"][/featured_image]
Orson Welles's film loosely based on the life of William Randolph Hearst has been consistently ranked the greatest movie of all time by various sources. After a young Kane is shipped off to boarding school by an enterprising (or scheming) mother who comes into some money, he spends the rest of his life simultaneously trying to grow and squander his inheritance. After declaring "I think it would be fun to run a newspaper," Kane eventually creates a media monopoly that seems like it can't stop growing, his wealth and power and fame with it. The more power he acquires, the more rash his ego causes him to act, cutting himself off from lifelong friends and pursuing dreams (like a run for governor) that even he cannot achieve. By the end of his life he's essentially imprisoned himself in the terrifying mansion Xanadu, which is filled with European art and all the creepy decorating touches one can buy, but is empty unless Kane can pay people to hang around.
5. There Will Be Blood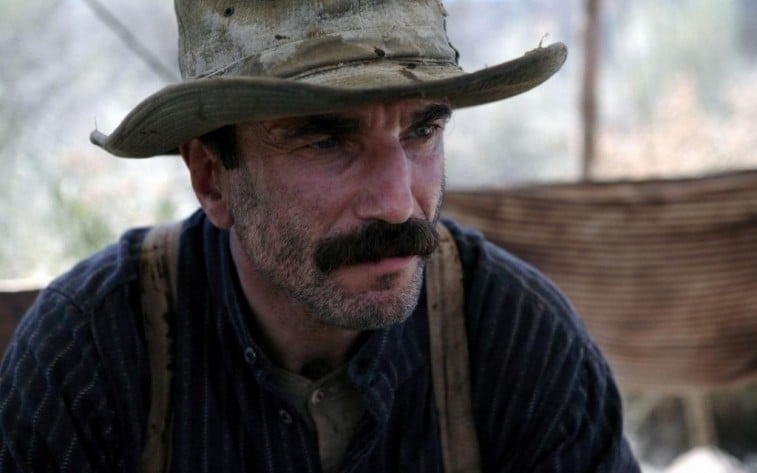 Daniel Day-Lewis is astounding in this Paul Thomas Anderson film about a silver miner who becomes an oilman during the oil boom in California during the late 1800s and early 1900s. Day-Lewis took home the Oscar, Golden Globe, Screen Actors Guild, and BAFTA awards for his performance among other accolades. His character finds oil near Los Angeles while mining and proceeds to develop a successful oil drilling venture, painting himself as a family man with his adopted son H.W. Always prone to violent outbursts and completely obsessed with his drilling venture, he will let nothing stand in the way of his plan. As he becomes more successful and begins building a pipeline to the coast of California, his obsession turns into mania, and we find out he wouldn't hesitate to kill to see his plan realized. By the end of the movie he's living in a huge mansion, complete with a bowling alley, rather than a wooden shack out on the drilling field, but he's also an evil alcoholic whose own son is happy to find out he's been adopted so that he knows he has none of his father's blood in him. This is considered one of the best movies of the 2000s.
Follow Jacqueline on Twitter @Jacqui_WSCS
More from Entertainment Cheat Sheet:
Want more great content like this? Sign up here to receive the best of Cheat Sheet delivered daily. No spam; just tailored content straight to your inbox.