Does Patrick Mahomes New Home Mean He Wants to Stay In Kansas City for Good?
Patrick Mahomes is in Kansas City for the long haul. The Chiefs quarterback recently opened up about purchasing a home in the area and revealed that he plans on sticking around for at least the next twenty years. For Chiefs fans, the admission is a good sign that Mahomes plans on finishing his career with the team that gave him his first shot in the NFL. And how he officially has a home to set down roots with his girlfriend, Brittany Matthews.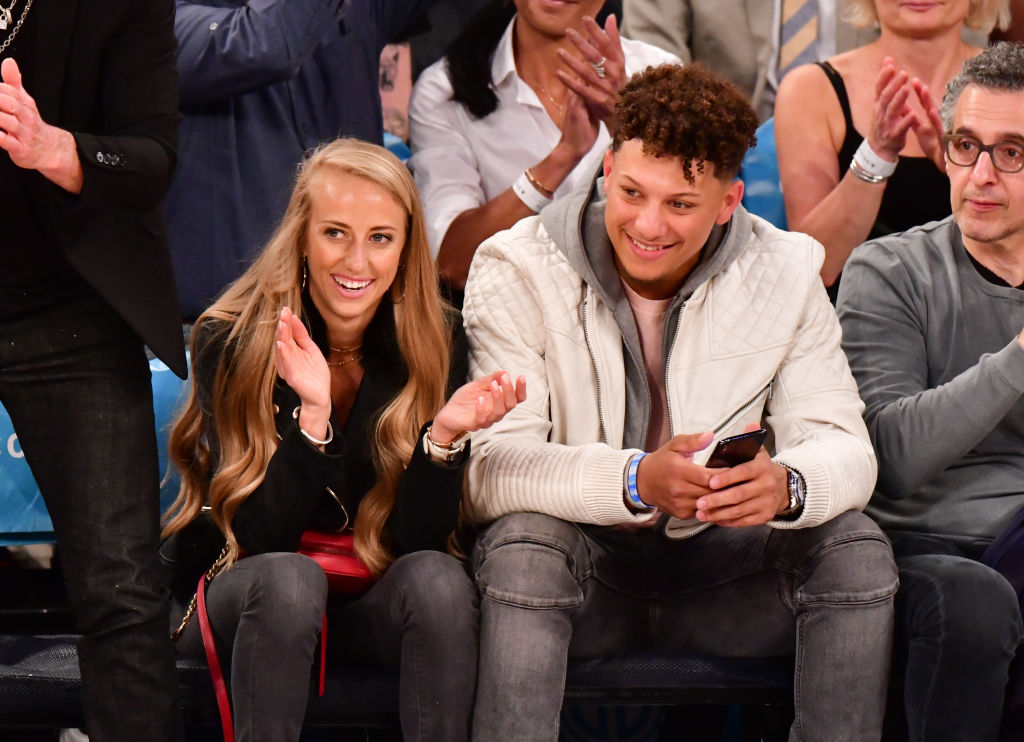 Mahomes talks about his new home
Patrick Mahomes and Brittany Matthews moved to Kansas City after the Chiefs drafted him in 2017. Mahomes took over the starting quarterback position with the team in 2018 and won the NFL's MVP award that season.
With his career looking very promising, Chiefs fans have naturally been wondering if Mahomes plans on staying in Kansas City for his entire career. He is fully expected to sign a massive contract this coming offseason, and his purchase of a new home in the city is a good sign that he's there to stay.
In a recent video on YouTube, Mahomes and Matthews opened up about buying their own place in Kansas City and revealed that they absolutely love the area and the people.
"Setting down roots in Kansas City was huge for us," Mahomes. "I think the people are what we love the most about Kansas City," Patrick Mahomes shared. "We're tryin' to be here for a long, long time."
Matthews completely agreed with Mahomes, who added that they plan on staying in Kansas City for at least 20 years. That will, of course, depend on what happens in his career, but there is little doubt that the Chiefs want him to stick around for the rest of his playing days.
Inside Mahomes' new home
Mahomes and Matthews also gave a quick tour of their gorgeous home, which they completely remodeled from the ground up.
The home is over 3,000 square feet in size and is located in a wealthy district of Kansas City called the Mission Hills Country Club. The overall price of the house is a little shy of $2 million, though that will likely increase now that Patrick Mahomes is living there.
The home was constructed back in 1953 and features three bedrooms. It also boasts three bathrooms, a swimming pool (with a hot tub), a large kitchen, and a master suite.
For Mahomes and Matthews, purchasing the home was a no-brainer. Not only do they want to stay put for the long term, but they also wanted a place that had a big yard where their dogs – Steel and Silver – could enjoy the outdoors.
Patrick Mahomes has his own shoe room
If there is one thing Mahomes loves most about his new home, it's his massive shoe room. The Chiefs quarterback showed off his massive shoe room, which features wall-to-wall storage for his collection of kicks.
In total, Mahomes owns some 180 pairs of shoes, with his favorite being his Yeezy Boost 750s. That is a pretty staggering number, but it's actually significantly less than what Mahomes used to own.
In fact, Mahomes admitted that he was forced to cut down his collection to 180 pairs, which is completely insane.
As the starting quarterback for the Chiefs, Patrick Mahomes can easily afford his massive shoe collection. And, after winning the MVP and currently enjoying another successful run, there is a chance his next contract will make NFL history.
Mahomes' agent reveals his career plans
In a recent interview, Mahomes' agent, Leigh Steinberg, opened up about his client's NFL plans. Steinberg confirmed that Mahomes would like to stay in Kansas City throughout the entirety of his career.
"Quite frankly, he'd like to play his career there," he stated.
Steinberg added that Patrick Mahomes is not thinking about playing for any other team in the NFL. Not only does he enjoy Kansas City, but he also thinks the Chiefs have a very promising future.
If all goes well, there is a chance that Mahomes signs a contract for over $200 million, a move that would make him the highest-paid player in the league. He has not commented on the reports surrounding his next contract.
Patrick Mahomes was the youngest player to take home the NFL's MVP award since Dan Marino was given the title in 1984 as part of the Miami Dolphins.