Does Prince William Have to Check In With Queen Elizabeth Daily as the Duke of Cambridge?
Prince William has many duties as the Duke of Cambridge, but is one of those to check in with Queen Elizabeth everyday?
As second in line to the throne, Prince William is used to being in the spotlight whenever he ventures outside of the palace, but his day-to-day activities are a lot less glamorous. Not only does the Duke of Cambridge help his father, Prince Charles, with handwritten letters, but he also is in constant communication with Kensington Palace and Queen Elizabeth. But do Prince William and Queen Elizabeth hold daily meetings?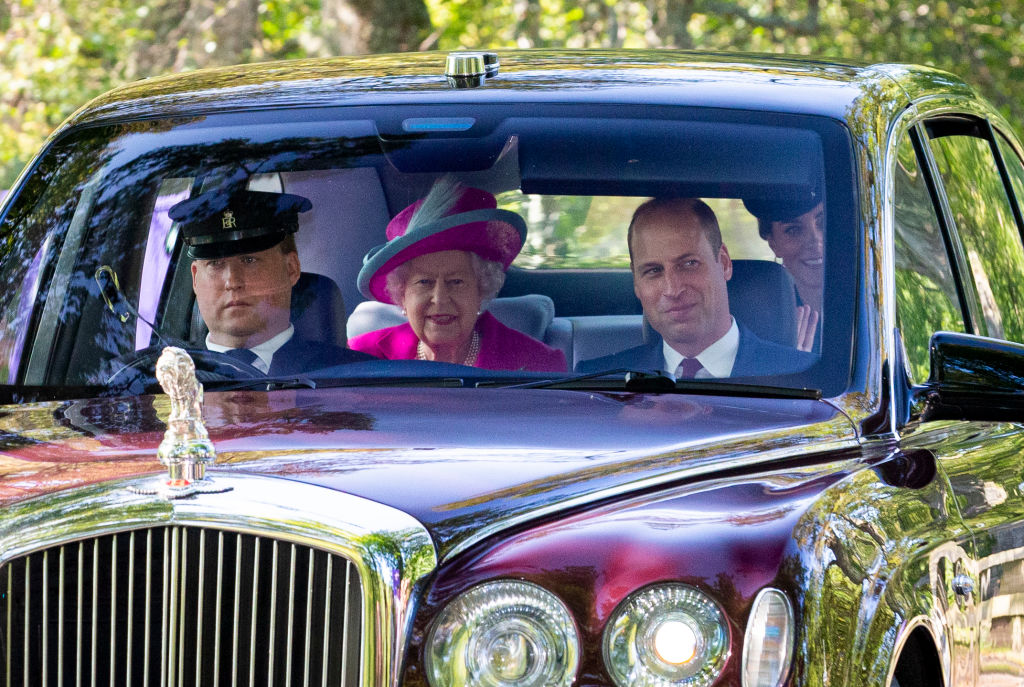 A look at Prince William's daily duties
William opened up about his daily routine in a new interview. The Duke of Cambridge revealed that he looks through over two boxes of documents every day and helps Prince Charles reply to letters.
He also texts, calls, and emails staff members at Kensington Palace and meets with Queen Elizabeth on a regular basis. William did not say if has to meet with Her Majesty every day, but they do keep in touch on the regular.
Prince William, of course, has other duties as a father of three adorable children: Prince George, Princess Charlotte, and Prince Louis.
According to Yahoo, the future King of England is very active in his children's lives and even drops them off at school whenever he gets the chance. In fact, Prince William and Middleton are often spotted taking Prince George and Princess Charlotte to school at Thomas's Battersea.
While William has a lot on his plate, his duties will increase once his father takes the throne. When that happens, Prince William will take over the Duchy of Cornwall as the new Prince of Wales, which includes running the estate's farm.
"I've got the interest and the passion. The countryside is deep in my heart," Prince William shared. "I want to learn and know more about farming, but the countryside and the way of life and the best people in the countryside is what I grew up with. I'm not a London boy."
Prince Charles has run the Duchy of Cornwall for the past five decades and has grown the estate into a billion-dollar business. The majority of the funds from Cornwall help fund various projects in the royal family.
Why does the Duke of Cambridge constantly meet with Queen Elizabeth?
With Prince William next in line to the throne after Prince Charles, there is a good reason why he is in constant communication with Her Majesty.
In fact, all members of the royal family are supposed to help Queen Elizabeth accomplish her duties at the head of the monarchy. This includes lending a hand in charitable work and appearing in public on behalf of Queen Elizabeth.
In total, members of the royal family attend over 2,000 public engagements, which include national holidays, presentation of honors, and state funerals. They also host well over 70,000 guests at lunches, dinners, and parties throughout the year, and answer some 100,000 personal letters.
Given this kind of volume, it is understandable that Queen Elizabeth needs all the help she can get. It also explains why Prince William is frequently talking to Buckingham Palace staffers, who help manage Her Majesty's extensive workload.
William, of course, will become the King of England someday, which is another reason why he helps out so much. With Queen Elizabeth the longest-ruling monarch in Britain's history, there is not a better person to teach him the ins and outs of the royal life.
Prince William will inherit the crown after his father, Prince Charles, who has waited longer than anyone to sit on the throne.
What do Prince William and Kate Middleton call their jobs?
While Prince William and Kate Middleton do a lot of things for the royals, they recently revealed what they consider to be their official occupation.
After Middleton gave birth to her third child, Prince Louis, last year, the parents filled out a birth certificate just like everyone else. In the occupation section, the Duke and Duchess of Cambridge listed their jobs as Prince and Princess of the United Kingdom.
Before taking on his current royal duties, William worked as a helicopter pilot for the East Anglian Air Ambulance. He retired from the post after two years in the position so that he could focus more on his official duties.
Prince William and Middleton have not commented on the reports surrounding their relationship with Queen Elizabeth. The couple is currently on a tour of Pakistan, and are not due home until the end of the week.