Does Queen Elizabeth Think Meghan Markle's Decision to Guest Edit Vogue Is 'Idiotic'?
Meghan Markle is being criticized for her role as guest editor of the September issue of British Vogue, with one celebrity correspondent slamming her, claiming that the Queen thinks it's an "idiotic" decision.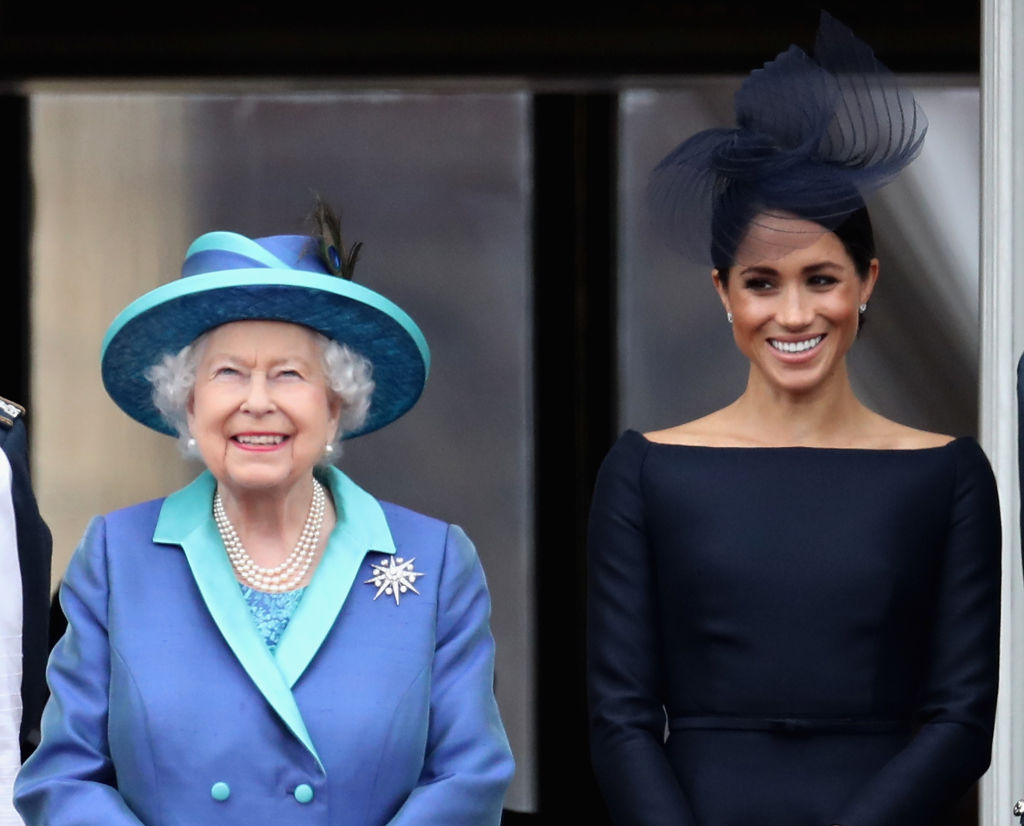 Markle's Vogue cover revealed
Yesterday, the first look at the cover of Markle's guest-edited Vogue issue graced social media and it was a bit different than what many people expected.
She selected powerhouse women for the issue, 15 in total, with a special 16th square that will be a mirror, reflecting the reader as a cover model.
A Sussex Royal Instagram post explained: "For the cover, The Duchess chose a diverse selection of women from all walks of life, each driving impact and raising the bar for equality, kindness, justice and open mindedness. The sixteenth space on the cover, a mirror, was included so that when you hold the issue in your hands, you see yourself as part of this collective."
Why Markle decided not to be featured on the cover
Many royal fans expected to see Markle featured on the cover, but she made the decision not to pull focus from the women she wanted to highlight.
Edward Enninful, British Vogue's Editor-in-Chief, explained: "As you will see from her selections throughout this magazine, she is also willing to wade into more complex and nuanced areas, whether they concern female empowerment, mental health, race or privilege. From the very beginning, we talked about the cover — whether she would be on it or not."
He added: "In the end, she felt that it would be in some ways a 'boastful' thing to do for this particular project. She wanted, instead, to focus on the women she admires."
Is the Queen upset that Markle is guest editing the issue?
For the most part, Markle's contribution to the issue and her vision of highlighting these amazing women is being applauded, but there are always plenty of critics in the mix, too.
The Sun's Dan Wootton isn't a fan — and he doesn't think the Queen would approve of Markle's decision either.
During an interview on ITV's Lorraine, Wootton ranted, "The Queen will think this is an absolutely idiotic ridiculous decision, as do I."
He continued: "Remember Meghan doesn't want to be a celebrity, she says she wants to be a royal. Royals don't guest edit magazines, celebrities guest edit magazines. Do you get me? Do you see the point that I'm making?"
Wootton didn't hold back, claiming, "I feel I need to bring a bit of reality to the situation. Vogue is probably the most elite expensive snobby fashion-dominated, skinny-dominated magazine in the entire world."
He continued: "This is not some great mainstream force for good, this is a magazine for the elite."
Further, Wootton took issue with the time Markle devoted to the issue, noting, "The fact she has chosen to devote seven months of her work as a duchess to working for Vogue, I think that's a problem."
He wasn't done, naturally, noting, "It's quite a weird this, to go and very publicly guest edit a magazine putting yourself out there is such a public non-royal way."
Markle's fans are defending her
While Markle faces a constant barrage of criticism, her fans clearly think this attack is unwarranted. One Twitter user noted: "Who cares if Meghan Markle wants to guest edit a magazine. She's allowed to have personal interests and seize opportunities she's given. Heaven forbid she actually ventures outside the royal family."
Another fan remarked: "It's actually disgusting the hate and bullying Meghan Markle is getting over this Vogue guest edit. There was no issue when Kate edited Huffington post so why is there an issue that Meghan has edited Vogue?"