Does Queen Elizabeth Want Prince Harry and Meghan Markle to Have More Kids?
Prince Harry and Meghan Markle are still adjusting to life as new parents. Meghan gave birth to the couple's first child, a son named Archie Harrison, on May 6. They introduced the boy to the world on May 8. Although they've only just welcomed their first child, they may already be considering more kids. Does Queen Elizabeth want the couple to have another?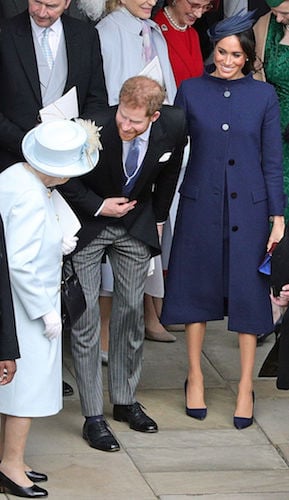 Harry and Meghan have each wanted children for a long time
Since before the two were married, they individually already knew they wanted children. Those close to Harry have said the prince has been ready to become a dad for years. And Harry has always been great with children when out on engagements, which shows he's always had those paternal instincts. For Meghan, the same has been true. She once bought herself a custom Cartier watch and has said she hopes to someday pass it down to a daughter. During the couple's engagement interview, they made it clear they wanted to start a family soon after getting married, and they didn't waste any time. Meghan was pregnant only about two months after the couple wed.
With Meghan's age, the couple may decide to have another baby soon
Meghan will be 38 this summer, and although it's definitely possible to get pregnant at 38, fertility does decline after age 35. Should Meghan and Harry want the best chance at having a second child, they may try to get pregnant sooner rather than later. The couple hasn't noted a timeline of any sort for welcoming their next child, but Meghan once hinted that she felt the two would have a fairly large family. Prince William and Kate Middleton have three kids, so it's possible after seeing how their children interact, the couple may want that many for themselves.
The queen loves her great grandchildren and would likely be thrilled to see Harry and Meghan have another
The queen has developed an incredibly close bond with her great grandchildren. Despite being the ruler of the British Monarchy, the queen has always made time for her family and established close relationships with all of them. She adores the little ones in the family, especially Prince George and Princess Charlotte. She was beaming in the photos of her first introduction to Archie Harrison, so she most likely would be thrilled if the couple announced another pregnancy down the road. All of the queen's grandchildren are age eight or younger, and they probably add a bit of chaos to the royal family, but the queen adores them anyway.
The queen recently gifted the couple a second home for their family in London
As if the millions of dollars in renovations to Frogmore Cottage weren't enough, Queen Elizabeth recently gifted the couple another home. Meghan, Harry, and Archie were given a home at Buckingham Palace, which apparently is a common move by the queen for anyone living outside the city. Frogmore Cottage is only about 30 miles from London, but the traffic can be terrible, so the queen typically gifts her family members a home within her palace for them to stay the night should it be necessary. It's unclear where in the palace Meghan and Harry will be staying, or the size of the home, but it if it's large enough for a family of four, the queen might be hoping for one more.
Check out The Cheat Sheet on Facebook!