Does 'Real Housewives of Beverly Hills" Lisa Rinna Want Her Contract Renewed?
Lisa Rinna of Real Housewives of Beverly Hills became a household name when joined the show in 2014, bringing her self-deprecating sense of humor and pot-stirring personality to Bravo's hit reality TV series. Now that her contract with the show is up, will she be returning? Rinna recently spoke with the Los Angeles Times about her run on the show, and if she's sticking around.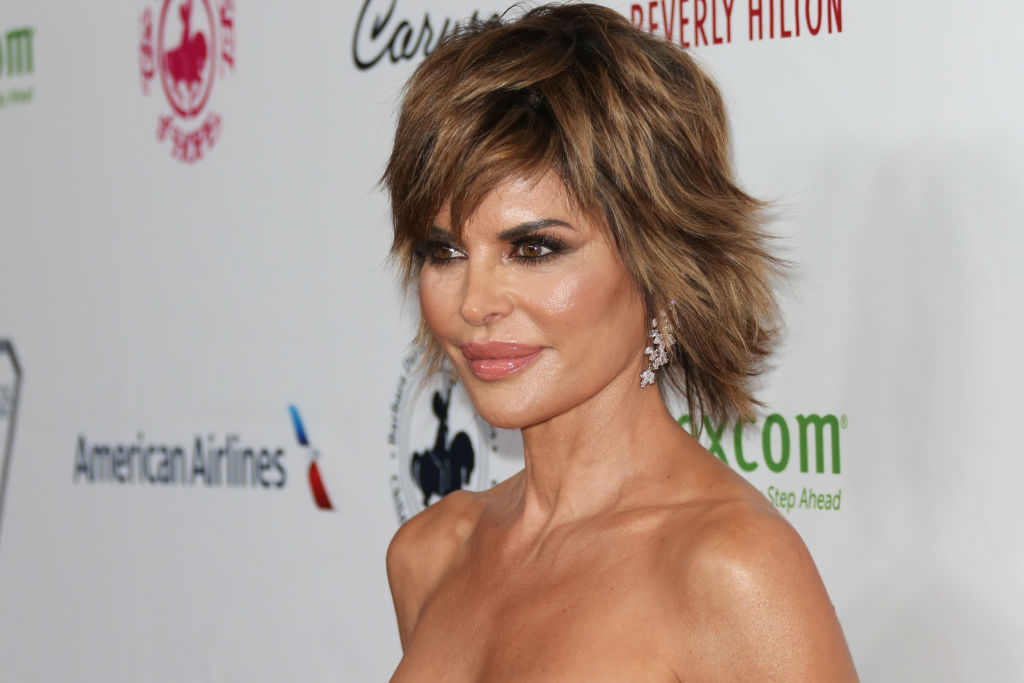 From 'Days' to 'Dancing'
Rinna had acting gigs when she first hit Hollywood, appearing on Days of Our Lives and Melrose Place. She hosted Soap Talk for four years, where she learned she did well when she played, well, herself.
Rinna started to pursue roles that didn't necessarily require acting. Her reality TV career began with turns on Dancing With the Stars and Celebrity Apprentice, and even her own reality show with husband Harry Hamlin on TV Land entitled Harry Loves Lisa.
With her new career path, Rinna started to see a shift in job offers. "I couldn't really get an acting job anymore because I had now become a reality star," Rinna told the Los Angeles Times. "And I was like, … now what do I do? By the time 'Housewives' came along, I wasn't afraid of it. I knew it was a direction I had to continue to go on."
Becoming a 'Real Housewife'
According to the Los Angeles Times, Rinna was just launching her QVC fashion line when Housewives came along, and she saw it as a prime business opportunity. "I was looking at it from a business angle," she said. "I saw what it did for Nene Leakes, [Lisa] Vanderpump, Kyle [Richards], Bethenny [Frankel]."
Her husband wasn't feeling it, worrying it was a risk to their careers. "I actually told her— because I've been married a couple of times before — that I had my divorce lawyer's number on my phone," Hamlin said.
He eventually relented to the idea, and Rinna became a staple on the hit reality show. For fans, and Rinna herself, she is quite the character. "I see her as a character because it's not all of who I am," Rinna said of herself on the show. "I'm watching Lisa on the 'Real Housewives' — or Rinna, as I like to call her. She's funny. I get a kick out of her actually. When I watch her, I'm like, 'God, she's the comic relief.'"
Bravo TV's Andy Cohen, who executive produces the Housewives franchise, agrees with Rinna's self-assessment and finds her to be a welcome addition to the show. "She's fun to watch," he said. "She's funny and she makes fun of herself. She understands her place in the world, and she's very secure with herself. I just think she's entertaining."
"What you see is what you get with her," Rinna's friend Denise Richards said. "She's self-deprecating, she calls it like it is, and she's not afraid to say when she makes a mistake. And that's what I love about her, and that's why she's been on the show for so long." Richards also recently joined the cast.
'Never been more famous'
Rinna always had an ambition to be famous. Not necessarily a great actress – just famous. "I just wanted to be a star," Rinna says. "Harry's much more like, 'I'm an actor. It's about the craft.' … I didn't care whether I was a great actor. I just wanted to be famous and was going to do whatever I had to to get there."
Her instincts were spot on when she saw Housewives as a business opportunity.  The Lisa Rinna Collection has sold more than 3.1 million units since its launch in 2012, as reported by the Los Angeles Times, and her line's duster cardigan has sold 180,000 units this year, according to a QVC spokesperson. Rinna says the exposure of being on the reality show has helped promote her brand.
"It's been great," Rinna said. "I've been able to get deals through my social media platforms and get extra income in that area. I don't even know where to begin. All kinds of things are constantly coming… I've never been more famous than I am at this point, because of the show."
With her contract at its end, does Rinna want to return to the reality show that's brought her so much fame? "My contract is up, I can tell you that," Rinna said. "So whether we re-up it I guess is up to the Bravo gods. I would like to go back."