Does Sarah Huckabee Sanders Get Her Full Salary When She's Not Holding Press Briefings?
While Americans remained outraged about the government shutdown (at 32 days as of January 22), White House Press Secretary Sarah Huckabee Sanders had a longer streak going. She hadn't held a press briefing since December 18 — four days before the shutdown began. That made it 36 days since Sanders addressed the White House Press Corps.
Even though some would argue that America didn't miss much from her absence, the shutdown complicates things. For starters, does a government employee paid to take questions from the press get her full $179,700 salary for not doing that?
The situation got more interesting when Donald Trump tweeted about the matter on the morning of Sanders's 36th day out of the briefing room. "I told her not to bother, the word gets out anyway!" he wrote.
But as federal workers turned to food banks for meals and Customs & Border Patrol (CBP) employees sued the Trump administration over lost wages, Huckabee has received her full salary for TV appearances and brief chats with reporters.
Trump's press team set the record for longest time without a briefing.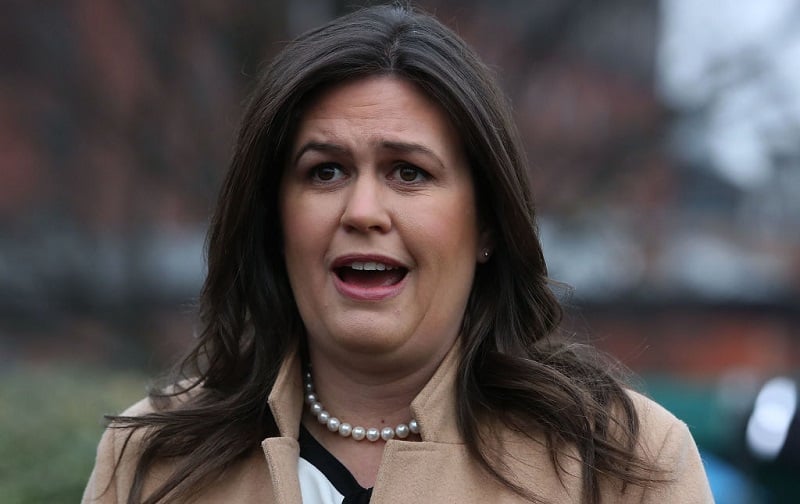 According to the tally by ABC News, Sanders and her staff set a new record for longest without a press briefing several days ago. That record kicked in when Sanders's streak passed 30 days. The previous record (also held by Sanders and her staff) had been 29 days, from October 29 through November 27 of the past year.
In addition to the lack of press briefings, Sanders also set a record for fewest on-camera briefings, ABC News reported. So the quick stops with reporters on White House grounds and in the hallways outside Sanders's office have not been seen by TV audiences.
Obviously, a White House with a major credibility problem should do better. But judging by Trump's latest tweet and Sanders's approach to the job, transparency isn't a major priority — at least how many Americans define the word.
Prior to checking out in December, Sanders told Variety she worked for "one of the most accessible administrations and presidents in modern history."
Sanders gets her full pay with or without briefings.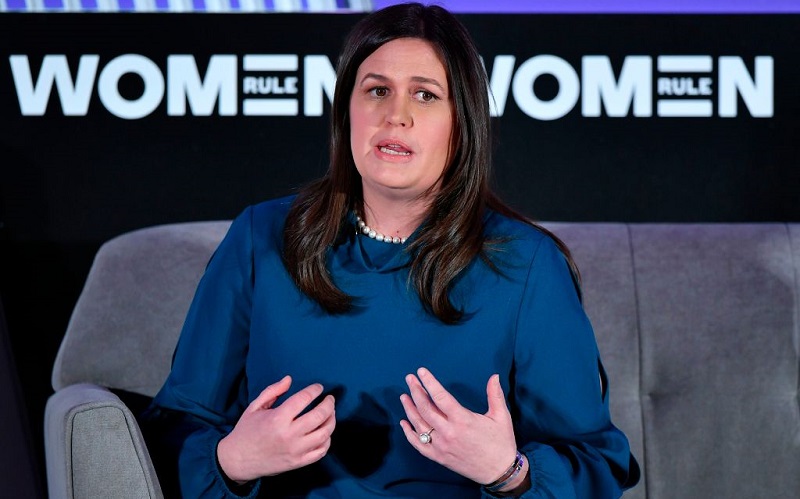 While Sanders and all previous press secretaries made a habit of televised briefings, the ritual had become exhausting for fact-checkers and many members of the press. (Just ask Jim Acosta, who endured a ban from the briefing room before a judge restored his access.) The daily count of lies often proved too much for everyone to bear.
As a result, NYU journalism professor and media critic Jay Rosen suggested news organizations suspend relations with the Trump administration. Trump telling Sanders to "not bother" with the briefings will prompt little more than shrug from those who agree with Rosen.
Since the job title apparently no longer involves briefings, Sanders has continued collecting her salary. Breaking her pay down by the month, that means Sanders has earned about $17,500 since the shutdown began.
Wasn't Sanders leaving the White House, though, you ask? Yes, multiple reports indicated she would leave at the end of 2018, and Sanders even discussed her legacy (while denying the reports) in December. However, Sanders doesn't appear to have found a new job yet. A Yahoo report shed light on another reason for the situation in the White House communications offices.
"No professional in good standing will even interview for a job," a former White House official told the outlet. "It's a zombie comms shop. Night of the living dead."
Check out The Cheat Sheet on Facebook!