Does the 'NCIS' Cast Know When Cote de Pablo's Ziva David Will Return in Season 17?
There are still a lot of questions about Ziva David's (Cote de Pablo) storyline in season 17 of NCIS, though fans are not the only ones who have been left out of the loop. Ziva's journey was the primary focus of the opening two episodes this season, yet she isn't due back until later this year. While fans have been left in the dark about Ziva's return, some of de Pablo's co-stars also have no idea when she will be back in action.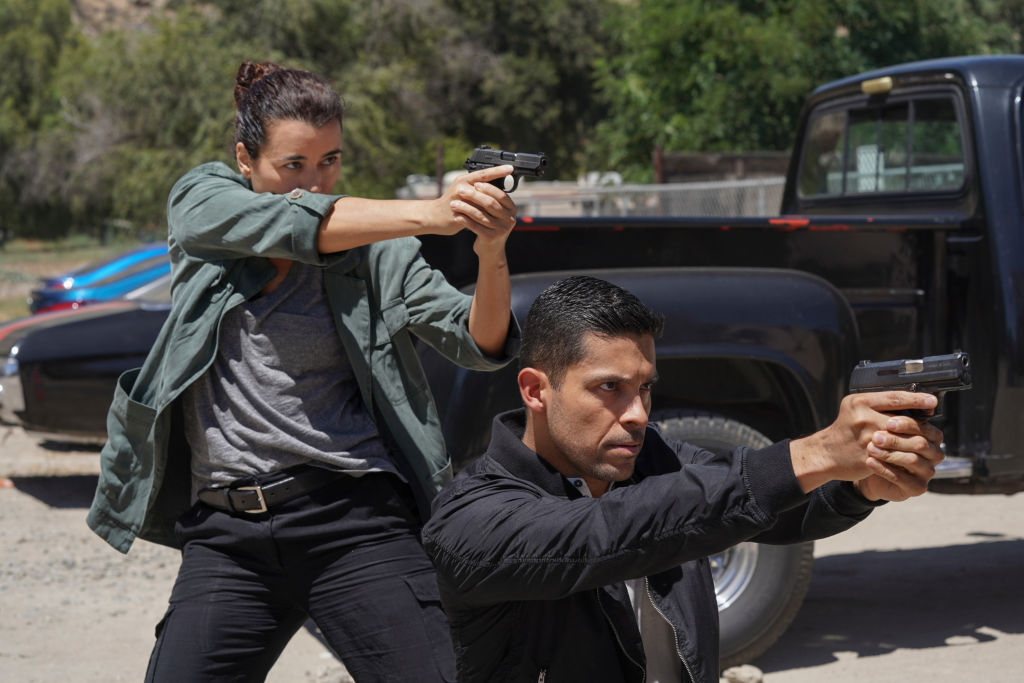 Who knows when Ziva will return in season 17 of 'NCIS'?
NCIS producers kept Ziva's return a huge secret at the end of season 16. Fans were shocked when the character appeared in the final moments of the season finale, and most of the cast only learned about her return a few weeks prior to the episode.
Diona Reasonover, for instance, was the last person to find out about Ziva's epic return. There were some fans (in different time zones) who even find out before she did.
So far, it looks like producers are playing the same game when it comes to Ziva's next appearance on NCIS.
According to Carter Matt, Reasonover recently revealed that she has no idea when Ziva will be back on the show. The NCIS star explained how producers do not tell her much about other characters, though she is looking forward to spending more time with de Pablo on the set.
"They don't tell me nothing! … This is one of those where I don't know when the character's coming back or what the storyline will be," Reasonover shared. "Would I love to hang out with Cote more because she's very cool? Yes, I would love that. Do I know if it's going to happen? I have no clue."
Reasonover isn't the only one being kept in the dark. The are plenty of actors on television who are not told anything about their character's story arc until they get the script. Some even prefer it this way because it enables them to give more genuine reactions in front of the cameras.
The good news is that Ziva will be returning this season for two more episodes, though exactly what she'll be doing is still up in the air.
Reasonover dishes on de Pablo's return
While Reasonover was the last person to find out about de Pablo's return to NCIS, she had a blast filming with her this summer.
In a recent interview with Digital Spy, the actress opened up about her first table read with de Pablo, which featured her and Mark Harmon (Gibbs) going toe-to-toe.
"She's great, she's really cool," Reasonover stated.
Reasonover added that it was great watching the two actors at their best. At one point during the script reading, Reasonover realized that Ziva's return was a much bigger deal than she originally thought.
De Pablo left the series back in season 11. Two seasons later we learned that Ziva had died in a mortar attack and that she had a daughter named Tali. Tony DiNozzo (Michael Weatherly) also discovered that he was Tali's father.
Weatherly left the show in season 13 to star in his own series, Bull. Fans are holding out hope that Tony and Ziva will reunite when she returns, though nothing official has been confirmed.
In the meantime, there is plenty to look forward to as NCIS continues season 17.
What's ahead in season 17 of 'NCIS'?
Now that Ziva is out of the picture once again, things are going to get back to normal for the hit crime procedural. In this week's episode of NCIS, titled "Going Mobile," things are going to get a little awkward for Sloane (Mario Bello).
In the official trailer, we see Sloane dealing with some of her feelings for Gibbs, which gives up some hilarious moments. This includes a shot of Sloane ganging her head on a wall after Torres (Wilmer Valderrama) asks her about "thing" for Gibbs.
We got to see some progress on the romance front for Sloane and Gibbs last season, with the former finally admitting that she has feelings for him. Based on the trailer, the series is flushing this out even more this season — and we cannot wait to see what happens.
Whether or not this means that Gibbs and Sloane will finally get together is another matter, but it's definitely exciting times to be an NCIS fan.
New episodes of NCIS air Tuesday nights on CBS.